Main content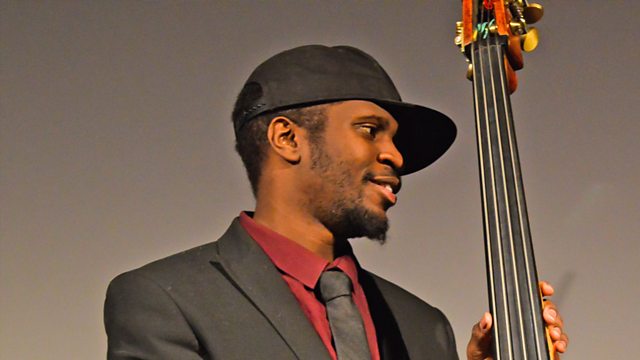 Daniel Casimir
Recorded at Herts Jazz, Soweto Kinch presents a set from bassist Daniel Casimir, and his trio from West London, with Sarah Tandy piano and Olly Sarkar, drums.
PLAYLIST
DISC
Artist              Soweto Kinch
Title                The Healing
Composer     Kinch
Album            The Legend of Mike Smith
Label              Soweto Kinch Recordings
Number        SKP003 CD 2 Track 39
Duration       13"
Performers: Soweto Kinch, as, rhodes, prog; Shabaka Hutchings, ts; Karl Rasheed-Abel, b; Graham Godfrey, d. . 2015
Clip – Bright Mississippi (Monk) – 1'07"
Let's Cool One – 10'45"
Bye Ya – 7'38"
Bright Mississippi – 8'35"
Monk's Dream – 10'21"
Round Midnight – 7'31"
Think Of One – 8'12"
Personnel: Daniel Casimir, db; Sarah Tandy, pf; Olly Sarkar, d.
DISC
Artist              Soweto Kinch
Title                The Healing
Composer     Kinch
Album            The Legend of Mike Smith
Label              Soweto Kinch Recordings
Number        SKP003 CD 2 Track 39
Duration       44"
Performers: Soweto Kinch, as, rhodes, prog; Shabaka Hutchings, ts; Karl Rasheed-Abel, b; Graham Godfrey, d. . 2015