Main content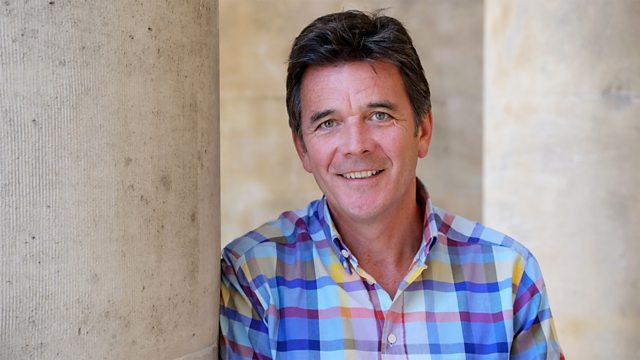 Running, cycling and knee health, Adrenaline and cardiac arrest, Artificial eyes
Is cycling better than running for your knees? Dr Margaret McCartney who is a runner and a cyclist visits the Gait Lab at Glasgow's Golden Jubilee Hospital to find out.
Does running damage your knees? And is cycling any better? Runner, cyclist, GP and Inside Health regular, Dr Margaret McCartney goes to the new Motion Analysis Lab at Glasgow's Jubilee Hospital and asks orthopaedic surgeon and competitive cyclist Jason Roberts about the latest evidence.
Around 30,000 people a year suffer cardiac arrest - their heart suddenly stops pumping blood around their body - and fewer than one in ten survive. Paramedics and ambulance crews will give CPR and use a defibrillator to try to restart the heart, and for the past 50 plus years, most patients will be given a shot of adrenaline too.
But a landmark new study funded by the government and run by Warwick Medical School reveals that giving adrenaline barely increases survival and almost doubles the risk of severe brain damage. Dr Margaret McCartney discusses likely changes to policy with Dr Mark Porter.
It's said that eyes are the windows to the soul - and certainly looking into other peoples' is the key part of human interaction. But what if one of yours isn't real? Sixty thousand people in the UK have an artificial eye and Europe's largest maxillo-facial laboratory at Queen Victoria Hospital in East Grinstead offers a bespoke service where specialists make individual eyes from live sittings. Susan lost one eye as a child and she tells Mark that her latest prosthesis is her favourite. Why? Because it's almost half the weight of eyes she's had fitted before. Dr Emma Worrall, principal prosthetist, has invented a lighter sphere. In a lightbulb moment sitting in a café stirring a sugar cube into her coffee and watching it melt, Emma tells Mark that she realised she could build the plastic sphere around sugar, drill a tiny hole, then melt the sugar out of the middle! Twenty patients at the hospital are now benefiting from lighter eyes (which means less surgery). And there's another plus. The new eyes float in the swimming pool and the sea!
Producer: Fiona Hill.
Programme Transcript - Inside Health
Downloaded from www.bbc.co.uk/radio4
THE ATTACHED TRANSCRIPT WAS TYPED FROM A RECORDING AND NOT COPIED FROM AN ORIGINAL SCRIPT.  BECAUSE OF THE RISK OF MISHEARING AND THE DIFFICULTY IN SOME CASES OF IDENTIFYING INDIVIDUAL SPEAKERS, THE BBC CANNOT VOUCH FOR ITS COMPLETE ACCURACY.
INSIDE HEALTH – Programme 4.
TX:  24.07.18  2100–2130
PRESENTER:  MARK PORTER
PRODUCER:  FIONA HILL
Porter
Coming up in today's programme:  Hearts and adrenaline – I am sure you've seen cardiac arrests on TV where the patient is brought back by an injection directly into the heart – think John Travolta and Uma Thurman in Pulp Fiction if medical dramas aren't your thing.  But, back in the real world, new research has highlighted a worrying link with brain damage. Margaret McCartney takes a closer look
And artificial eyes – I visit Europe's biggest maxillofacial prosthetics lab to see how they are made, and to meet the woman behind a new type of prosthesis that is so light it floats.  And you will be surprised how much that matters.
Clip
I had a man who it fell out in the shower but he found it easy, I've had them falling out in swimming pools, I've had a sailor – I don't know what he was doing – but apparently it was bobbing next to him when he capsized…
That's lucky.
I mean that is lucky, can you imagine that?
Porter
Everything you wanted to know about artificial eyes coming up later. 
But first, Margaret McCartney has been to a high-tech lab to learn more about the impact of sports like running and cycling on your joints, particularly knees.  And, Margaret, you're both a runner and a cyclist.
McCartney
I am, I am.  I got the running bug probably about eight or nine years ago now but in the last couple of years I've become progressively more advanced with the type of bike I have.  I've graduated from a Dutch bike on to more of a road bike now.
Porter
And how far do you run and how far would you cycle in a typical week?
McCartney
Probably about 25k in a week of running and maybe between 20 and 100k on my bike.
Porter
Well that's proper level, I manage about – 10k running…
McCartney
I didn't say I was fast.
Porter
…but I run very fast.
McCartney
Well I don't run or cycle very fast unfortunately.
Porter
And have you had any problems with joint injuries?
McCartney
Well, just little niggles I suppose with my hips and my knees, which haven't stopped me from running or cycling but I did go to the new motion analysis lab at the Golden Jubilee Hospital in Glasgow and I cycled there, Mark, through a gale blowing against me, there and back, and I asked consultant orthopaedic surgeon Jason Roberts about that vexed question – is running bad for your knees.
Roberts
Certainly, we know that if you do MRI scans after people after they've just done a marathon or just a high intensity run, when the radiologists look at the MRI scans they can see that there has been indications within the cartilage that it shows that there might be some damage or inflammation.  Now that's all well and good in the acute phase but there have been some really good studies, particularly one longitudinal study from Melbourne, where they looked at 249 patients over a long period of time and actually what they found was the exact opposite on the MRI scans – patients that did lots of vigorous exercise, almost in a linear fashion, the more vigorous exercise they did the thicker their articular cartilage was.  We have a term in orthopaedics called Wolf's Law which is that bone responds to the stresses put upon it.  And the beauty of all biological systems is it looks like cartilage does exactly the same.  So, as long as you adapt to your running and take it nice and slowly as you adapt then the likelihood is you actually improve your articular cartilage, not damage it.  Obviously if there's any pre-existing injury, particularly in the knee, if you've had pre-existing ligamentous injury, then yes it you go pounding your joints you are probably going to damage them worse.  But as long as you don't have those things or those things have been treated the likelihood is you're actually going to improve your cartilage by running.
McCartney
So, what about if you're carrying too much weight?
Roberts
We know that the stresses on the knee are directly related to the weight that you have.  If you walk you put about half your bodyweight stress on the knee joint.  If you go up and down stairs you're putting seven to eight times your bodyweight through your knee joint, particularly the patella femoral joint.  If you do something like a deep squat you're putting even 20 times your bodyweight through the knee joint.  That's quite a big force, so any extra weight that you are above ideal bodyweight increases the force on that.  And potentially cause increased wear and tear.  However, on the opposite side of that, the body is very adaptive and that cartilage can adapt to stress, that as long as you do it in a very graduated fashion and most athletes will talk about increasing their training activity about 5% a week, then it's very likely that your cartilage will adapt to that during periods when you're trying to lose weight.
McCartney
So, I also do a wee bit of cycling and quite often people say to me – well cycling, that's much better for your knees because you don't have the same impact on the pavement, is that true or not?
Roberts
It's an interesting debate.  It produces a different stress on the knee joint.  The cartilage is not being stressed in the same way as a sudden impact that you would get when you run.  But what we do know is that if you look at both runners and cyclists both thicken their cartilage in response to the amount of exercise they do.  And actually, there are quite a few studies now that show that runners do adapt to running and that their articular cartilage does thicken in response to the amount of running they do.  Now one or two coaches, particularly triathlon coaches, talk about a risk/benefit curve with running.  And they say anything up to two and a half hours a week doesn't imply any increased risk from running.  But once you're going above two and a half hours then you're probably better off spending more time on the bike and getting the cardiovascular fitness from the bike because you are less likely to cause damage to your joints, less likely to cause damage to the soft tissue components of your mechanics – the tendons, the ligaments, the muscles.
McCartney
As you know Jason I cycled down here in the winds to Clyde Bank and I do get a bit of hip pain and knee pain occasionally, is that the kind of thing that you could help me with today?
Roberts
Potentially and certainly what I think what I think would be a good idea is if we try you on your bike in the motion analysis lab and we can actually first of all dynamically see how open your hip angle is when you cycle, what position your knee bends to when you cycle because that will give us a really good idea of where we need to change things a little bit on your bike.
McCartney
Jason isn't just an orthopaedic surgeon, he's a very successful competitive cyclist as well as the team doctor for top professional cycle teams.  The specialists here are researching the optimum cycling position for elite riders – not quite sure what they are going to make of a highly amateur cyclist but the sophisticated technology here will also give detailed information for the movements of post-operative hip and knee surgery patients, objective measurements which up to now just haven't been available.
Roberts
Okay, so we're now in the motion analysis lab and what the motion analysis lab entails is a set of cameras looking at the subject from all different angles.  Then what we do is we put lots of reflective markers on them at different anatomical points, so that we can accurately assess the angles at each joint.
McCartney
So, it looks a bit like a special effects studio because you've got this green wallpaper and stuff on the floors and it sounds a lot about how they make sort of special effects in movies to put in artificial characters and things, is that akin to this?
Roberts
What we can do with that green screen is we can accurately look at the frontal area of a person as they cycle and from that we can work out aerodynamics as to whether they're in a good position.
David
Hi Margaret, I'm David, I'm one of the research doctors.  This is my road cycling bike, your bike didn't fit on the set up, so we've now upgraded you significantly.  But we have replicated a comparable position to what you were used to riding on your commuting bike.  So, this will feel…
McCartney
Are you promising me I'm not going to fall off?
David
I don't think you will.
McCartney
At this point I realised that the entire team are passionate and elite cyclists – road racers and mountain bikers.  I'm feeling a bit nervous but I am going to point out that I was the only one to cycle to work.
David
So, how does that feel compared to your existing position, do you think your legs are in the same – the feet are in the same position, your…
McCartney
Yeah, no, I think it feels pretty much the same.
David
Okay, so I'll think we'll be happy to proceed with sticking you up with markers then.
McCartney
Okay great.
Clark
I'm John Clark, one of the consultant orthopaedic surgeons here at the Golden Jubilee Hospital.  So, Margaret's having the markers applied at the key anatomical points.  And this allows us to generate a biomechanical model of the underlying joints and it'll allow us to assess those joints when she starts pedalling.  Cameras can operate at incredibly high speeds, so even if she was to pedal as fast as she possibly could that's only a fraction of the capability of the system.  The cameras are such high-speed capture that if we could get a Formula 1 car driving through here it would capture that without any problems.
McCartney
That's me all set, I've got my reflective sensors on my lower limbs, on my pelvis, it's a slightly strange experience.
Roberts
We're now going to go into the command module here and actually look at what's actually happening and start to do some analysis of the angles of your knee as you cycle.
McCartney
Okay, so I'm on the bike just now, it's a bit like being at a spin class but without the music but there are significantly more scientists observing what's going on.  So, there's a video beside me, so I can basically see myself in camera, it's not the prettiest of sights and I can see a sort of graphic overlay of my legs going up and down – one leg in red, one in green and my pelvis in blue.  This is the most analysed I think I've ever been in my life.
Roberts
So, we're now in the command centre and we're now looking at a front view of Margaret cycling and one of the key things you can see straightaway is it is very dynamic and you really use your pelvis and lower back muscles an awful lot when you're cycling.  So, we can see that the pelvis is tilting each time Margaret presses her right leg down the pelvis tilts to the right and the opposite on the left side.  Now it looks very even but we'll actually look at it during a segment of her riding to see if it does stay stable or if she has actually got one weakness on one side or another.
McCartney
It takes a while for the full analysis to come through but when it did, it was quite surprising. Unlike most recreational cyclists who tend to have their saddle too low – I've got mine slightly too high, a common error in elite cyclists too.  This means my hips are tilting as I push down on the pedals.  So, how do you make sure your saddle is at the right height?  Jason has this advice.
Roberts
One very simple tip, something I was taught even as a boy when I first started cycle racing, is if you can sit on your saddle and get someone to hold your bike upright and if you can put the heels of your feet on the pedals, if you can just about get all the way round the pedal cycle without shifting from side to side you're probably ball parking the right area.
Porter
Jason Roberts, John Clark, David and Euan in the Motion Analysis Lab at Glasgow's Golden Jubilee Hospital.
So, Margaret, did a lower saddle help?
McCartney
I'm going to say I suspect that it did but I also suspect that I'd be a lot better if I was slightly fitter, so who knows.
Porter
Now Margaret, I know you have seen the film Pulp Fiction and you won't have forgotten the scene where John Travolta restarts Uma Thurman's heart after she collapses by injecting adrenaline through a needle in her chest.  It's a scene replicated in many a medical drama, like Casualty and ER.  Injecting adrenaline – typically through a vein rather than directly into the heart though – has long been part of the treatment for cardiac arrest to stimulate the heart. But while it may help resuscitate someone, little has been known about the longer-term impact, and new research has turned up something worrying hasn't it Margaret?
McCartney
It has indeed and this has been something that has been talked about for a number of years – the potential for adrenaline not simply to be useful in cardiac arrest but might actually have some hazardous side effects.  And the mechanism seems to be that it closes down the circulation to the brain to a certain extent and the fear has been that you might make people's heart start but in doing so you might decrease the supply of blood to the brain and thereby generate brain damage.
Porter
And has that been confirmed by this new research?
McCartney
Essentially yes.  So, this was an amazing study and they randomised 8,000 patients who were in cardiac arrest out of hospital to either receive placebo or adrenaline as part of the resuscitation they would get in cardiac arrest.  And it's sobering, I think, to note that overall at 30 days 3.2% of patients were still alive who received adrenaline and 2.4 in the placebo group.  So, overall survival is not great.  And it's important to note that this study only looked at the effect of adrenaline, other things that we know work, such as defibrillation with the electric shocks and chest compressions – CPR – definitely do make a difference – there have been other trials of them – so they weren't under test, under scrutiny in this, it's only adrenaline that was under test.
Porter
So, most people didn't survive, I mean an incredible number died, the adrenaline might have conferred a small advantage in terms of survival but was there a price to pay?
McCartney
That's the problem.  And there was a price to pay.  So, in the adrenaline group there were more people with severe neurological damage.  So, almost a third of the patients who received adrenaline as part of their resuscitation had severe neurological damage versus 17% in the placebo group.  So, if you received adrenaline you had a slight increase in survival at 30 days but a bigger risk of having permanent neurological damage.  So, that's the big problem – you might increase survival by a tiny amount initially but you're going to increase the amount of people who have permanent brain damage thereafter.  And putting this into context again, the things that are really important in cardiac arrest – CPR, performed by a bystander, well you have to perform that 15 times in order to prolong one life, so that's much more effective than adrenaline;  early defibrillation with your electric shocks, you only have to treat five people with that in order to treat one person successfully, so again much more successful than the 112 people that you'd need to treat with adrenaline in order to try and delay one death.  So, there are many more effective things that can be done in cardiac arrest and it looks like adrenaline is one of the least effective things that we have to offer.
Porter
Do you think this is going to change the guidelines for CPR?  I mean what you're saying essentially is that there might be some small advantage but there's quite a – potentially a high price to pay.
McCartney
That's exactly right.  And normally in medicine what you do is you sit down with your patient and you say well here are the pros, here are the cons, what would you like to do, you can't do that in this situation, the person is by definition unconscious by the time you get to them.  So, what you have to have are really clear guidelines that can be followed to make it easy to try and administer this emergency treatment to people who are technically already dead.  So, you have to have consistency and it has to be something that's easy to follow and I think the guidelines are going to have to be reviewed in light of this.
Porter
Well watch this space.  Thank you, Margaret.  Further details, as ever, on the Inside Health page of the Radio 4 website.
It is said that eyes are the windows to the soul – certainly looking in to other peoples' is a key part of human interaction.  But what if one of yours isn't real?  Well, 60,000 people in the UK have an artificial eye, some were born with a problem, others lost one through disease or injury.  Either way losing an eye leaves an empty socket and dramatically changes your appearance.
An artificial eye won't give you your vision back – not yet anyway – but it can make you look and feel normal again.
They have two components: The ball shaped implant that fills out the orbit or socket, and to which the muscles that move the eye can be reattached and a painted curved shield-like prosthesis which sits in the pocket behind the eyelids and replicates the front of the eye.  This is the removable bit and the trickier component to get right, not least because it's the one everyone sees.
The prosthetics lab at Queen Victoria Hospital NHS Foundation Trust in East Grinstead offers a bespoke fitting service which involves live sittings with an artist to get the best possible match to a patient's remaining eye.
Susan Mason lost her right one over 50 years ago when, as a baby she developed a rare form of cancer in her retina.  She's had many artificial eyes over her lifetime as I discovered when I joined her at QVH for her sixth monthly check-up from principle prosthetist, Dr Emma Worrall.
Worrall
Have you had any problems recently?
Mason
No, not at all, apart from just waters at certain times of the year but nothing particularly – anything different.
Worrall
Okay, so I'm just going to take your eye out okay?  Just hold the upper lid up.  Just pop it out like that, how's that?
Mason
Yeah, that's fine.
Worrall
Okay.  Just have a look in your socket, just check there's nothing hiding up there. 
Mason
There shouldn't be.
Porter
So, you've grow up with having one normal left eye but an artificial right eye?
Mason
Yeah.
Porter
So, you really know no different?
Mason
No, no, no.
Porter
What was it like as a child?  Because other children would have noticed it.
Mason
Oh yeah, I used to get bullied, there's the usual boring nicknames they'd give you but yeah.
Porter
Did it cause you any trouble in terms of day-to-day function, did you find anything difficult that other children were finding easier?
Mason
It didn't really stop me doing anything, I'll be honest, I mean it doesn't stop me driving, never caused me any problems getting a licence.
Worrall
Look up for me, look down for me and left for me and right for me.  Now that looks all lovely in there.
Porter
Does the eye stay in all the time?
Mason
Yes, it does, I mean I clean it every morning, especially if it waters, you get a bit of gunk in there.
Porter
And you can easily pop it out?
Mason
Yeah, sometimes it comes out on its own…
Porter
Well that's not good.
Mason
No, I've had the odd one that's done that.  You know somebody brushes up, like a few weeks ago somebody was giving me a cuddle and went like that and was too close to my face and it sort of came out but it's very, very, very unusual for that to happen, very rare.
Porter
How many eyes have you had over the years?
Mason
Gosh, now you're talking.  I probably get a new one every two – every couple of years or so.  I have a spare as well, just in case.
Porter
You have a spare shell at home?
Mason
I've got a spare one of these, it's not quite as good as this one, so if I was going swimming like in the sea on holiday I'd put that in rather than that one because if…
Porter
You don't want to lose the good one.
Mason
Well this one floats, that's the good thing, the other ones used to sink.  So, you have a half chance in a swimming pool finding it because it'll be bopping along.
Worrall
That is an advantage.
Porter
So, it's floating in a little pot there.  So, now what do you need to do?
Worrall
I just need to sterilise it now, then I'm going to pumice and polish it on the lathe and just bring it all back to shiny and it's just easier for the eyelids.
Porter
If it's super smooth.
Worrall
Super smooth.  So, this is the lathe, I'm just going to use – pumice is like a gritty sand but we're just going to take the – you'll have some noise sorry – just going to take all the deposits off.  You do have to make sure you don't let go because obviously it'll just ping round the lamp.  You only do it a couple of times.  All nice and clean now.  Nice and smooth ready for you.  Do you want to pop it back in or shall I?
Mason
You can if you like.
Worrall
There you go, so just open up the lid, pop it in, rotate it and then just release the sucker, there you go, back to normal.
Porter
Your eye's back in and it's got a nice sparkle to it as well.
Mason
You do look in the mirror and everyone says oh you don't look any different to me but to me I think I do and I can spot somebody with one of these a mile off where everyone else can't but you know what you're looking for.  But I think this one makes me – they're more even and I think it just looks like more like part of me.
Porter
Talking to you now and speaking as a doctor if I didn't know that you had an artificial eye I wouldn't have noticed it.  In fact, the more animated you are and the more you talk the more natural it looks, it's very good.
Mason
I'm really happy with this one.
Malhotra
My name is Raman Malhotra, I'm a consultant ophthalmic and ocular plastic surgeon at the Queen Victoria Hospital.  What that means is that I'm an eye specialist who's trained in plastic surgery around the eyelid region, I'm effectively an eyelid surgeon.  The most important thing, actually what patients really are after, is conversational movement – the sharp darting movements that when you engage with someone you don't realise you're doing but your eye is moving very rapidly but for a short distance.  And as long as it moves symmetrically with the other eye and doesn't sit and stare it doesn't attract attention because there's nothing worse than an eye that just sits and stares – it attracts attention…
Porter
It really doesn't look natural.
Malhotra
Yes, and then that will drag your attention.  So, if you can have an eye that moves synchronously with the other side, even if it doesn't move fully, that will look natural.
Porter
What's it like having an artificial eye?  What might they miss that you and I take for granted?
Malhotra
Well someone who is faced with the prospect of losing their eye or has lost their eye the early period there's a grieving process and initially there's the appearance, the coming to terms with a sudden change in your appearance.  And longer term their concern generally switches to the health of their other eye.  But in that first year there is a big shift, becoming accustomed to the appearance and being rehabilitated, as well as worrying about their other eye.
Porter
What about functional issues with having only one eye, how does it affect everyday tasks?
Malhotra
The issue of depth perception is something that you become accustomed to very quickly and so you start using monocular cues or little clues that you can pick up using just one eye as to the depth or the range or the position of two objects.  So, it's amazing how the brain adapts.  And then the field of vision still is quite good, at least 120 degrees across horizontally, with one eye.  So, one just becomes more accustomed to turning your head to look at extreme positions.
Porter
So, now we're heading upstairs to the lab where all the magic happens.
One floor up is the largest prosthetic workshop in Europe – the maxillofacial lab. 
It's like an Aladdin's cave in here, I'm just looking here on the desk you've got a nose, there's an ear over on the side over there.
Worrall
Yeah, there's lots of noses, fingers, partial noses, we make ears.  So really anything to do with head and neck, apart from we do do nipple prostheses as well.  It's a bit like a special effects world but made in more resilient materials for everyday use because our patients obviously they won't go out without these on.
Porter
And this is where Susan's eye would have been made.
Worrall
Yes, so this is my desk and I'm in the middle of making an eye at the moment for a four-year-old patient.
Porter
Emma shows me the shell that she's painting the eye on and it's all about layering.
Worrall
We just take the base layer and we will literally just start painting and painting and painting and it's very time consuming and you just build the layers up and build the layers up.
Porter
So, you're just putting on brown at the moment.  I mean is every eye colour made up of lots of different – I mean is there browns and blues and greens in every eye?
Worrall
We have a whole tray in our clinic of hundreds of eyes of different browns, greens, blues, greys.  And it's just about building them up and building them up and then building them up – the different colours.
Porter
Are you trying to copy the other eye exactly?
Worrall
Exactly – that would be God's job.  I don't think we could exactly match.  We do our best that we can.  We will have to accept that we can't get exactly the same movement, we'll get good enough movement that we can with the implant behind it moving it.
Porter
Yeah, and my eyes aren't identical anyway, no one's are…
Worrall
No one's are.  It's like an artistic impression of a matching pair.
Porter
Have you had any odd requests – I mean do people sometimes want a non-matching eye, they want to do a David Bowie?
Worrall
They want the David Bowie, they do want the David Bowie.  We have the Jamaican flag, especially at World Cut time of year things like that they'll want all sorts of – kind I have a Chelsea eye – no, not on the NHS, no. 
Porter
So, you're building the colour up layer by layer by layer.
Worrall
Layer by layer by layer.  And then we'll scratch off certain sections.
Porter
Ah these are radial scratches that give those sort of characteristic lines that we all have in our eye.  Yeah, and that's just the tip of a scalpel blade or something is it?
Worrall
Yes.  And so, you see the striations within the iris you see.
Porter
Otherwise it just looks painted doesn't it without that texture.
Worrall
That's right, and then you just build it up and build it up and build it up and there might be 10, 15, 20, 35 different striations until you get the colour that matches the patient.  It's an arty job and so we do have other prosthetists who are amazing at art, I mean we've got one with a fine art degree, so no we're very lucky that we have got a lot of skills here.
Porter
How do you feel when you give somebody their new eye for the first time, I mean you must have seen some great reactions?
Worrall
Oh no, it's amazing, and you are giving them their life back, that they can stand in a lift and not be stared at, they can go around the Tesco aisles and no one's looking at them.  For example, I've got a patient who said – I couldn't see my granddaughter until I had the eye, I didn't want to scare her.
Porter
Emma's been working in this field for many years and is all too aware that patients struggle with the weight of the shell that fits in the front of their empty eye socket, it pulls and drags on the delicate eyelids, making the eye look odd.  And additional surgery to tighten the lids to make them more resilient to being pulled out of shape is very common.  Then Emma came up with an ingenious solution.
Worrall
I'd been trying to work out how to make a lighter prosthesis.  So, I was sitting in a coffee shop one day and playing with the sugar cubes and then I thought oh that's quite good because that's a hard mass, sugar is when it's set, but actually it vanishes when you're stirring it in the boiling water.  So, I thought why can't we use that in the middle of the eye.  So, I came to work and I made a dummy eye mould up and we tried that, it was amazing – amazing, it really was, it revolutionised.  Literally you would have the acrylic around the sugar, you drill a tiny pilot hole, literally stir it like a cup of coffee then it's empty, hole – void – we've lost all that weight from that prosthesis.
Porter
So, to be clear, you're using the sugar as a mount, if you like, let's call it plastic, on the outside and then you're melting the sugar away and you end up with a hollow…
Worrall
That's exactly right.  I do the plastic around the sugar, drill a little hole, stir it like a cup of tea.
Porter
It's quite an accomplishment and actually when you think about it it's simple but elegant.  It's amazing that nobody thought about it before really.
Worrall
I can't believe it.  It's something that anybody can do.  From our small cohort of patients, which is probably about 20 now, all of them have said it's revolutionised things, not only in weight but in movements.
Porter
And in terms of weight, somebody like Susan's eye?
Worrall
I know that hers is 46% lighter.
Porter
So, half as light?
Worrall
Half as light nearly.  That's an appreciable difference in the actual socket and in use.
Porter
And Susan said the other advantage is when she goes swimming and it comes out, which it does sometimes happen, it floats unlike the normal one which would disappear to the bottom of the pool or dare I say the sea.
Worrall
I had a man who it fell out in the shower but he found it easy, I've had them falling out in swimming pools, I've had a sailor – I don't know what he was doing – but apparently it was bopping next to him when he capsized….
Porter
That's lucky.
Worrall
… I mean that is lucky, can you imagine that?
Porter
Emma Worrall.  And Emma's currently conducting a national survey of people with artificial eyes to see what works and what doesn't.  If you want to take part and help shape future developments then there are more details on our website.
Just time to tell you about next week when we look at a new way of treating strokes and discover why one size may not fit all when it comes to low dose aspirin.
ENDS