Main content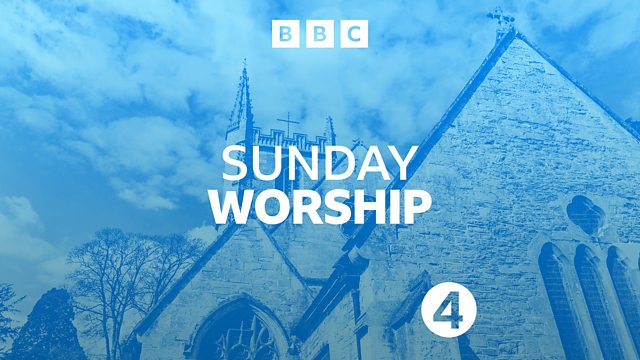 Mary Magdalene
The feast day of Mary Magdalene is celebrated at Bangor Cathedral in a live service led by the dean, the Very Rev Kathy Jones. The preacher is the bishop, the Rt Rev Andy John.
The importance of Mary Magdalene in the gospel accounts is marked by their writers' frequent references to her, and although the Bible offers little biographical detail, the hints at a personal story of dramatic transformation continue to fascinate and inspire. On her feast day, a live service from Bangor Cathedral both celebrates her role in Christ's story and explores the inspiration she offers us today.
The choir of Bangor Cathedral, directed by Paul Booth, leads worship with music including Calon Lan (Pure Heart), the best known of the hymns by Welsh bard Daniel James (Gwyrosydd), and the anthem The Doctrine of Wisdom by William Mathias; as well as Come Down O Love Divine (Down Ampney) and We Have A Gospel To Proclaim (Fulda). The service is led by the Dean of Bangor, the Very Rev'd Kathy Jones and the preacher is the Rt Rev'd Andy John, Bishop of Bangor.
Last on
Script:
Please note this script cannot exactly reflect the transmission, as it was prepared before the service was broadcast. It may include editorial notes prepared by the producer, and minor spelling and other errors that were corrected before the radio broadcast.
It may contain gaps to be filled in at the time so that prayers may reflect the needs of the world, and changes may also be made at the last minute for timing reasons, or to reflect current events
Opening anno:
BBC Radio 4.  And now we go live to Bangor Cathedral for this week's Sunday Worship.  The service is introduced by the Dean, the Very Reverend  Kathy Jones, and begins with the choir directed by Paul Booth, in responses by John Sanders.
Item 1: Opening responses: John Sanders
Item 2: Introduction (Dean)
Bore Da, Good morning and welcome to the city of Bangor which lies next to the Menai Straits at the foot of the majestic Snowdonia National Park.  You join us today as we celebrate, with the church throughout the world, the Feast Day of Mary Magdalene.
Mary has a distinctive place among Jesus' followers. Healed by him, she then ministered to him, and ultimately was one of the first to witness his resurrection from the dead. She's mentioned frequently in the gospels, and the few details of her life which we're given suggest a story of dramatic transformation.
She's a character who continues to fascinate and inspire us, while her personal experience of the love of Christ offers us hope.
Item 3: Hymn 1 Come Down O Love Divine (Down Ampney)
Item 4: Office begins (Dean)
We have come together as the family of God in our
Father's presence, to offer him praise and thanksgiving, to
hear and receive his word, to bring before him the needs
of the world and to seek his grace, that, through his Son,
Jesus Christ, we may give ourselves to his service.
Item 5: Reading 1 (Zephaniah 3: 14-20, NRSV)
The old testament reading is from the third chapter of the book of Zephaniah.
 Sing aloud, O daughter Zion; shout, O Israel!
Rejoice and exult with all your heart, O daughter Jerusalem!
 The LORD has taken away the judgements against you,
   he has turned away your enemies.
The king of Israel, the LORD, is in your midst;
   you shall fear disaster no more.
 On that day it shall be said to Jerusalem: Do not fear, O Zion;
   do not let your hands grow weak.
 The LORD, your God, is in your midst, a warrior who gives victory;
he will rejoice over you with gladness,
   he will renew you in his love; he will exult over you with loud singing
   as on a day of festival. I will remove disaster from you, so that you will not bear reproach for it.
 I will deal with all your oppressors at that time.
And I will save the lame and gather the outcast,
and I will change their shame into praise and renown in all the earth.
 At that time I will bring you home, at the time when I gather you; for I will make you renowned and praised among all the peoples of the earth when I restore your fortunes before your eyes, says the LORD.
Item 6: Introduction to Psalm (Dean)
In Psalm 23, David describes the ministry of God, a ministry Mary Magdalene took up when she tended to her Lord in his time of need, anointing him with oil.
Item 7: Psalm 23 Walford Davies
Item 8: Reading 2 (Luke 8: 1-3, NRSV)
The new testament reading is from the Gospel of Luke.
Soon afterwards he went on through cities and villages, proclaiming and bringing the good news of the kingdom of God. The twelve were with him, as well as some women who had been cured of evil spirits and infirmities: Mary, called Magdalene, from whom seven demons had gone out, and Joanna, the wife of Herod's steward Chuza, and Susanna, and many others, who provided for them out of their resources.
Item 9: Sermon part 1 (Bishop)
What does it look like when our world is turned upside down? When everything we thought we knew about life crumbles and is then re-formed – if differently and more beautifully?
We know very little about Mary Magdalene, whose special place among the first Christians we celebrate today.
Often depicted in the past as a 'loose woman', we now recognise that label as wrong: today she's more likely to be seen as a person more sinned against than sinning. Like many, exploited by the rich and powerful, she would have been far more fragile and vulnerable than we have supposed.
Mary of Magdala is mentioned in the gospels at least 12 times. Her name derives from that fishing port and city on the Sea of Galilee which later became the scene of a massacre by the occupying Romans. She is one of the most loyal followers of Jesus witnessing his ministry, his crucifixion and his resurrection life. There's little biographical detail in the Bible for us to answer those questions about her past. But she is, perhaps, the best example in the Gospels of how love transforms everything. What we do know of her story shows the breadth, depth and height of God's love, which lifts us from darkness and then holds us securely from that moment onwards.
Our gospel reading helped us see the place where that love starts. We're told Mary was someone from whom evil spirits had been driven. She was a tormented person. She might have described her life as being 'out of control' or unsustainable.
I suspect Mary has something to say to everyone who relates to that kind of experience – of feeling at sea, out of control and unable to see hope at the end of the tunnel. Those who battle with addictions – to alcohol, drugs, smoking, gambling, sex, shopping or with anything else that seems to take over our lives, will all relate to Mary. Perhaps we all relate to Mary because we all know how our own choices and circumstances can damage and diminish us and that life as a consequence can be a good deal less certain and kinder than we might wish. In this sense Mary provides a canvas onto which we could all paint our life's story – the good and bad, the beautiful and the ugly.
The Christian faith is good news for people like us. Because it begins with the conviction that God loves us. This love isn't founded on the merits of our lives or the choices we've made or make. It's simply in the nature of God whose love is inexhaustible and inextinguishable.
It was that love that lay at the heart of one of Jesus' best-known parables – the prodigal son. Despite the total mess and chaos the younger son created for himself and for others, the father loved him. And it was this unconditional love which ultimately reached out to him, won him and gave him hope.
That was the love Mary received from Jesus, the love she witnessed most supremely at the foot of the cross. The cross is the place where God embraced us perfectly and put an end to our sin and alienation. It's the cross which makes good news for us all.
Our Old Testament reading had these words in it:
'And I will save the lame and gather the outcast,
and I will change their shame into praise and renown in all the earth'.
That was Mary's story, which becomes our story when this same extraordinary love reaches out to us. She provides us a living picture that we are not cast off, left out in the cold, all washed up. She shows that God's love reaches out to us where we are and invites us to new faith and trust.
The choir are going to sing an anthem now which describes the mystery of this wisdom, beyond our understanding and which yet becomes real to us in Jesus Christ.
'The Doctrine of Wisdom', with words from the Book of Proverbs, was composed by William Mathias, who was professor of music at Bangor and attended services here until his death in 1992. 
Item 10: Anthem 1 The Doctrine of wisdom (Mathias)
Item 11: Sermon part 2 (Bishop)
We need to press fast forward at this point to the very end of the story.
In one of the most astonishing encounters in the New Testament, we read it was Mary Magdalene to whom Jesus revealed himself in the garden.
Listen to this account from St John (read John 20:11-16):
'Now Mary stood outside the tomb crying. As she wept, she bent over to look into the tomb and saw two angels in white, seated where Jesus' body had been, one at the head and the other at the foot.
They asked her, "Woman, why are you crying?"
"They have taken my Lord away," she said, "and I don't know where they have put him." At this, she turned around and saw Jesus standing there, but she did not realize that it was Jesus.
He asked her, "Woman, why are you crying? Who is it you are looking for?"
Thinking he was the gardener, she said, "Sir, if you have carried him away, tell me where you have put him, and I will get him."
Jesus said to her, "Mary."
She turned toward him and cried out in Aramaic, "Rabboni!" (which means "Teacher")'.
Mary has journeyed with Jesus for so long now, witnessed some extraordinary changes in people's lives. She has heard what is possible with God, when human lives are touched by divine love and kindness.
And here now in his final resting place she comes to honour him and care for him.
If it was love which healed Mary which made her whole and complete, it was love which made her a disciple too, and one of Jesus' closest followers.
There is an irony that the women, those compelled to silence in public life, are now compelled to tell the ground-breaking news of the resurrection. Today it's easy for us to miss the offense, scandal and drama of this in the ancient world. Women! The ones who had no voice, few rights and fewer privileges now elevated to the highest place. It's as though we're meant to see that all who feel on the margins, outsiders, are the very ones whom God calls and draws.
If Mary returned to the grave out of devotion and grief she left with joy and hope. Once an outcast, she's now the chosen messenger.
She supposed Jesus to be the gardener. Literally. But she wasn't far wrong: the Risen Christ had tended in her life what had been so damaged and fragile and turned it into something whole and strong.
I don't imagine the years that followed were easy for Mary. Change can be demanding; letting go of old habits and forming new ones can be costly and hard. But change is possible. Mary shows us this - someone whose life was once a narrative of fear and darkness becomes a message of hope and light.
Our next hymn is a kind of prayer which Mary would have understood. It's Calon lan – in English, 'A Pure Heart'.
I do not ask for a life of luxury
Not the world's gold nor its fine pearls
I ask for a joyful heart
An honest heart, a pure heart
A pure heart, full of goodness
Fairer than the sweet lili
Only a pure heart can sing
Sing in the day and sing in the night
Once we embark on a journey of discovery with Christ, this way of praying is very natural. We travel forward with Christ, the Risen One, the True Gardener whose love has made us free.

Item 12: Hymn 2 Calon Lan
Item 13: Introduction to Poem (Dean)
Janet Morley's poem, 'They have taken away my Lord', imagines Mary Magdalene's response when she discovered Jesus' empty tomb.
Item 14: Poem 'They have taken away my Lord' by Janet Morley
 
Item 15: Introduction to the Anthem (Dean)
The anthem 'Christ has no body on earth but ours' is David Ogden's setting of a Welsh translation by Ceri Wyn Jones of words attributed to the Spanish mystic, Saint Teresa of Avila. They echo Mary Magdalene's ministry and our response to her example: 'Christ has no body now but yours. No hands, no feet on earth but yours'.
Item 16: Anthem 2 Does gan Grist gorff nawr, dim ond it (David Ogden)
Item 17: Prayers of Intercession
Reader
Let us pray.
(PRAYER 1)
Lord Jesus -  You gave us a Gospel to proclaim: we pray for our Church leaders and for all who walk the pilgrim path of faith, that together we may build and grow your church following the example of Mary Magdalene and all the saints. May their prayers surround us as we journey on.  
Reader + Congregation
Lord in your mercy: hear our prayer
Reader
(PRAYER 2)
Heavenly Father – You Gave a Gospel for us to live: You entrust your world into our fragile hands. Help us to be good stewards, that the abundant gifts of your creation may be available for all people today, and available for all future generations.
Reader + Congregation
Lord in your mercy: hear our prayer
Reader
(PRAYER 3)
Loving God: You gave us a Gospel as a comfort and strength. Bless and keep all people who live in areas that have been devastated by disaster, be it natural or from our own hands -  bring to their lands healing and fruitfulness.
Bless the work of all those who lead in your world, those who need peace and those who bring peace.
Reader + Congregation
Lord in your mercy: hear our prayer
Reader
(PRAYER 4)
Holy Spirit – As Mary Magdelene ministered to Christ, we ask that you would pour the gentle balm of your healing and wholeness on your world. We pray for all who are in special need this day, and especially those whose needs we bear in our own hearts.
We pray for those recently departed, and for those that mourn them…
Reader + Congregation
Lord in your mercy: hear our prayer
Reader
We conclude our prayers by saying together the words of the Lord's prayer:
Reader + Choir + Congregation
And together we pray
Our Father,
who art in heaven,
Hallowed be Thy name.
Thy Kingdom come, Thy will be done
On earth, as it is in Heaven.
Give us this day our daily bread
And forgive us our trespasses
As we forgive those who trespass against us.
Lead us not in temptation
But deliver us from evil,
For Thine is the Kingdom, the power and the glory,
For ever and ever.  Amen
Item 18: Hymn 3 We have a gospel to Proclaim (Fulda)
Item 19: Blessing (Bishop)
BLESSING OPTION 1
May the Peace of God which passes all understanding, keep our hearts and minds in the knowledge and love of God: A bendith Duw yr Hollalluog, y Tad y Mab ar Ysbryd Glan fo yn ein plith ac a drigo gyda ni yn wastad.  Amen
BLESSING OPTION 2
God's blessing be upon you now and always. Bendith Duw fod arnoch nawr ac hyd byth. Amen
BLESSING OPTION 3
The Grace of our Lord Jesus Christ and the love of God and the fellowship of the Holy Spirit be upon you now and always. Gras ein harglwydd Iesu Grist, a chariad Duw a chymdeithas yr Ysbryd Glan a fyddo gyda chwi oll nawr ac hyd byth. Amen
Item 20: Organ Voluntary
Festival Offertorium (Percy Fletcher)
Closing anno:
Organist Martin Brown bringing to a close this morning's Sunday Worship, live from Bangor Cathedral.  The service was led by the Very Reverend Kathy Jones; the preacher was the Bishop of Bangor, the Right Reverend Andy John; and the choir was directed by Paul Booth. The producer was Dominic Jewel.
In Sunday Worship next week the Revd Sharon Grenham-Thompson visits Italy and explores the life of St Francis of Assisi.
Broadcast