Main content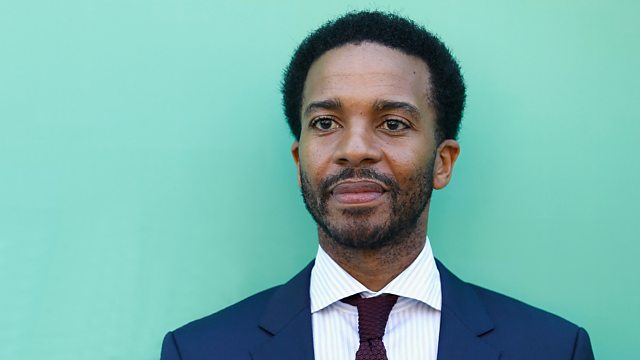 Andre Holland, Housing for artists, Feminist sci-fi
Andre Holland, who was in the Oscar-winning Moonlight, takes on Othello with Mark Rylance as Iago. Housing for artists, where they can live and work. Feminist science fiction.
Andre Holland is perhaps best known for his role as Kevin, the chef (and love interest) in the Oscar winning film Moonlight. Now he is in Britain playing Othello at Shakespeare's Globe in a production also featuring Mark Rylance as Iago. He tells Kirsty Lang how, unlikely as it might seem, his southern American accent fits the iambic pentameter of Shakespeare's lines perfectly.
The arrival of artists in rundown areas invariably signals that gentrification is on its way with those very same artists, as well as other locals, eventually getting priced out. London is where this process seems to happen fastest but it's also in London that new housing models for artists are being explored. Hadrian Garrad, director of Create London, and Marcel Baettig, artist, founder and chief executive officer of Bow Arts, discuss the work involved in providing affordable homes for artists.
Women Invent the Future is a new anthology of science fiction short stories by and about women. One of the authors, Molly Flatt, discusses re-imagining the future from a feminist perspective with Christina Dalcher, whose new novel Vox is set in a dystopian world where women's voices are strictly limited.
And how on this day, 25th July, in 1965 music changed.
Presenter: Kirsty Lang
Producer: Julian May.
Molly Flatt + Christina Dalcher
Housing Project For Artists
Hadrian Garrad is the Director of Create London and  Marcel Baettig the Founder and Chief Executive Officer of Bow Arts.   
Credits
| Role | Contributor |
| --- | --- |
| Presenter | Kirsty Lang |
| Interviewed Guest | Andre Holland |
| Interviewed Guest | Hadrian Garrad |
| Interviewed Guest | Marcel Baettig |
| Interviewed Guest | Molly Flatt |
| Interviewed Guest | Christina Dalcher |
| Producer | Julian May |