Main content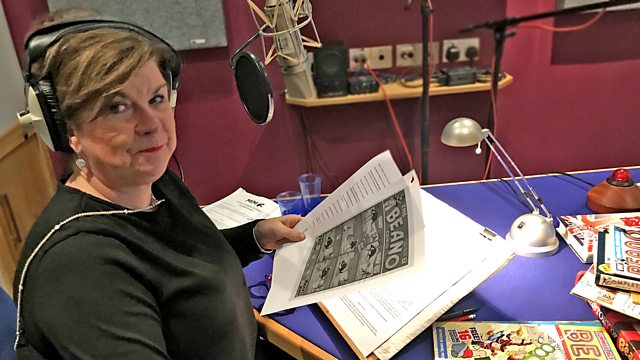 The Beano
Elaine C Smith looks back at 80 years of The Beano, the children's comic created by Dundee-based company DC Thomson. She charts its history from the first issue in summer 1938.
Two Doors Down star Elaine C Smith celebrates 80 years of The Beano, from its beginnings in 1938 as a younger sibling to The Dandy, its golden age in the 1950s and 60s and how it continues to go from strength to strength.
Elaine charts the comic's roots in Dundee where it was created by local company DC Thomson and hears from a plethora of big names who have been part of the comic's rich history.
Beano and Dandy writers Morris Heggie and Craig Ferguson discuss the war years, and how Lord Snooty and his pals joined the fight, comedian Angela Barnes shares her memories of growing up reading the Beano, artist Barrie Appleby explains how classic characters like Roger the Dodger are brought to life and writer Nigel Auchterlounie lets us in on the secret of the Dennis The Menace Dynasty.
Elaine hears about the exciting auction of a Beano Issue 1, examines how the characters have changed to reflect the different times and talks to writer Iain McLaughlin who confesses to basing some of his Minnie the Minx storylines on his nieces.
The Beano's first ever female illustrator Laura Howell and 17 year old Beano artist Zoom Rockman are on hand to give their reflections while Matthew Brolley explains how he used The Beano to teach English to children in Japan.
Elaine also looks at The Beano in popular culture, how it inspired musicians and artists through the years, including animator Nick Park of Wallace and Gromit fame. Meanwhile co-editors of Viz talk about the huge influence on their magazine, and the rivalry with Beano and Dandy.
Managing editor of Beano Studios Scotland Craig Graham talks about the comic's 80th birthday celebrations and to round off, Elaine looks to the Beano's future with the ongoing success of the new Dennis and Gnasher TV series and the recent announcement of a live action Minnie the Minx.
A Comic Celebration: The Beano is an MIM Production for BBC Radio Scotland
Producer: Iain Mackness.
Last on

Featured in...
The season's best programmes from Radio Scotland

The V&A opens and Radio Scotland presents a range of shows from, and about, the city