Main content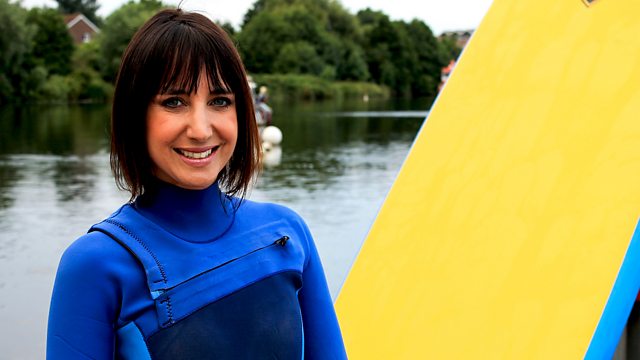 Consumer magazine. Rachel Treadaway-Williams investigates the plumbing firm with a series of different names - and a string of unhappy customers.
Lucy Owen and the team are back on the consumer case, fighting for your rights. Rachel Treadaway-Williams investigates the plumbing firm with a series of different names - and a string of unhappy customers. Plus Omar Hamdi finds out about the fatbergs blocking Welsh sewers. He's with the experts learning the dos and don'ts of what can safely go down our drains and putting so-called 'flushable wipes' to the test.
Emergency Plumbers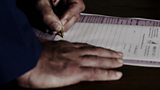 The yellow pages book used to be essential for tracking down the right business in a hurry. Now, with the internet, it's being printed for the very last time. But there are still those who rely on their printed copies.
X-Ray has received a number of complaints about one particular business, which seems to do most of its advertising in the old yellow pages. It's called Emergency Plumbers Ltd, but uses lots of different adverts under different names, including M.J Harris Plumbing and Drainage, Dragon Plumbing, Rapid Plum South Wales, and Dr Plumber. They promise OAP discounts and no-call out charges.
But the customers we've spoken to say they've been charged well over the odds for simple plumbing jobs – none of which were emergency call outs.
Retired John Sanders, from Abertillery, found one of their businesses in the Yellow Pages and called them out to sort out some leaky bath taps.
He was told a new set of taps were needed, a job that took forty minutes. The bill came to £286.35.
John said: "I was shocked, very shocked. Anywhere around £100 I was expecting, not £286."
When John complained the company sent him a cheque refunding £65.
Something similar happened to George White and his wife Shirley from Cwmbran. They had a problem with their downstairs toilet overflowing, and also called Emergency Plumbers out after seeing an advert in the yellow pages. The plumber asked George to sign the paperwork and agree the price for a new inlet valve before he started the job, which took all of half an hour. The total bill came to £166, but feeling desperate to get it fixed George agreed.
George said: "I said well you better go ahead and do it. Only through desperation mind. I was shocked when he said it was £166."
X-Ray went undercover to see their plumbers in action for ourselves. We called out Dr Plumber – another of their business names – to come and fix some problems for our actor John, playing an elderly homeowner.
John took their plumber to the bathroom to show him the issues – a leaking tap and a running toilet. Their plumber told John that he'd try to replace the valve on the leaking tap, but if that didn't work we might need both taps replaced. He quoted a whopping £185.25 for a new inlet valve for the toilet and the replacement tap valve.  But the price got steeper still when he couldn't replace the valve in the tap and ended up fitting two new taps. The taps were priced at a £100, bringing the final bill to £280.25. The entire job took less than 45 minutes.
Rob James teaches the next generation of plumbers at Bridgend College. He was shocked by the amounts Emergency Plumbers were charging.
"I would say they are double what I would expect someone to pay, if not more. The 5% discount is almost an irrelevance because the price they're charging after discount is still extortionate."
Emergency Plumbers Ltd told us their staff always quote the price before starting a job, so customers could say no if they weren't happy. They also said that they were already in the process of a review of their pricing structure and the way the business was marketed, to ensure they weren't misleading customers, as that was never their intention.
Fatbergs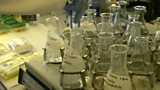 Wet wipes are public enemy number one, as far as Welsh Water are concerned. They block up our sewers when people flush them down their toilets, and can contribute to so-called fatbergs.
Fatbergs are made up of oils like cooking fat, and items like sanitary products or wet wipes that shouldn't be flushed into our sewer systems.
One was found in a London sewer last year that was 250 meters long, another was discovered in the sewers beneath Cardiff city centre. Welsh Water has to spend seven million pounds every year cleaning out blocked sewers with high pressure water pumps.  
Imogen Brown, from Dwr Cymru Welsh Water, said, "We get over 2000 blockages a month to deal with, and when they turn into a super blockage, that's when you get a fatberg."
Professor Jo Hamilton and Microbiologist Dr Justin Pachebat, both from Aberystwyth University, are studying fatbergs. X-Ray asked them to carry out an experiment to see how different types of wet wipes – from ones claiming to be flushable or biodegradable to standard ones  - would decompose in water.
After a month and a half, Dr Pachebat told us:  "None of them broke down totally."
He added: "This one here for example is flushable and labelled as biodegradable, so when you look at it you can see its starting to break down, but the main structure of the wet wipe is still there."
A wipe that was labelled as "non-flushable" hadn't broken down at all.
Welsh Water is currently running a campaign called Let's Stop The Block, aimed at making sure  people know not to flush away wipes or anything else that isn't toilet paper.
Credits
| Role | Contributor |
| --- | --- |
| Presenter | Lucy Owen |
| Reporter | Omar Hamdi |
| Reporter | Rachel Treadaway-Williams |
| Series Producer | Sean Hughes |