Main content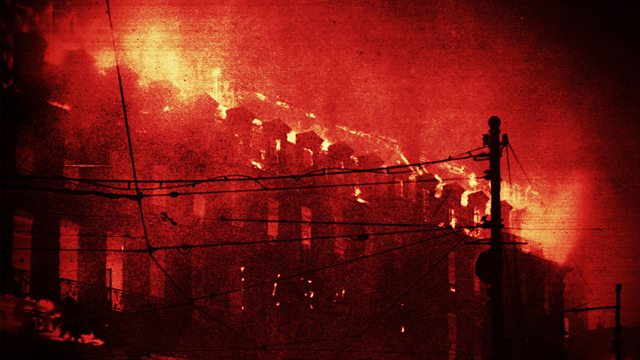 Operation Crucible
The fight for survival as the city of Sheffield is heavily bombed in December 1940. Kieran Knowles' drama tells the story of four steelworkers who seek refuge in the Marples Hotel.
The Sheffield Blitz. On 12th December 1940 the city suffered 9 hours of sustained bombing as the Luftwaffe sought to destroy its heavy industry. Kieran Knowles' drama tells the story of 4 steelworkers who fled to what they hoped was the safety of the Marples Hotel. The stage play version has just returned from an acclaimed run at the 2018 Brits Off-Broadway season in New York.
Directed by Toby Swift
Operation Crucible began life as a stage play at the Finborough Theatre in 2013 before a sell-out run at Sheffield's Crucible Theatre in 2016 and then a season in New York in May/June this year.
Just before midnight on 12th December 1940, the Marples Hotel in the centre of Sheffield suffered a direct hit from a 500kg bomb, reducing it to rubble. Seventy people were killed; seven survived. The drama features 4 fictional characters caught up in the events of that night.
"as the four actors go through their characters' rituals of work and friendship...an entire civilization is conjured in homey, microcosmic detail. A world that might, in other contexts, feel mundane acquires the bright, searing poetry that illuminates things familiar when they're about to disappear forever." (NYT Critic's Pick) New York Times.
Credits
| Role | Contributor |
| --- | --- |
| Bob | Salvatore D'Aquilla |
| Tommy | Matthew Wilson |
| Arthur | Joseph Ayre |
| Phil | Ross Anderson |
| Elaine | Kerry Gooderson |
| Martha | Kerry Gooderson |
| Foreman | John Lightbody |
| Dad | John Lightbody |
| Director | Toby Swift |
| Writer | Kieran Knowles |