Main content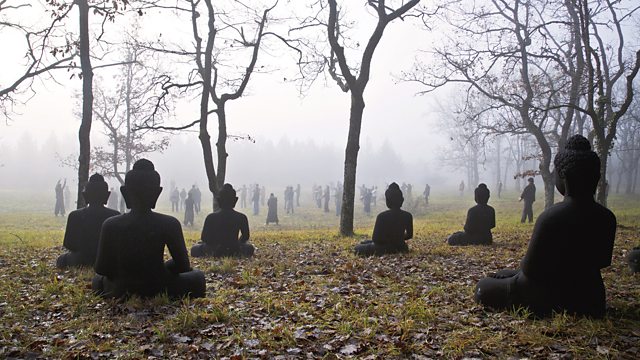 Existential Cool - Buddhism and the Art of Acceptance
Forget self-actualisation, does true happiness, Nirvana, come from dissolving the self?
Are we pursuing happiness, or is the happiness industry pursuing us? And if our model of hedonism isn't working, how do we hack our happiness back? Leo Johnson goes on a year-long journey to pick up life lessons of happiness from modern day practitioners of radically different philosophies.
It's a journey that takes us from Yorkshire's anti-fracking grannies to the slow footballing Vietnamese monks of Plum Village, from self-cutting poets to the Chief Happiness Officers Convention in Paris, from London's asexual community to multi-orgasmic Swedish academics, and from World Champion Muay Thai women kick-boxers to Elvis-loving dementia sufferers.
What emerges is a set of starkly competing visions of the good life - ancient philosophies still duking it out to get punched in as the destination in our psychic Sat Navs.
What we meet is a set of individuals who have questioned the default comforts of the IKEA catalogue, defined the shape of the self, and chosen lives that give us a glimpse of how each of us can reclaim peace, reclaim purpose, reclaim pain, and reclaim pleasure - the real pleasure that hedonism promised.
Episode 3: Existential Cool - Buddhism and the art of acceptance
Forget self-actualisation, does true happiness, Nirvana, come from dissolving the self?
This episode was recorded on location at Plum Village Buddhist Monastery near Bordeaux, France, set up by Thich Nhat Hahn, the monk who persuaded Martin Luther King to oppose the Vietnam War. We meet the Brothers and Sisters of Plum Village including Sister True Dedication, Brother Phap Ung and Sister Trenian and, at the Happy Farm, we meet Brother Simon.
A Reel Soul Movies production for BBC Radio 4
Photo: 16 Buddhas, Plum Village Buddhist Monastery. Copyright Plum Village CBZ.
Last on
Broadcasts