Main content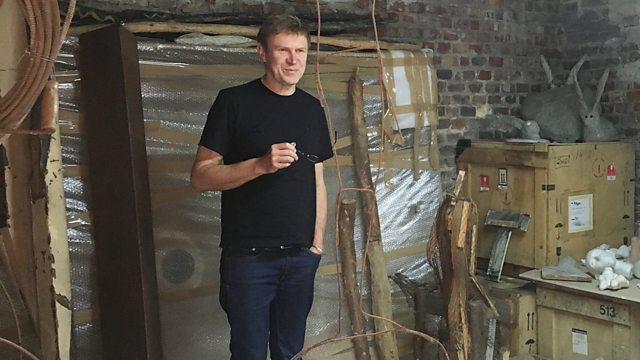 Miroslaw Balka
Polish artist Miroslaw Balka gives Frances Morris, director of Tate Modern, an epic tour of the small, cramped spaces that are his studio and home in Otwock near Warsaw.
Polish artist Miroslaw Balka gives Frances Morris, Director of Tate Modern, an epic tour of the small, cramped spaces that are his studio, store and home in Otwock, near Warsaw.
These rooms are packed with what seem mostly to be discarded everyday objects - offcuts of old wood, old springs, a shock absorber, handles and hooks, a bag of ancient fir tree needles, a string of used soap, a tin can of ash. Many of these items belonged to his grandparents and parents. They are ordinary objects which transform, when orchestrated by Balka in the gallery space, into powerful works of art.
Through Balka's work, Frances Morris finds out about the artist's life, work and modern Poland.
Miroslaw Balka, born in 1958, grew up in post Nazi occupied, Communist Poland with its distinct and powerful Catholic church. He experienced the extremes of Martial Law in the early 1980s and soon the end of the Communist era later that decade.
The house where he grew up, next to his grandparents bungalows and his father's workshop, is where he lives and works today. Otwock had been a weekend resort for many Jews living in Warsaw, and Balka's address is a few streets from what was once the Jewish Ghetto. In 1942 virtually every Jew living in the Nazi designated area, was transported to Treblinka camp and exterminated - they represented half the population of the town, but the atrocity was barely discussed in Balka's childhood.
History haunts his work - a delicately sliced apple, dried and carefully arranged is made from an apple he picked at Treblinka, and his large scale work for Tate Modern's Turbine Hall in 2009, How It Is, was a steel container, recalling a stowaway for refugees or a freight container to transport Jews to the death camp. But the material here is above all, darkness - the visitor walking up a ramp into an intensely dark space.
Balka's sense of space, of presence, of materials and their associations is astute. Standing in front of two vertical, wall mounted planks hinged together can emit a sense of an embrace, while a strange lump of concrete with metal legs nearby leaves the viewer disorientated. His objects are nearly recogniseable - vessels filled with concrete, a spout from the bottom of the wall - a sense that things are being seen in a half light, in the gallery space.
As Frances Morris has written, "There is no rigid border between Balka's life and his art, but there is always a threshold to be crossed."
How does he do it? With fellow artist and admirer Phyllida Barlow, the programme explores how ordinary objects take on meaning and convey stories that resonate and connect us to Balka's own experience. We hear from his students at the Warsaw Academy where Balka runs the Studio of Spatial Activities.
Produced by Kate Bland
A Cast Iron Radio Production for BBC Radio 4.
Last on
Broadcasts