Main content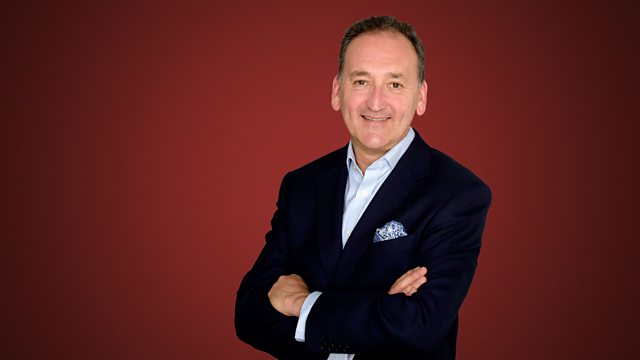 Monday with Ian Skelly - Walton, Lynne Truss, Seances in WW1
Ian Skelly with the best in classical music plus this week's guest, writer Lynne Truss.
Ian Skelly with Essential Classics - the best in classical music.
0930 Your ideas for companion pieces on the Essential Classics playlist.
1010 Time Traveller - A quirky slice of cultural history
1050 Ian's guest this week is the writer and broadcaster Lynne Truss, author of the best-selling "Eats, Shoots & Leaves: The Zero Tolerance Approach to Punctuation." She'll be talking about the art, film, people and places that have inspired her over the years.
Last on
Music and featured items
Joseph Haydn

The Unexpected Encounter (Overture)

Orchestra: Collegium Musicum Basel. Conductor: Kevin Griffiths.

Romberg, Mozart & Haydn: Orchestral Works.
CPO.
8.

Max Bruch

8 Pieces Op.83 No.1

Performer: Mark Simpson. Performer: Lise Berthaud. Performer: Joseph Middleton.

William Byrd

Rorate coeli for 5 voices

Ensemble: Stile Antico.

Puer Natus Est, Tudor Music For Advent and Christmas: Stile Antico.
Harmonia Mundi.
3.

Johann Sebastian Bach

Brandenburg Concerto no.2 in F major, BWV.1047

Ensemble: Concerto Italiano. Director: Rinaldo Alessandrini.

J. S. Bach: Brandenburg Concertos: Concerto Italiano.
Naive.
11.

William Walton

Crown Imperial

Orchestra: Bournemouth Symphony Orchestra. Conductor: Andrew Litton.

Walton: The Centenary Edition: Bournemouth Symphony Orchestra/Litton.
Decca.
1.

Ludwig van Beethoven

String Quartet in G major Op.18`2 (3rd mvt)

Ensemble: Elias String Quartet.

Igor Stravinsky

Scherzo à la russe

Orchestra: Budapest Festival Orchestra. Conductor: Iván Fischer.

Paul Dukas

The Sorcerer's Apprentice

Music Arranger: Victor Staub. Performer: Yuja Wang.

Fantasia.
Deutsche Grammophon.
012.

Felix Mendelssohn

Concert piece no. 1 in F minor Op.113

Performer: Sabine Meyer. Performer: Wolfgang Meyer. Orchestra: Academy of St Martin in the Fields. Conductor: Kenneth Sillito.

Time Traveller: Seances

Duration: 02:33

Elena Kats‐Chernin

Butterflying

Performer: Nicola Sweeney. Performer: Sarah Nicolls.

Kats-Chernin: Ragtime and Blue.
Signum Classics.
13.

Richard Addinsell

Blithe Sprit (Waltz Theme arr Isaacs)

Orchestra: Royal Ballet Sinfonia. Conductor: Kenneth Alwyn.

Music of Richard Addinsell.
ASV.
4.

Heitor Villa‐Lobos

Bachiana brasileira No 5

Singer: Renée Fleming. Ensemble: New World Symphony. Conductor: Michael Tilson Thomas.

Villa-Lobos: Bachianas Brasileiras: Michael Tilson Thomas.
RCA.
5-6.

Ralph Vaughan Williams

O taste and see

Choir: The Choir of Canterbury Cathedral. Performer: David Flood. Conductor: Allan Wicks.

The World of Vaughan Williams.
Decca.
13.

Eric Coates

London Suite: III. Knightsbridge (March)

Orchestra: BBC Concert Orchestra. Conductor: Vernon Handley.

The Essential British Light Music Collection.
Classic FM.

Johann Sebastian Bach

Chorale-Prelude 'Komm, Gott, Schöpfer, Heiliger Geist', BWV 667 transc Busoni

Performer: Nikolai Demidenko.

J.S.Bach: Piano Transcriptions, Vol. 02 - Ferruccio Busoni: Demidenko.
Hyperion.
4.

Giuseppe Sarti

Now the powers of heaven

Choir: Eesti Filharmoonia Kammerkoor. Conductor: Paul Hillier.

Cultural Inspirations: Lynne Truss on Julia Margaret Cameron

Duration: 04:38

Benjamin Britten

Serenade for Tenor, Horn and Strings (Nocturne)

Performer: Barry Tuckwell. Singer: Peter Pears. Orchestra: London Symphony Orchestra. Orchestra: English Chamber Orchestra. Conductor: Benjamin Britten.

Britten: Serenade; Les Illuminations; Nocturne.
Decca.
3.

Henry Purcell

Suite in G major

Ensemble: London Baroque.

Zoltán Kodály

Romance lyrique

Performer: Natalie Clein. Performer: Julius Drake.

Zoltan Kodaly, Sonata for solo cello: Clein / Drake.
Hyperion.
14.

Felix Mendelssohn

The Hebrides, Op 26

Conductor: Claudio Abbado. Orchestra: London Symphony Orchestra.

Mendelssohn Overturen London Symphony Orchestra Claudio Abbado.
Deutsche Grammophon.
7.

Cécile Chaminade

Valse romantique, Op.115

Performer: Peter Jacobs.

Chaminade: Piano Music - 1, Peter Jacobs.
Helios.
16.

Sylvius Leopold Weiss

Ciacona (Chiesa Suite 8)

Performer: Jakob Lindberg.

A Lute by Sixtus Rauwolf.
BIS.
32.

Antonín Dvořák

Scherzo capriccioso, Op. 66

Orchestra: Oslo Philharmonic Orchestra. Conductor: Mariss Jansons.

Dvorak: Symphony No. 5, Scherzo Capriccioso etc..
EMI.
6.
Broadcast

The Classical Companion Collection