Main content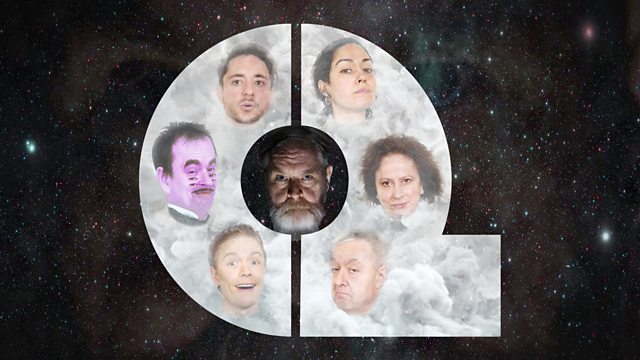 The Splattered Remains of Undentifiable Organs Incident All Over Again
Jenkins (John Sessions) finds the crew have taken the lift to the Moon, where shape-shifting carnivorous plants and low oxygen awaits them. But can they get angry enough to leave?
It's still 1952. It's always 1952.
The Quanderhorn crew find themselves on Advanced Lunar Station Q, with no means of returning to Earth and limited oxygen supplies.
Splitting into two teams after a game of Martian Closey-Eyesie, Guuuurk (Kevin Eldon) and Troy (Freddie Fox) fall prey to a ravenous Lunar Man Trap, while Brian (Ryan Sampson) and Gemma (Cassie Layton) stumble upon an intact space craft.
But there are two problems. Gemma's ear is unwinding, rendering her emotionally unstable, and there's no apparent entrance to the craft.
Having rather astonishingly escaped their various dilemmas, the crew encounter yet another conundrum - how exactly is the ship powered?
Jenkins (John Sessions), the professor's factotum, detects a spacecraft approaching Earth which Quanderhorn (James Fleet) orders him to blast out of the sky, apparently unaware his own crew is aboard.
The Quanderhorn Xperimentations - an adventure beyond human understanding.
Cast:
Professor Quanderhorn- James Fleet
Brian Nylon- Ryan Sampson
Dr Gemini Janussen- Cassie Layton
Guuurk- Kevin Eldon
Troy Quanderhorn- Freddie Fox
Winston Churchill/Jenkins- John Sessions
Synthetic Voice Rachel Atkins
Created and written by Rob Grant and Andrew Marshall
Directed by Andrew Marshall
Music by Peter Brewis
Engineered, Edited and Sound designed by Alistair McGregor
Production Manager: Sarah Tombling
Produced by Rob Grant and Gordon Kennedy
Recorded at The Soundhouse Studios
An Absolutely production for BBC Radio 4
Credits
| Role | Contributor |
| --- | --- |
| Professor Quanderhorn | James Fleet |
| Brian Nylon | Ryan Sampson |
| Dr Gemini Jannussen | Cassie Layton |
| Guuuurk | Kevin Eldon |
| Troy Quanderhorn | Freddie Fox |
| Churchill | John Sessions |
| Jenkins | John Sessions |
| Synthetic Voice | Rachel Atkins |
| Writer | Rob Grant |
| Writer | Andrew Marshall |