Main content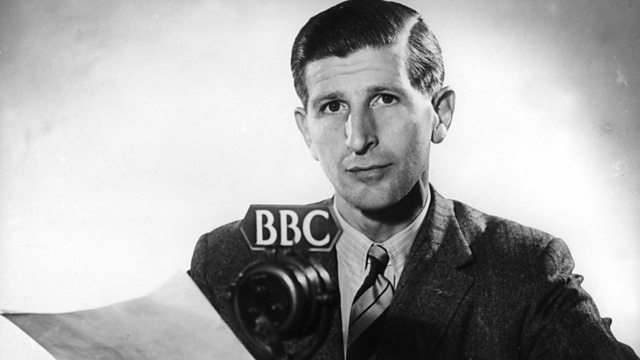 The News
Actor and comedian Miles Jupp, host of Radio 4's 'The News Quiz', and radio news presenter Kathy Clugston read poetry and prose about the news media, with music and archive clips.
From early morning radio bulletins and a daily paper, to TV and social media, The News is at the centre of our lives. It shapes conversations. It affects our mood. This edition travels from the 19th century, when newspapers were seen as noble messengers, to the 21st, with 24-hour rolling news on every screen.
Comical newshounds in novels by Evelyn Waugh and Anthony Trollope, populate the first half of the programme, and poets Carol Ann Duffy and Wendy Cope point a cynical finger at the tabloid press. Then the mood darkens as Siegfried Sassoon's WWI soldier humours a naïve war reporter, and Joan Barton poignantly recalls watching the outbreak of WWII on a cinema newsreel. John Adams wrote his opera Nixon in China, inspired by the president's 1972 visit and the mythology surrounding it. Meanwhile the gut instincts and determination of investigative reporters Bernstein and Woodward were eventually to bring Nixon down.
Music, poetry and archive clips reflect key moments in history, such as Paul Simon's moving Seven O'Clock News/Silent Night, as Dr Martin Luther King visits Atlanta and America anticipates five more years of war in Vietnam, and Roger Woddis's outcry against the UK race riots in 1981. 20 years later, Andrew Marr watches the 9/11 terrorist attacks unfold in real time on a 24-hour rolling news service.
We hear themes used for news programmes by Malcolm Arnold, John Williams and the BBC Radiophonic Workshop, and incidental music for plays and films, such as Samuel Barber's School for Scandal and Bernard Herrmann's score for Citizen Kane.
Newsreader Kathy Clugston and Miles Jupp, host of BBC Radio 4's The News Quiz, are the readers for a special edition of Words and Music exploring the evolution of how we get our news.
Producer Helen Garrison.
Music Played
Timings (where shown) are from the start of the programme in hours and minutes
George Crabbe

THE NEWSPAPER (extract), read by Miles Jupp

Shane Leslie

Fleet Street, Read by Kathy Clugston

T. S. (Thomas Stearns) Eliot

Airs of Palestine No. 2, Read by Kathy Clugston

Evelyn Waugh

Scoop (extract), Read by Miles Jupp

Carol Ann Duffy

Poet for our times, Read by Miles Jupp

Charlotte Perkins Gilman

The Yellow Reporter, Read by Kathy Clugston

Anthony Trollope

The Warden (extract), Read by Miles Jupp

Wendy Cope

How to deal with the press, Read by Miles Jupp

Barry Norman

And why not? (extract), Read by Miles Jupp

Siegfried Sassoon

Editorial Impressions, Read by Miles Jupp

Joan Barton

First News Reel: September 1939, Read by Kathy Clugston

Roger Woddis

Frontline, Read by Kathy Clugston

Carl Bernstein and Bob Woodward

All the President's Men (extract), Read by Miles Jupp

Michael Frayn

Towards the end of morning (extract), Read by Miles Jupp

Carol Ann Duffy

War Photographer, Read by Kathy Clugston

Hortense King Flexner

Foreign News, Read by Kathy Clugston

Andrew Marr

My Trade (extract), Read by Miles Jupp

David Mason

Daytime, Read by Kathy Clugston