The Honeypot Children's Charity
The Radio 4 Appeal on behalf of The Honeypot Children's Charity is made by Bethannie York, a beneficiary.
Registered Charity Number: 1011672
To Give:
- Freephone 0800 404 8144
- Freepost BBC Radio 4 Appeal. (That's the whole address. Please do not write anything else on the front of the envelope). Mark the back of the envelope 'The Honeypot Children's Charity'.
- Cheques should be made payable to 'The Honeypot Children's Charity'.
Last on
The Honeypot Children's Charity
Since 1996, the Honeypot Children's Charity has been supporting young carers and vulnerable children, aged 5-12 years old, across the UK. We give young carers a break from demanding and stressful responsibilities at home, and provide a safe, nurturing environment where children can develop their full potential.
Respite Breaks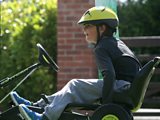 To help young carers in the UK make the most of their one chance at childhood, we provide regular respite breaks. Children come to one of our two beautiful countryside Honeypot Houses, one in the New Forest,  the other in mid-Wales, where they can take part in fun activities, make friends, build their confidence, and have the time and space to relax.
Outreach Support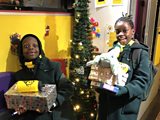 We also reach out to children in their local communities.  We visit them with our Playbus to provide on-going contact throughout the year, and give birthday cards and Christmas presents - sometimes the only ones children may receive.
Beth meeting comedian Josh Widdicombe at a Honeypot event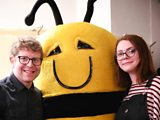 Bethannie has made this appeal on our behalf, because she feels Honeypot made a difference to her when she needed it most.  She was able to build her confidence and create childhood memories she can cherish. She will be going to university this September, and now dreams of being a museum curator