Main content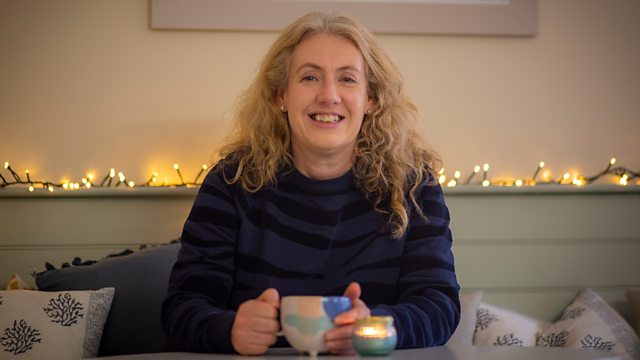 Smoke, fire and meat - BBQ Special
Peggy Brunache and Simon Preston team up to see if they can create an authentic tasting sweet and smokey US-style barbecue in Simon's back garden.
Chef Peggy Brunache and food innovator Simon Preston fire up the barbecue and their imaginations as they attempt to recreate the tastes of a US style Barbecue pit using just a domestic oven and a £20 BBQ.
We hear from the Yorkshire couple who have fallen so far in love with the smokey flavours of US style outdoor eating they've imported a smoker and started up a BBQ Pit in Auldgirth in Dumfries.
Does Barbecue always mean beer? Not necessarily - Simon finds the red wines that can cope with even the smokiest flavours.
Peggy tells us about the history and regional variations in US barbecue culture. Why there is no such thing as "barbecue sauce" - we find out about three totally different authentic taste sensations that will enliven even the most wretched hunk of charred meat.
In a nod to our unpredictable weather we find out how to always be barbecue ready in just one hour.
Barbecue Chicken with Carolina Gold Sauce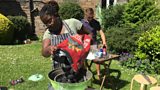 The recipe works in 3 stages: making the bbq sauce, poaching the chicken, then grilling the chicken on the barbecue.
Poaching the chicken ensures that there will be no raw or undercooked meat while grilling.
The Carolina Gold can be made a day in advance and can be served as a dipping sauce for meats and veggies as well.
Carolina Gold Mustard bbq sauce    Prep Time: 5 mins. (Refrigeration Time 1 to 24 hours)
118ml cider vinegar
2 tablespoons dark brown sugar
2 teaspoons chicken bouillon granules or 1 cube crushed
2 teaspoons onion powder
2 teaspoons garlic powder
1 teaspoon salt
1 teaspoon freshly ground black pepper
245g American yellow mustard*
2 teaspoons Worcestershire sauce
3 tablespoons tomato paste
1/2 teaspoon hot sauce
80g treacle
80g honey
*You can only use American style mustard  British or French mustard cannot be substituted. You may want to have extra mustard on reserve to sharpen the bbq sauce to your palate.
Preparation
Dissolve dry ingredients in cider vinegar. Mix the American mustard and all wet ingredients together thoroughly. Refrigerate for at least 1 hour. When not in use, preserve sauce in a tightly sealed jar in the refrigerator for up to 2 weeks. Freezing is also an option.
Poached Chicken   Prep Time: 2 mins. Cook Time: 25 mins
Water
8 pieces of chicken pieces on the bone*
2 chicken stock cubes
1 medium size onion peeled and halved
2 tablespoons ground black pepper
1 bay leaf (optional)
In a large pot or Dutch oven pot, add chicken pieces. Add enough cold water until it just covers the chicken pieces. Add remaining 4 ingredients. Place a lid on the pot and cook on high heat until the liquid comes to a boil. Remove lid, reduce the heat to a slow rolling boil and cook the chicken for 20 mins. Remove from heat and return lid to the pot until you're ready to grill.
*For skinless, boneless chicken strips, poach for 10 mins or until the chicken is opaque white.
BBQ Chicken With Carolina Gold Sauce  Cook Time: 10-15 mins
When the hot charcoals of your bbq grill have reduced to steady heat without high flames, grill the poached chicken turning every so often to establish an even roasted skin. Brush the Carolina Gold sauce on the barbecued pieces to caramelize the sauce to the chicken. Grill on each side for 1-2 mins only to avoid burning.
Remove from grill and serve with additional sauce for dipping
Auldgirth BBQ Pit Pork Rub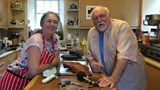 Auldgirth BBQ Pit Pork Rub – for amazing rubs
Ingredients
3 Cups Demerara sugar
3 Cups White Sugar
4.5 Cups Salt
3 Cupes Paprika
¼ cup ground black pepper
¼ cup ground white pepper
2 ¼ Cup Chilli Powder (Mild)
1 Cup Garlic Powder
½ Cup Onion Powder
5 Teaspoon Hot Chilli/ Cayenne pepper
Method:
Combine ingredients in a big bowl, mix thoroughly then apply to pork ribs covering both sides.
This mixture will last a long time and will keep you going through many racks of ribs
To cook Ribs:
Smoke at 225F (110C) for approx. 3 hours when the internal temperature of the ribs reaches 71C soak the meat in apple juice and wrap in extra thick foil. Cook for 2 more hours until  internal temperature is 180-180F (82C).
To get a smoky flavour we finished these ribs off on a barbecue with lid closed for 20-30 mins checking frequently to make sure they weren't burning and turning every 5 mins.
Podcast
Celebrate the joy of Scotland's larder with recipes, reviews, tips and delicious ideas!