Main content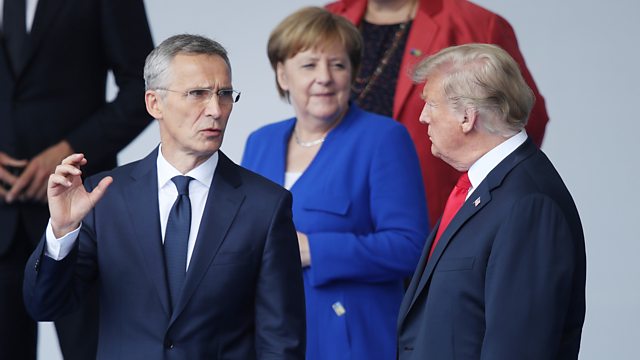 Trump vs NATO
As President Trump demands NATO members pay more for their own defence, we ask if NATO should be planning for a future without the United States. Presented by David Aaronovitch.
Should NATO plan for a future without the United States?
President Trump has long complained that some European members of the organisation have been getting a free ride from the USA after failing to meet their commitment to spend two per cent of their national income on defence.
At the NATO meeting on Wednesday he raised the ante, saying he wanted the two per cent to be raised to four per cent. The rhetoric from the White House has raised fears that the Trump administration might consider withdrawing from NATO altogether.
David Aaronovitch asks to what extent are European NATO members getting a free ride and could they defend themselves without US support?
He assesses the current threat to NATO and asks how the military alliance strengthens its European members and how the United States benefits from membership.
CONTRIBUTORS
Elisabeth Braw, expert on European security at the consultancy Control Risks
Nick Childs, senior fellow at the International Institute for Strategic Studies
Filippo Costa Buranelli, School of International Relations at the University of St Andrews
Tomas Valasek, former Slovakian permanent representative to NATO
Heather Conley, served in the US State Department during the George W. Bush administration
Producers: Tim Mansel, Serena Tarling and Olivia Beazley
How well equipped is Britain today to defend itself both at home and overseas?

David Aaronovitch asks what Turkey, Russia, Iran and the US want from the war in Syria.