Main content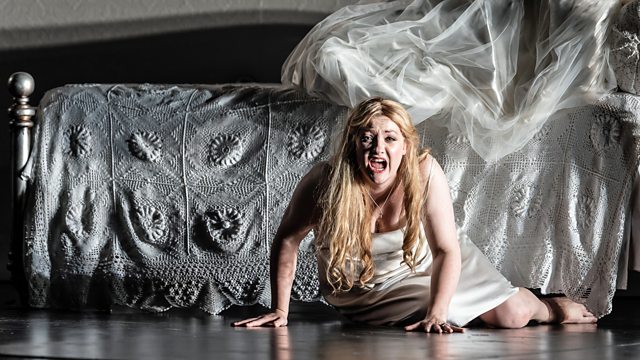 Wagner's Lohengrin at the Royal Opera House
Wagner's Lohengrin conducted by Andris Nelsons, recorded at the Royal Opera House in London. Klaus Florian Vogt sings the title role wtih Jennifer Davis as Elsa, his doomed lover.
Wagner's Lohengrin, recorded earlier this month at the Royal Opera House in London, with a stellar cast lead by tenor Klaus Florian Vogt in the title role and the soprano Jennifer Davis as Elsa von Brabant. Based on a German medieval romance, the noble and pure knight Lohengrin is sent to defend and protect Elsa, and as the couple fall madly in love, a dark conspiracy based on treason and jealousy threatens to undermine them, with tragic consequences. Wagner named Lohengrin a 'Romantic opera', and significantly he developed on it his first attempts to write a through-composed music drama, innovating the genre and changing it for ever. Latvian maestro Andris Nelsons conducts the Royal Opera House orchestra and chorus.
Presented by Martin Handley with contributions from Dr Barbara Eichner, Senior Lecturer of Music at Oxford Brookes University.
Lohengrin ..... Klaus Florian Vogt (tenor)
Elsa von Brabant ..... Jennifer Davis (soprano)
Ortrud ..... Christine Goerke (soprano)
Friedrich von Telramund ..... Thomas J. Mayer (baritone)
Heinrich I ..... Georg Zeppenfeld (bass)
Herald ..... Kostas Smoriginas (bass-baritone)
First Noble of Brabant ..... Konu Kim (tenor)
Second Noble of Brabant ..... Thomas Atkins (tenor)
Third Noble of Brabant ..... Gyula Nagy (baritone)
Fourth Noble of Brabant ..... Simon Shibambu (bass)
Royal Opera Chorus & Orchestra
Andris Nelsons (conductor).
Synopsis
Synopsis
When the Duke of Brabant died, he left his children Elsa and Gottfried in the
care of Friedrich von Telramund. Gottfried has mysteriously disappeared, and
Telramund has accused Elsa of his murder.
Act I
King Heinrich has arrived in Antwerp to recruit the Brabantines to join him in defending
Germany against Hungarian invasion. Telramund tells the King that Gottfried of Brabant
has been murdered by his sister Elsa, and claims the dukedom. The Herald summons
Elsa, and the King orders Elsa to defend herself. Elsa tells how she prayed to God in her
distress, and saw a vision of a knight who will vindicate her (Einsam in trüben Tagen).
Telramund demands that Elsa's defender fight him in single combat.
The Herald orders Elsa's champion to appear. Twice his calls are unanswered. As
Elsa prays, a stranger (Lohengrin) mysteriously arrives. He offers to fight for Elsa on one
condition: that she never asks his name or where he comes from. Elsa agrees and they
vow to be faithful to each other.
The Herald announces the rules for the combat, and King Heinrich prays (Mein Herr und
Gott), seconded by the Brabantines. Lohengrin defeats Telramund in the fight but spares
his life. Elsa exults and the crowd acclaims her champion. Meanwhile, Telramund's wife
Ortrud rages at her husband's defeat, and wonders at the mysterious power of the stranger.
Act II
Telramund accuses Ortrud of disgracing him; it was she who told him that Elsa was guilty
of fratricide and encouraged Telramund to accuse her publicly. He feels that God has
punished him, but Ortrud scorns the Christian God, and urges him to vengeance. She argues
that if Elsa persuades her champion to reveal his name, he will lose his magical powers.
Elsa appears, singing of her joy at her forthcoming marriage. Ortrud tells Elsa that she
is unhappy, and fears that she and Telramund will be banished. Elsa promises to protect
Ortrud. Alone, Ortrud calls on the pagan gods to aid her revenge (Entweihte Götter!).
She then hypocritically promises to serve Elsa faithfully, but at the same time attempts
to make her doubt her champion. Doesn't Elsa worry that her future husband might
vanish as mysteriously as he arrived? Elsa states that she has absolute trust in her
betrothed, but Ortrud suspects that she is becoming uneasy.
The Herald tells the Brabantines that Telramund has been made an outlaw and that
the man who fought for Elsa has been made Protector of Brabant, and will lead the
Brabantines into battle for King Heinrich. Everyone rejoices except a small group of
Brabantines, who fear that Elsa's champion will take over their land. Telramund promises
them that he will destroy the stranger.
Elsa approaches for her wedding. Ortrud abruptly interrupts the celebrations, insults
Elsa, informs the people that Telramund was wrongly accused, and accuses Elsa's
champion of sorcery. Elsa appeals for help from her fiancé. He calms her, but then
Telramund bursts in, tells the king that he was defeated through witchcraft and orders
Elsa's champion to answer his accusations and reveal his name. Lohengrin replies that
he will answer to no one but Elsa. He appeals to his bride, asking her to believe in their
love. She promises never to doubt him, and Lohengrin orders the wedding celebrations
to continue.
Act III
After their wedding, Elsa and her new husband are led to their bedroom, where the
people sing them bridal songs. When the couple are left alone, Elsa remembers how she
first saw her husband in a dream. Her one regret is that she still does not know his name.
Lohengrin attempts to reassure her, but she becomes ever more fearful that he will leave
her. Deaf to his warnings and promises of love, she hallucinates that she sees the swan
returning to take him away. At last she asks outright who he is, and where he comes
from. At that moment Telramund enters and attacks Lohengrin. Lohengrin kills
Telramund. He orders Elsa to be led before the King, where he will tell her what she
wishes to know.
King Heinrich thanks the Brabantines for agreeing to fight alongside the Germans.
The nobles bring in the body of Telramund, and inform him that the Protector of
Brabant will explain what has happened. Lohengrin tells the king that he can no longer
lead the Brabantines. He explains how he came to kill Telramund, and how Elsa broke
her promise to him. He then reveals his identity: he is Lohengrin, from the land of
Monsalvat, and his father is Parsifal, guardian of the Holy Grail (In fernem Land). Now
the Grail demands that he must return home. Elsa begs for forgiveness, but Lohengrin
is insistent that he must leave. The swan returns, and Lohengrin reveals to Elsa that the
creature is her brother, Gottfried. Had Elsa kept her vow, Gottfried would have been
restored to her after a year. Ortrud excitedly informs everyone that it was she who turned
Gottfried into a swan, and that the pagan gods have had their revenge. In response,
Lohengrin prays to the power of the Grail, and Gottfried resumes his human form.
Everyone is left sorrowful as Lohengrin departs.

With thanks to the Royal Opera House