Main content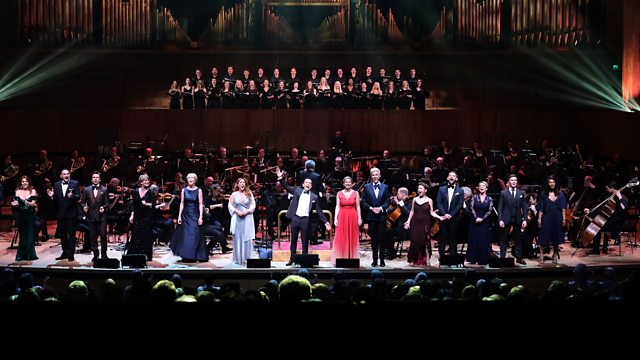 A Little Bit of Lerner
A Little Bit of Lerner - marking the centenary of the birth of Alan Jay Lerner. The BBC Concert Orchestra perform music from Gigi; My Fair Lady, Brigadoon and Paint Your Wagon.
A Little Bit of Lerner
Another chance to hear a concert recorded at the Royal Festival Hall to mark the centenary of the birth of lyricist Alan Jay Lerner.
Larry Blank conducts the BBC Concert Orchestra with guest soloists -Christine Andreas; David Bedella; Samantha Bond; Matt Ford; Ben Forster; Alexander Hanson; Linzi Hateley; Rob Houchen; Alexia Khadime; Jamie Lambert; Julian Ovenden; Charlotte Page; Liz Robertson; Caroline Sheen and Rachel Tucker.
Alan Jay Lerner was born on 31st August 1918 in New York. His father Samuel was one of the Lerner Brothers who founded a string of ladies fashion shops in the city. The family wealth meant that young Alan was sent to England to Bedales School in Hampshire to start his education. He then returned to the States to Choate School and Harvard where his college mates included Leonard Bernstein and John F. Kennedy. In 1942 during a game of bridge at Lamb's Club in New York - a composer called Frederick Loewe introduced himself to Lerner - their writing partnership was to create some of the great classics of musical theatre including - My Fair Lady; Brigadoon; Paint Your Wagon; Gigi and Camelot. Lerner also collaborated with the likes Burton Lane; Andre Previn; John Barry; Kurt Weill and Charles Strouse.
Tonight's show includes many of Lerner's greatest hits including On The Street Where You Live(My Fair Lady); If Ever I Would Leave You(Camelot); Gigi and On a Clear Day You Can See Forever.
Concert recorded at the Royal Festival Hall on 23rd May and first broadcast on BBC Radio 3 on 20th June.