Main content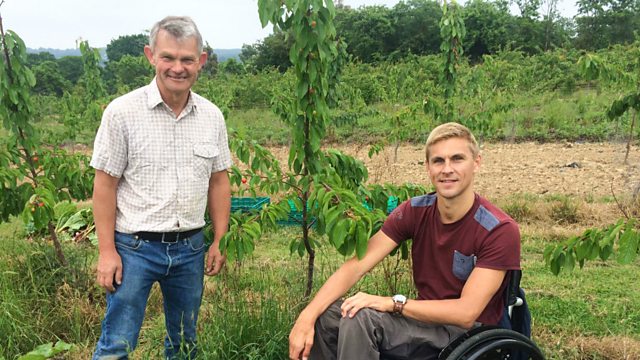 West Sussex
In West Sussex, Matt explores the phenomenon of 'champing' - where people pay to stay in churches - and Ellie meets Maya Leonard, a self-proclaimed insect activist.
Matt, Ellie and Steve are in West Sussex, where Matt explores the phenomenon of 'champing' - where people pay to stay in churches. He also meets the man who listens to trees and discovers the surprising world beneath their bark.
Ellie meets Maya Leonard, a self-proclaimed insect activist, to hear how beetles are just as important at pollinating plants as bees.
Steve is with the volunteers who hope to put an end to food waste. They call themselves gleaners, and today they are helping themselves to a field full of unwanted rhubarb.
Also in this programme, Tom looks at the problem of untreated sewage being dumped in rivers, Adam meets the brewer who he hopes will buy his barley, and Adam and Charlotte announce the winner of Countryfile's Farming Hero Award.
Champing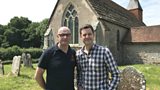 Matt meets up with campers in Warminghurst who spending the night in a beautiful - but surprising - country location: a church.This new-style 'champing' is the idea of The Churches Conservation Trust, which is turning listed landmarks into glamping hot-spots.With more than 20 churches across the UK now set up for champing, the money raised is ploughed back into the conservation and restoration of the beautiful buildings.And Matt finds out how the accommodation is surprisingly comfortable – not just for the champers, but also for the brown long-eared bats that share the church with them overnight!
Find out more about champing
River Sewage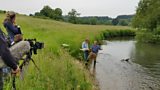 Tom discovers a hidden threat to our rivers - Combined Sewer Overflows (CSO). There are thousands of these emergency outlets across the UK, designed to dump untreated sewage in the heaviest downpours to prevent it backing up into our streets and homes.But many are operating throughout the year and go completely unmonitored. Campaigners fear the impact these overflows are having on our rivers. The water industry says it is spending £400m to upgrade the network while the Environment Agency says 80% of outlets in England will be monitored by 2025.
More about CSOs
Gleaning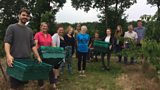 Steve discovers how a nationwide group of volunteers, farmers and food redistribution charities are working together to tackle food waste.
Millions of tonnes of perfectly good food is thrown away in the UK every year. 
The Gleaning Network was set up to help salvage fresh fruit and vegetables that could otherwise go to waste on UK farms and direct this fresh, nutritious food to local people in need. 
Steve spends the day with a team of 'gleaners' down on an East Sussex farm to help them gather in a crop of rhubarb that would otherwise have gone to waste. 
Steve finds out how a day spent gleaning may be hard work but it can also be a really great day out!
Lupins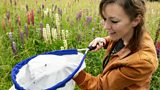 Ellie visits Terwick church field, a National Trust site dedicated exclusively to growing lupins. 
National Trust ranger Fiona Scully reveals the touching story behind the floral spectacle: the field was bequeathed to the Trust in the 1930s by the owner on the understanding that it would always be filled with lupins - her husband's favourite flower.  
Ellie discovers how insects love lupins! Local bug expert and children's author Maya Leonard explains that it's not just bees and butterflies that pollinate but beetles, moths and flies too - the 'ugly' and 'mucky' pollinators!  
A quick look around this rich habitat shows any gardener the value of these unexpected pollinators to the environment and is a perfect way to round off national insect week.
Farming Hero 2018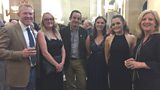 It's time to find out who has won Countryfile's Farming Hero award 2018.Charlotte and Adam are at the BBC's Food and Farming Awards ceremony in Bristol to reveal all. This year, our finalists are:Robert Smyth, from Bedfordshire, who donated part of his liver to his cousin, Aaron.Chloe Williams, from South Wales, who set up an online support group for women living often-isolated lives on farms.Kirsty and Aimee Budge, from Shetland, who took over running the family farm following the death of their father.But who will be the winner?
Food and Farming Awards
Tree-listening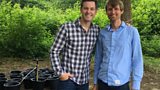 Matt visits the beautiful botanic gardens of Wakehurst to see a very unusual project. 
Amongst some old oak trees he meets Alex Metcalf, who uses various electronic equipment - and an ear trumpet - to listen to trees! 
It seems implausible, but there's sound science going on here: the trees are sucking up water through their xylem tubes, all the way from the roots to the leaves, and it's the movement of water behind the bark that Alex listens to.
Matt discovers an oak tree can drink more than 200 litres a day and, thanks to an experiment devised by Alex featuring a hand pump and a lot of buckets, he appreciates just how hard the tree is working to drink all that water! 
As Matt listens to different trees in the woodland, we can hear how each one makes its own distinct sound as it draws water from the ground and up its trunk. The entire forest is alive and flowing!
Credits
| Role | Contributor |
| --- | --- |
| Presenter | Matt Baker |
| Presenter | Ellie Harrison |
| Presenter | Steve Brown |
| Presenter | Tom Heap |
| Presenter | Adam Henson |
| Presenter | Charlotte Smith |
| Executive Producer | William Lyons |
| Series Producer | Joanna Brame |