Main content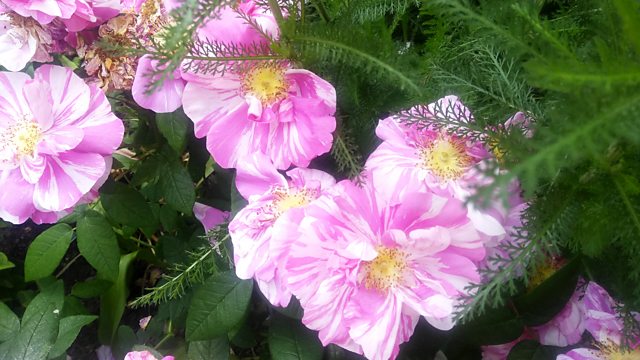 Garden Party Potting Shed
Horticultural panel programme. Peter Gibbs presents highlights from the Potting Shed sessions at this year's Garden Party.
Peter Gibbs presents highlights from the Potting Shed sessions at this year's Garden Party. Answering the questions are Christine Walkden, Pippa Greenwood, Bob Flowerdew, Bunny Guinness, James Wong, and Matthews Wilson, Biggs and Pottage.
The panel of experts help with everything from Azaleas to Lupins and Pansies to Ferns. They also offer up tips on getting rid of Rosemary Beetles and suitable planting suggestions for children to eat.
Matt Biggs visits JMW Turner's recently restored house near Twickenham to see how the artist took great pains to design himself the perfect retreat from the hustle and bustle of London, both in the house and in the magnificent gardens.
Produced by Dan Cocker
Assistant Producer: Laurence Bassett
A Somethin' Else production for BBC Radio 4.
Fact Sheet
Q – I've got Rosemary Beetles in my garden, what can I do to get rid of them?
Christine – Best thing to do is squidge them
Q – I can't keep pansies alive in my garden.  What can I do?
Matthew B – Pinch out the side shoots as they are growing.  A drop of tomato fertiliser will help too.  Deadhead when they've finished flowering.
Q – What's the secret of growing lupins?
Bob – They should be easier than they are!  It's best to sow the seed in situ.  Same with Hellebores.  Lupins are in the legume family and they produce nitrogen and some of our soils are too rich for them.  Reducing the lime in the soil can help.  Watch out for slug damage too. 
Q – Can I take cuttings to propagate from an aged Azalea?  It's at least thirty years old.   It's healthy but it does get these waxy nodules on it from time to time.
Pippa – That is Azalea Gall.  It is a fungal problem that's technically called Exobasidium japonicum.  It causes it to swell but it doesn't do much harm.  For cuttings take the really healthy stems.  Take twice as many as you think you want.
Q – Last year I had seven tree ferns but now I've only got four.  I want to try grafting but I don't know how to do it.
James – Leave tree ferns (Dicksonia antarctica) as long as you can.  You can plant a new stem into the old cordex and that is a good way of reviving the look of the plant. 
Q – I have Honey Fungus in my garden and it is spreading.  How can I stop it and get rid of it?
Matthew P – Honey Fungus preys on stressed plants so make sure to clean up anything that's weak.  Don't be too worried about it; it doesn't go for herbaceous plants so plant lots of those.
Q – My poppies have lasted for years but my friend has to replant every year, why is this?
Matthew W – Oriental poppies love sandy soil, they love the free drainage.  If your friend has moister soil then he should try Himalayan Blue poppies instead.  Or he should grow them in pots rather than the ground in order to have more control over the conditions.
Q – What plants could four-year olds plant that they could eat at start of the summer holidays?
Matthew W – Early potatoes; salad potatoes; chives; most of the herbs like sage, rosemary, thyme; some of the smaller tomatoes. Or cut-and-come-again salads. 
Q – I want to replace my driveway and get something more 'living' than tarmac.  What can I plant?
Bunny – I love gravel.  Make sure it's an angular gravel and it is of variable size.  You only want it laid to about 20mm (0.8inch) thick.  I put a few paving slabs leading to the house.  
Q – I look after four (south-facing) window boxes that I can only water once a week.  What is best to plant in them?
Christine – You've basically got desert conditions so go for plants that like that.  Things like the silver foliaged plants.  Teucriums; smaller sages; rosemary.  Anything with glaucous or waxy leaves: Echeveria; all of the aloes; succulent and cacti plants.  Geraniums will cope; most things from the Mediterranean will be ok. 
Q – How do I control slugs with nematodes? Can you make your own solution?
Matthew B – You can make your own but it's not an overly pleasant process.  If you buy the nematodes you'll better know the concentration. 
Q – I'm enthusiastic about anything edible that I can grow in mild, coastal Dublin.  I've done well with Chilean Myrtle (Luma apiculara).  I'm going to have to throw out my Brugmansia.  Is there anything else I can try?
James – You could try an avocado tree – but don't grow them for the fruits, grow them for the leaves which are also edible.