Main content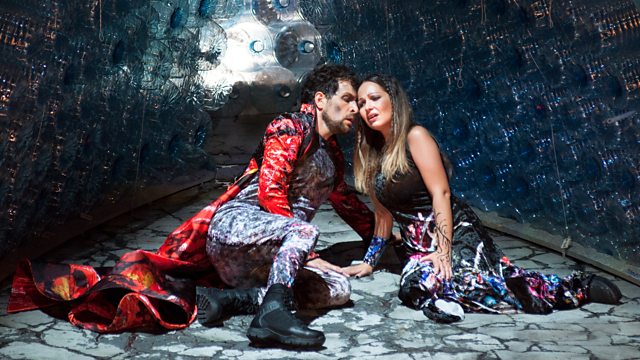 Opera Matinee: Rossini's The Siege of Corinth
Penny Gore introduces a recording from the 2017 Rossini Festival of Rossini's first French opera, Le siege de Corinthe, with soprano Nino Machaidze as Pamira.
Today's Opera Matinee is a rare opportunity to hear Rossini's first French opera, Le siège de Corinthe (The Siege of Corinth). It was a reworking of his earlier opera for Naples, Maometto II. The basic situations and relationships between the characters are maintained from the earlier opera.
After the siege and destruction of Missolonghi in 1826 by Turkish troops during the Greek War of Independence, Rossini was able to capitalize on the topicality of his subject by moving the story back a few decades to the time when Sultan Mehmed II had indeed besieged the Greek city of Corinth in the 1450s.
Penny Gore introduces a recording made at last year's Rossini Festival in Pesaro starring the soprano Nino Machaidze and the bass Luca Pisaroni conducted by Roberto Abbado.
Rossini: Le siège de Corinthe
Pamira..... Nino Machaidze (soprano)
Mahomet II..... Luca Pisaroni (bass)
Néoclès..... Sergey Romanovsky (tenor)
Cléomène..... John Irvin (tenor)
Adraste..... Xabier Anduaga (tenor)
Hiéros..... Carlo Cigni (bass)
Ismène..... Cecilia Molinari (mezzo-soprano)
Omar..... Iurii Samoilov (tenor)
Ventidio Basso Theatre Chorus
Giovanni Farina (director)
RAI National Symphony Orchestra
Roberto Abbado (conductor)
2.00pm
Act 1
3.00pm
Act 2
4.05pm
Act 3.
Episode image by Studio Amati Bacciardi
Synopsis
Act 1
Vestibule of the senate palace at Corinth
Cléomène, Governor of Corinth, recommends surrender to Mahomet II and his Turkish army but Néocles, an officer in the Greek army wishes to press the attack. Cléomène is so impressed by Néocles's bravery that he proposes Néocles marry his daughter, Pamyre. To Cléomène's anger however, Pamyre has fallen in love with a mysterious stranger (Mahomet in disguise) who recently visited the city.
Cléomène is taken captive during Néocles's assault. Mahomet offers a bargain - Cléomène's freedom in return for the hand of his daughter. Cléomène protests - preferring her still to marry Néocles but she refuses and is traded to Mahomet in return for the governer's freedom.
Act 2
Mahomet's tent
Mahomet and Pamyre's wedding plans are disrupted by Néocles, who has come to demand Pamyre's return. Pretending that he is her brother, Pamyre flees with Néocles. Mahomet is furious and swears bloody revenge on Corinth.
Act 3
The tombs of Corinth, illuminated by a multitude of fires
In the tombs of Corinth, the Greeks prepare for their last stand. Cléomène laments Pamyre's betrayal as a chorus of Greek women are heard praying in the distance. Mahomet makes one last attempt to win Pamyre through diplomatic means but is rebuffed. He resolves to take back Pamyre through military means instead. Néocles reunites Pamyre with her father as the Greeks recall past victories and pray for success in the coming battle. Their prayers are in vein however as the Turkish forces overwhelm them. Descending to the catacombs in search of his would-be bride, Mahamot discovers that Pamyre has committed suicide along with the other women of Corinth.