Main content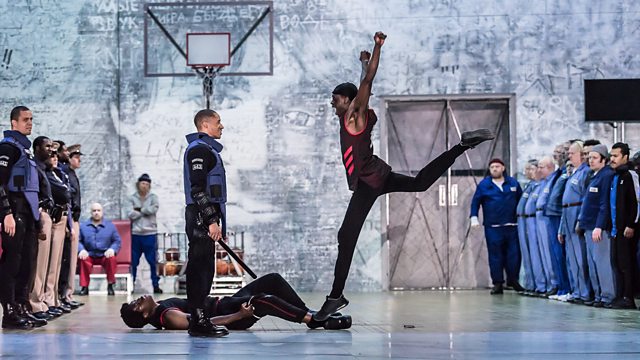 Janacek's From the House of the Dead
Janacek's final and powerful work, From the House of the Dead, from the Royal Opera House, Covent Garden, with Willard White and Johan Reuter, conducted by Mark Wigglesworth.
The first staging from the Royal Opera House of Janacek's final and most powerful work, the opera From the House of the Dead. Based on Dostoyevsky's semi-autobiographical novel describing life in a Siberian gulag, it is a very dark and bleak work, dealing with brutal subject matter - men prisoners with very violent pasts - and yet it is a compassionate work, Janacek's score is full of beauty and tenderness, and astonishing colours. The large cast includes Sir Willard White and the baritone Johan Reuter, and is conducted by Mark Wigglesworth.
Donald Macleod presents and is joined by Nigel Simeone.
Luka Kuzmič ..... Štefan Margita (tenor)
Nikita (and big prisoner) ..... Nicky Spence (tenor)
ÄŒekunov (and small prisoner and cook) ..... Grant Doyle (bass)
Prison governor ..... Alexander Vassiliev (baritone)
Alexandr Petrovič Gorjančikov ..... Willard W. White (baritone)
Guard ..... Andrew O'Connor (tenor)
Antonič (elderly prisoner) ..... Graham Clark (tenor)
Skuratov ..... Ladislav Elgr (tenor)
Aljeja ..... Pascal Charbonneau (mezzo-soprano)
Šiškov (and Pope) ..... Johan Reuter (baritone)
Drunk prisoner ..... Jeffrey Lloyd-Roberts (tenor)
Å apkin ..... Peter Hoare (tenor)
Prisoner (Don Juan and Brahmin) ..... Aleš Jenis (bass)
Prisoner (Kedril) ..... John Graham-Hall (tenor)
Young prisoner ..... Florian Hoffmann (tenor)
Prostitute ..... Allison Cook (mezzo-soprano)
Voice ..... Konu Kim (tenor)
ÄŒerevin ..... Alexander Kravets (tenor)
Chorus & Orchestra of the Royal Opera House
Mark Wigglesworth (conductor).
Synopsis
Act 1
A Siberian prison camp on a winter morning
The prisoners get up, two get into a dispute, as the rumour is spread that a nobleman will be the new arrival ("Přivednou dnes pána"). He is Alexandr Petrovitch Goryantchikov, a political prisoner. The prison governor interrogates him and orders him to be flogged ("Jak tě nazývají"). The prisoners have found a wounded eagle and tease the bird until the guards order them to their work ("Zvíře! Nedá se!"). The prisoners lament their fate ("Neuvidí oko již"); one of them, Skuratov, recalls his previous life in Moscow ("Já mlada na hodech byla"). Another, Luka Kuzmitch, tells how he incited a rebellion and killed an officer in his first prison camp ("Aljeja, podávej nitku"). Just as he describes his own flogging, Goryantchikov is dragged in, half dead ("Aljeja! Niti!").
Act 2
Six months later, at the Irtysh river
Goryantchikov has befriended the young tartar Alyeya, asks him about his family and offers to teach him to read and write ("Milý, milý Aljeja"). The prisoners finish work as a holiday begins and a priest blesses the food and the river ("Alexandr Petrovič, bude prazdnik"). Skuratov tells his story: He loved a German girl, Luisa, but when she was to be married to an old relative, Skuratov shot the groom ("Jaj, já pustý zbytečný člověk" – "Přešel den, druhý, třetí"). For the holiday, the prisoners stage a play about Don Juan and Kedril ("Dnes bude můj poslední den") and the pantomime about a beautiful, but unfaithful miller's wife ("Pantomima o pěkné mlynářce"). After the play, a prisoner tries to provoke Goryantchikov, as the nobleman has the means to drink tea even in prison ("Pěkně hráli, co?"). Alyeya gets injured.
Act 3
The prison hospital
Scene 1
Goryantchikov looks after Alyeya, who is happy that he now knows how to read and write ("Isak, prorok boží"). Luka lies dying of tuberculosis and insults Tchekunov for his servile mannerism towards Goryantchikov. Shapkin tells the story of his arrest as a vagrant and how an officer pulled his ear ("Ó, bratři! Ta bolest, to nic!"). Skuratov has gone mad. During the night, Shishkov tells his story, interrupted by the impatient questions of Tcherevin ("Má dět'átka milá"). A rich merchant had a daughter, Akulka, whom a friend of Shishkov's, one Filka Morozov, claimed to have dishonoured ("Ty, pravil Filka" – "A Filka křičí"). She was married to Shishkov who found out that she was a virgin ("A já byl, bratříčku, až do do svatby zpit"). When he discovered that she still loved Filka, Shishkov killed her ("Na druhý den"). Just then, Luka dies and Shishkov recognises him as Filka. A guard fetches Goryantchikov.
Scene 2
A drunk prison governor apologises to Goryantchikov for the whipping and tells him that he has been pardoned and is free ("Petrovičí, já jsem tě urazil"). The prisoners release the healed eagle before the guard order them back to work.
Featured in...
We broadcast more live and specially-recorded concerts and opera than any other station.