Main content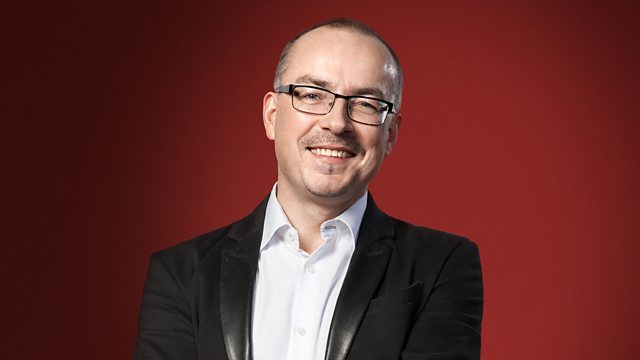 Andrew McGregor with Elin Manahan Thomas and Tom McKinney
Building a library on Gerald Finzi's solo cantata, Dies natalis, with Elin Manahan Thomas, plus Tom McKinney rounds up recent releases.
with Andrew McGregor.
9.30
Building a Library on Gerald Finzi's Dies natalis with Elin Manahan Thomas.
Begun in the mid-1920s but not premiered until 1940, Finzi's cantata for solo voice and string orchestra sets the words of 17th century English poet, Thomas Traherne. By turns ecstatic and pastoral, this most celebrated of Finzi's works is but modestly represented in the recording catalogue, and then almost exclusively by British musicians.
10.55
Tom McKinney rounds up recent releases.
11.45
Disc of the Week: Andrew chooses an outstanding new release.
Record Review
9.00am

Telemann: Wind Overtures Vol. 1
L'Orfeo Bläserensemble
Carin van Heerden
CPO 5550852
http://www.orfeo-international.de/pages/cd_c944182i_e.html
Debussy: Préludes & La Mer
Alexander Melnikov & Olga Pashchenko (Érard piano c. 1885)
Harmonia Mundi HMM902302
http://www.harmoniamundi.com/www.synnara.com#!/albums/2414
Debussy: La Mer & Le Martyre de Saint Sébastien
Philharmonia Orchestra
Pablo Heras-Casado
Harmonia Mundi HMM902310
http://www.harmoniamundi.com/www.synnara.com#!/albums/2412
Handel's Finest Arias for Base Voice, Vol. 2
Christopher Purves (baritone)
Arcangelo
Jonathan Cohen
Hyperion CDA68152
https://www.hyperion-records.co.uk/dc.asp?dc=D_CDA68152
Stravinsky: Music for Violin Volume 2
Ilya Gringolts (violin)
Peter Laul (piano)
Sinfónica de Galicia
Dima Slobodeniouk
BIS BIS2275 Hybrid SACD
http://bis.se/performers/gringolts-ilya/stravinsky-music-for-violin-vol-2
9.30am – Building a Library – Elin Manahan Thomas on Finzi's Dies Natalis
Composer: Gerald Finzi
Piece: Dies Natalis
Reviewer: Elin Manahan Thomas
Recommended Recording:
James Gilchrist (tenor), Bournemouth Symphony Orchestra/David Hill
Naxos 8.570417


Other Recommended Recordings:
Below are other recordings that Elin Manahan Thomas also liked, although we can't guarantee availability.
Wilfred Brown (tenor), English Chamber Orchestra/Christopher Finzi
EMI 724366558823
10.20am – New Releases

Sibelius: Finlandia, En Saga, The Swan of Tuonela, The Oceanides, Valse Triste, King Christian II Suite
BBC National Orchestra of Wales
Thomas Søndergård
Linn CKD566
http://www.linnrecords.com/recording-sibelius-finlandia.aspx


Grainger: Wind Band Music, Vol. 3
Hans Knut Sveen (organ)
Royal Norwegian Navy Band
Bjarte Engeset
Naxos 8.573681
https://www.naxos.com/catalogue/item.asp?item_code=8.573681
Bird's Eye View
Turtle Island Quartet
Azica Records ACD 71318
https://turtleislandquartet.com/store/products/birds-eye-view/
Life Force
Peter Moore (trombone)
James Baillieu (piano)
Rubicon RCD1028
http://rubiconclassics.com/release/life-force/
Scriabin: Preludes, Etudes & Sonatas Nos. 4 & 5
Vadym Kholodenko (piano)
Harmonia Mundi HMM902255
http://www.harmoniamundi.com/www.synnara.com#!/albums/2413
10.50am New Releases: Tom McKinney on 20th- and 21st-century operas

Poulenc: Le Voix Humaine & Bartók: Duke Bluebeard's Castle
Barbara Hannigan (Elle)
Ekaterina Gubanova (Judit)
John Relyea (Bluebeard)
Paris Opera Orchestra
Esa-Pekka Salonen
Krzysztof Warlikowski
Arthaus Musik 109364 (DVD and Blu-ray)

Hamlet
Allan Clayton (Hamlet)
Sarah Connolly (Gertrude)
Barbara Hannigan (Ophelia)
Rod Gilfry (Claudius)
Kim Begley (Polonius)
John Tomlinson (Ghost/Grave-Digger/Player-King)
Jacques Imbrailo (Horatio)
David Butt Philip (Laertes)
The Glyndebourne Chorus
London Philharmonic Orchestra
Vladimir Jurowski
Opus Arte OA1254D (DVD and Blu-ray)
Doctor Atomic
Gerald Finley (Robert Oppenheimer)
Julia Bullock (Kitty Oppenheimer)
Brindley Sherratt (Edward Teller)
Samuel Sakker (James Nolan), Nolan)
Andrew Staples (Robert Wilson)
Jennifer Johnston (Pasqualita)
BBC Singers
BBC Symphony Orchestra
John Adams
Nonesuch 7559793107
http://www.nonesuch.com/albums/doctor-atomict


Mason Bates: The (R)evolution of Steve Jobs
Sante Fe Opera
Michael Christie
Pentatone PTC5186690 2 Hybrid SACDs
https://www.pentatonemusic.com/bates-campbell-revolution-steve-jobs-santa-fe
11.45am – Disc of the Week: Debussy - La Mer (transcribed for piano, four hands)   
Alexander Melnikov & Olga Pashchenko (Érard piano c. 1885)
Harmonia Mundi HMM902302