Main content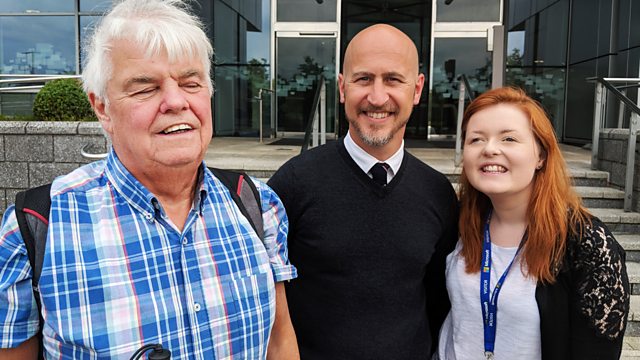 Assistive technology: Where are we going?
The lives of blind people have been changed by new technology. Peter White and Lucy Edwards head to a Microsoft research centre to talk about new developments and the future.
Pictured: Peter white with Hector Minto, Senior Technology Evangelist at Microsoft, and journalist and YouTuber Lucy Edwards.
The lives of blind and visually-impaired people are being transformed by technology. But where are the changes heading?
Peter White is joined by YouTuber Lucy Edwards as they head to a Microsoft research centre, to get her take on life as a digital native. As a blind person, what does she want from the technology that's around the corner?
Microsoft's "Senior Technology Evangelist" Hector Minto explains his job title - and takes Peter and Lucy through some of the tools of their "Seeing AI" app. He addresses their questions about the current state of technology which is for, and increasingly designed by, the blind and visually impaired.
We also hear from Saqib Shaikh, who was a driving force behind Microsoft's approach to technology for the blind and VI and from Dave Williams, who trains people to use assistive technology.
Presenter Peter White.
Producer Kevin Core.
Last on
In Touch Transcript: 03-07-2018
THE ATTACHED TRANSCRIPT WAS TYPED FROM A RECORDING AND NOT COPIED FROM AN ORIGINAL SCRIPT.  BECAUSE OF THE RISK OF MISHEARING AND THE DIFFICULTY IN SOME CASES OF IDENTIFYING INDIVIDUAL SPEAKERS, THE BBC CANNOT VOUCH FOR ITS COMPLETE ACCURACY.
IN TOUCH – Assistive technology:  Where are we going? 
TX:  03.07.2018  2040-2100
PRESENTER:          PETER WHITE
PRODUCER:            KEVIN CORE
 White
Anyone who listens regularly to this programme will know that digital technology is having a vast impact on many blind and partially sighted people's lives.  It's helping us to read, to get around, to identify objects – doing the job of sight in other words.  We frequently feature individual developments but today is more about direction of travel.  Where are we going with this and what impact is it going to have on the lives of all of us in the future?
So, we're heading to the headquarters of one of the biggest, although by no means the only, players in this field.  Microsoft is an international name and amongst their research and development a good deal of effort is going into working up kit aimed at us.  And we're going to a research centre in Reading.
Well I'm taking with me Lucy Edwards because Lucy is a representative of the generation who's going to be using this stuff for the next 60 or 70 years.
Hi, Lucy.
Edwards
Hi, Peter, lovely to see you again.
White
Good to see you too.  So, have you got some…
So, Lucy, first of all, how much do you use this kind of technology and what do you use it for?
Edwards
Well Pete, I'm a freelance journalist and I'm primarily on You Tube quite a lot, I'm a creator on there, so I use the technology an awful lot for my work.
White
And you were particularly famous for your make-up tutorials weren't you because they went viral.
Edwards
Yes, Blind girl does her own make-up, was really popular because I don't think people expected a blind girl to be on a video platform applying her make-up because it's such a sighted thing to do I think.  So, smashing stereotypes there.
White
And in the longer term what do you want to get from this trip?
Edwards
I think the future of technology ahead of me, as a blind user, is very daunting and I think because I have to use this technology for the rest of my life what does it hold, where am I going to be with it in the next 10, 15 years.
Actuality – Introductions
White
Well we're in the office of Hector Minto, who rejoices in the title of Senior Technology Evangelist for Microsoft.  What does it mean?
Minto
One of the things about accessibility and assistive technology is people don't know they care about it until they know about it but when they know about it they really care about it.  You do need to break the door down a bit to get people to care about accessibility and so it needs somebody who can really go out and evangelise about it.
White
Where does developing this kind of equipment sit in your portfolio – if I can put it more crudely – what sort of proportion of your budget does it take up?
Minto
The easy way to describe this is that the design around disability in general at Microsoft is a core value in all of the design teams.  And that's not always been the case.  We have gone through a long history with accessibility and with technology in general, where the accessibility for people with disabilities has been an obligation put on companies to make products accessible.  We're now at the stage, with Microsoft, where we see it as an opportunity.  An opportunity to design in at the start.  So, it doesn't have a set budget as such, it's just more of a kind of core cultural value.
White
But you say that you are now taking it seriously but this hadn't always been the case, are you, to some extent, in fact, playing catch up with the companies who took it seriously from the start?
Minto
I think what we recognise is a burgeoning third party assistive technology world grew up around the technology work and Microsoft allowed that to happen.  What we can definitely say has happened in the last couple of years is a reinvestment from Microsoft and the understanding that as technology becomes more global, as the cost that people are willing to pay for specialist solutions around the world, as that whole relationship changes there's become a requirement on us to invest again on making the core built in solutions even better.  I would – I think it's fair to say that we allowed other people to take the lead on this in the past.  We now want to lead the market on assistive technology and actually encourage more people to create even more amazing tools.
Edwards
So, updates scare me, as a visually impaired user of technology, even as a 22-year-old they scare me, I'm on Jaws 16, you're quite vocal about working with Freedom Scientific and developing Microsoft Edge with that but why do Freedom Scientific have to script for Edge, why can't it be integral to Jaws?
White
And this is – just to make it clear – this is just a way of accessing the internet, browsing?
Edwards
Yeah.
Minto
One of the challenges for, let's say Jaws, for VFO and for all assistive technology manufacturers now is that the world has become cloud based, you know, the rate of change of technology is increasing.  So, as we do that we need to support the third party AT world to keep up.  The voice of the consumer or the voice of the user is through our disability answer desk.  When people report in through our disability answer desk we have a much earlier warning system for problems that are appearing and we now have great relationships with global partners on assistive technology to help them iron out the issues that are arising.  And what we need to do is just make sure that the compatibility moving forward is increasingly better.
White
Seeing AI – AI – artificial intelligence – this is almost a catch all system, is that basically the idea?  I think it's been described to me as the kind of Swiss army knife of accessibility.
Minto
I think that's a great description.  It is a set of channels, a set of tools that can be used to narrate the world around you.  So, for example, on the table here I have two cans – how does somebody who's blind know where the barcode is an object to identify it?  Well that's difficult right?  So…
White
Yes you had to read it, you have to know where it is.
Minto
You have to know where it is.  So, what actually happens, if we can just listen to this as I go round, I'll stop talking but as I twist the can in front of the camera I hear some beeps…
Voice
Diet coke can 330 millilitres.
Minto
And I'll do it on the second can but I'll avoid the barcode at first.
Voice
Processing.  Pepsi diet.
Minto
So, the beeps are about helping you locate it.
Edwards
Yes, so I'm a vegan and I'm also blind, so it's kind of hard for me to read labels and maybe trust people to read the label out properly to me, maybe if it hasn't got milk in or they haven't noticed, so I think it's really beneficial.  I was jumping up and down last night doing it.
Minto
And when you read the barcode there is a more information button which will give you more information.  Now what we want to do in the longer term is obviously work with the food manufacturers, work with maybe the local shops, the local businesses to put their barcode libraries up into the directory, so you can get even more information than is currently available.
White
One of the things we haven't talked about yet is the whole business of blind people navigating, getting the information they need to get around.  There have been various attempts to do this over the years, a lot of people have tried things out but actually in the real world most people are still getting around with either a guide dog or a white cane.  Hector, Soundscape is Microsoft's attempt to do this, so what's different about it?
Minto
So, this is using 3D audio and cloud sourced maps and beacons in your community to give you extra information in 3D audio through a headset.  Now it comes from your phone, so you connect to your telephone.
White
And Lucy, you've been quite impressed.
Edwards
I really have, I think it's the first app that I feel safe to use.  Because of the 3D audio I'm hearing the beacon location on my right-hand side and that's indicating that I'm hearing that a building is to the right of me and it's really intuitive.
White
And again, you would hear something behind you, you'd hear the description of something behind you if that's where it was because of the 3D?
Edwards
Yes, I would and so crossings, it tells me I'm coming up to them and so it's really useful when navigating with a guide dog.
White
I mean one of the things that blind people, me included, often say about all this stuff you put in your ear is it's all very well giving you this – all this information but you're actually taking information away as well, the information that we get from our ears.  That's going to need quite some change of attitude isn't it really, I mean you're going to have learn how to do that.
Edwards
It's really scary for me as a blind user to put headphones in when it's my only mode and needing my extra sense that I need out there in the wide world and it is a bit scary but I think I'm going to have to get used to it.
White
So, let's give it a go, let's see you in action Lucy, you're going to actually try this out for us.
Edwards
Yeah, okay.
Minto
So, using the voiceover on your phone you should be able to find the set a beacon button.
Edwards
Okay.
Voice
Starbucks 85 metres.
Minto
Okay and now you need to orient yourself, move yourself around, until you hear the ping.
Edwards
There.
Voice
Frankie and Benny's 360 metres…
Edwards
Oh my gosh this is so weird.
Voice
Microsoft building…
Edwards
Let's go.  Yeah, it's over there, it's telling me now that I'm approaching an intersection.  The tapping is actually slightly distracting – I'm like ooh where am I.  Oh my god I need to get used to this.  Microsoft Building 3 is behind me?  Yeah, I could definitely get used to it, I think it's really overwhelming to start off with because you're trying to navigate your dog and yourself and then sort of hear where all the buildings are in your head, you very much feel at one with the app.
Minto
Yeah, and when you press that and select that it will give you the objects that are in front of you…
Edwards
Starbucks 85 metres…
Minto
That's correct.
Edwards
Microsoft building – I'm pointing guys to all the buildings around me.  Oh my gosh this is so cool.
White
But it's probably a little bit like getting your sight back, isn't it…
Edwards
It is a bit.
White
…you're suddenly being overwhelmed with information.
Edwards
With all this information, yeah, yeah definitely and sometimes I'm like ooh do I want that all at once, I don't know, I'm going to have to get used to it.
White
Well one of the things that we've touched on is quite often the major breakthroughs in this area have been by visually impaired people because we know the kinds of problems we're trying to solve.  Saqib Shaikh is a senior software engineer with Microsoft and he's joining me on a line from outside of the office.
Saqib, one of the things that people often say is something they couldn't do is what inspired them to try to change things, I wonder what are the things that maybe that you couldn't do, the frustrations that you found perhaps early on?
Shaikh
I know my own problems better than anyone whether that is those inaccessible websites we all encounter, being able to read things out in the world or those social situations, like weddings, when you're standing in a corner trying to mingle.  And I could go on.  There are so many of these little challenges.  And over time I realised that technology has the power to change people's lives.  As I see the new generation of technology, like AI, I think how can we apply some of that to try and somehow smooth out some of the rough edges of life.  Like somebody using the handwriting recognition to read a letter that was sent to her when she still was able to see.
White
How did the project start, how did you get the thing going?
Shaikh
So, I've been at Microsoft a number of years working on various mainstream projects but then we had this hackathon, which is a whole week where we were allowed to work on anything that interested you.  I took one of my side projects at the time to look at how AI can be used to help a blind person and that's how Seeing AI came about.  The next year at the hackathon I found some colleagues in Silicon Valley who were able to pitch in and make it even, even better and it took off from there until it is the product that it is today.
White
So, with Seeing AI as a specific example, what do you see as the potential?
Shaikh
When I look to the future I'd love to imagine a world where even if I'm alone I have the same information as when I'm with a friend acting as a sighted guide, telling me all the things that are around me and knowing what things are of interest to me.  And of course, we'll still want to be with our friends and family but sometimes you want that even when you're alone.
White
Hector Minto, can I just ask you another question which actually comes from a listener, from a guy called Dave Williams?  Narrate is great but, he says, it's not compatible with many of the games and apps in the Microsoft store.  So, he sits down to play a game with his nine-year-old and there's a cliff edge where his fun stops and Arlo, his son, his fun goes on.
Minto
We are trying to standardise the design principle so that everything that people design and put on the store, the millions of software authors worldwide, start designing around principles that make things accessible.  So, the tools that we have for designing software, that's available via the store, should more and more design in great accessibility.  So, we're hoping that that starts to happen.  We have exactly the same problem with websites, of course, right?  The law and the regulations came in that said websites had to be accessible and yet we sit here today 20 years after the regulations came in with only 3% of the websites.  The minute other people are allowed to author then clearly we run across problems with design principles and accessibility.  So, we're trying to coach that and actually design it in so that they cannot design stuff that it's inaccessible, is the strategy.  But it's extremely difficult to achieve that.  On our own apps…
White
When can Dave play games with his nine-year-old?
Minto
When the voice of people with disabilities is so loud that they cannot – or the law, or the regulations demand that it cannot be launched as inaccessible.
Edwards
Are you not, as Microsoft, the main voice for us as a disabled community?
Minto
Yeah, well we want to increasingly be but Microsoft's mission, core mission, is to empower other people to design great solutions.  Interestingly, as people go to the cloud, as people start to deliver their software via the cloud and via a set list of tools from all of the suppliers, what will happen is we can hopefully start to design in accessibility at the outset.  We want to get to that world with software where it's almost difficult not to create accessible materials.
White
Hector Minto, Microsoft's Senior Technology Evangelist.
So, back in the studio, what does all that tell us about where we are and where we're going with assistive technology?  Well we decided to ask Dave – remember him?  He's the blind dad who was stuck at the starting gate while his nine-year-old son is racing ahead with computer games.  But Dave Williams is also someone who's worked for assistive technology companies, he trains people to use it and he's an early adopter of new kit himself.  So, Dave Williams, I think Lucy will have struck a chord with people when she talked about sudden changes in equipment and upgrades which can make stuff that we've come to depend on unusable.  Is that something we just have to live with or should more be done to help?
Williams
I think more can be done.  My concern is that if we rely exclusively on the accessibility that is built into mainstream technology we risk going into work or going into school tomorrow, switching it on and maybe it doesn't work.  And then there's also the question of what role does accessibility play in the testing process.  Smartphone manufacturers have pushed out updates and suddenly blind people find they can't answer a call.  And you wouldn't accept that if you were sighted, would you?
White
We heard about various bits of equipment there and of course lots of other companies are making things, there are loads of apps, it's sometimes said the developers pursue areas that interest them rather than the ones that blind consumers need solving.  Are we getting actually what we need?
Williams
In some cases, yes, in some cases, no.  So, the idea that you've got this out of the box accessibility, we definitely do need that.  Something like Soundscape, as we heard, there's a lot of information going on there and some people will find that really overwhelming and that's going to take some time to adjust and there will be some people who just won't use it because it's too much.  I mean just listening to it it's quite stressful isn't it sometimes when you're bombarded with lots of streams of information, particularly when you're trying to navigate with your cane and your dog.
White
Dave, of course, you raised the issue of computer games specifically and the problems you had in keeping up with your nine-year-old son, what did you think of Hector's response?
Williams
I don't think it's a fair comparison to say well there are inaccessible webpages out there, well of course there are inaccessible webpages out there but Microsoft don't run the web but they do run their own app store, so they get to choose what goes into store and which apps are featured.  And there is a certification process that software developers have to go through if they want to be listed in Microsoft store, Apple store or Google store, come to that, your app has to be age rated to ensure the content is suitable for a certain age group, it also has to be secure – they can't steal your information – and stuff like that.  And I would like to see accessibility as part of that vetting process.
White
Dave Williams, thanks very much indeed.
What do you think?  Are you getting your money's worth?  Will this help all visually impaired people or just those with fairly high skills or perhaps people in work who can get funding?  You can call our Actionline on 0800 044 044 for 24 hours after the programme.  You can email intouch@bbc.co.uk or you can click on contact us, if you do have these skills, on our website to get more information and download tonight's and other editions of the programme.
That's it from me, Peter White, producer Kevin Core and the team, goodbye.
Broadcast