Main content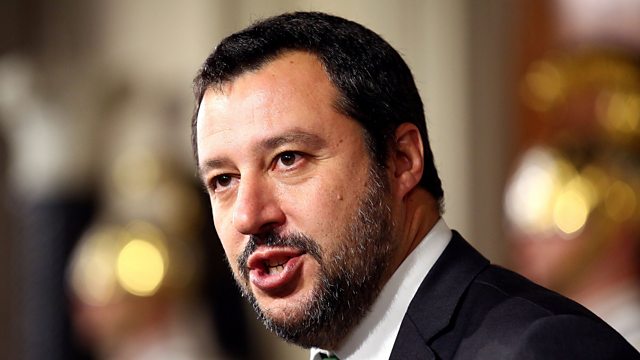 Matteo Salvini
Helen Grady profiles the Italian interior minister, Matteo Salvini, who hit the headlines after refusing to allow the Aquarius migrant rescue ship to dock in his country.
Since Matteo Salvini was sworn in as Italy's Interior Minister, his controversial stance on immigration, Roma people and the European Union has made the headlines.
The press have dubbed him the European Donald Trump and commentators say he could pose a threat to the existence of the European Union as we know it.
This week he was in the news again, for refusing to allow another migrant rescue ship to dock in Italy and for his radical proposals to crack down on migration.
But his perfect day would be a much quieter one, in the Italian mountains with his TV host partner and a fishing rod in hand.
Presenter: Helen Grady
Producer: Clare Spencer
Researchers: Bethan Head and Francesca Marchese
Editor: Emma Rippon.
Last on
Broadcasts