Main content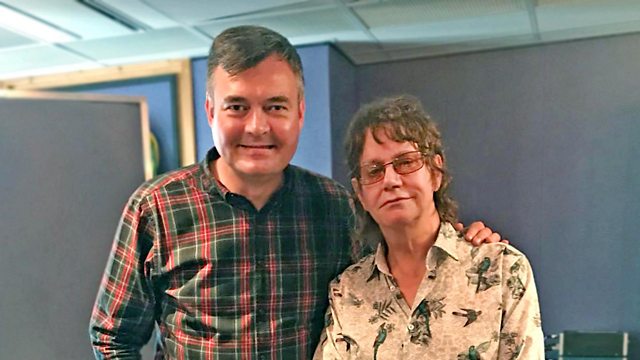 Jim Lea and Tony Hadley
Celebrating the vinyl revival with classic records and new releases. Including conversations with ex-Slade member Jim Lea, and Tony Hadley, former lead singer with Spandau Ballet.
Celebrating the vinyl revival with classic records and new releases. Grant plays album tracks from his own collection and discovers the stories about your cherished LPs.
As Tony Hadley releases his first solo studio album in years, he describes his decision to leave Spandau Ballet.
Jim Lea reveals the stories behind some of Slade's biggest hits and which song he's most proud of writing. He also explains why there will never be a full Slade reunion and celebrates the vinyl release of his solo album Therapy. Jim nominates an album for the Vinyl Collective Collection which involves a conversation with Freddie Mercury.
These are the 20 albums you should consider owning if you're starting a record collection. ABC 'The Lexicon Of Love', The Beatles 'Revolver', Joni Mitchell 'Blue', Stevie Wonder 'Songs In The Key Of Life', The Stone Roses self-titled album, Fleetwood Mac 'Rumours', Rolling Stones 'Through The Past, Darkly', Bob Dylan 'Highway 61 Revisited', Aretha Franklin 'I Never Loved A Man The Way I Love You', Miles Davis 'In A Silent Way', George Michael 'Listen Without Prejudice Vol. 1' are already on the list. Jim Lea's personal recommendation and a further two records are added to our record collection this week. Get in touch with your own suggestions.
There's another Classic 12" single on the record deck. Plus another Roots of a Sample, this week playing the original vinyl that contributed to one of the greatest dance tunes of all time.
Last on
Music Played
Meat Loaf

Two Out Of Three Ain't Bad

Johnny Marr

Hi Hello

Call The Comet.
New Vodoo.
4.

Dusty Springfield

Son Of A Preacher Man

Dusty In Memphis.
Analogue Productions.
3.

Tony Hadley

Skin Deep

Talking To The Moon.
Moonstone Music.
13.

Deee‐Lite

Groove Is In The Heart

Bez's Manchester Anthems (Various Artists).
Warner Music TV.

Herbie Hancock

Bring Down the Birds

Blow-Up (Soundtrack).
4 Men With Beards.
5.

Lee Ann Womack

Honky Cat

Restoration: The Songs Of Elton John and Bernie Taupin.
MCA Nashville.
7.

Gerry Rafferty

Right Down The Line

City To City.
Simply Vinyl.
3.

Wilko Johnson

That's The Way I Love You

Gilbert O'Sullivan

Out Of The Question

The Essential Collection.
Union Square Music.
10.

Isaac Hayes

By The Time I Get To Phoenix

Slade

Cum On Feel The Noize

Slade

Coz I Luv You

The Greatest Hits Of 1971 (Various).
Premier.

Oasis

Cum On Feel the Noize

Slade

How Does It Feel?

Slade In Flame.
Polygram.
1.

Jim Lea

The Smile Of Elvis

Led Zeppelin

Custard Pie

Physical Grafitti.
Atlantic.

Kylie Minogue

&

Jack Savoretti

Music's Too Sad Without You

Altered Images

Don't Talk to Me About Love

Don't Talk To Me About Love (12" Single).
Epic.
1.
Broadcast