Main content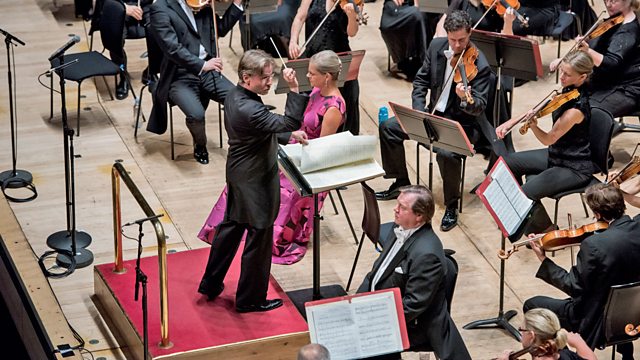 Esa-Pekka Salonen conducts Schoenberg's Gurrelieder
Esa-Pekka Salonen conducts an augmented Philharmonia Orchestra, massed choirs and soloists in Arnold Schoenberg's epic Gurrelieder, a tale of illicit love and redemption.
If size matters there can be few pieces more impressive than Arnold Schoenberg's Gurrelieder. Begun as a song cycle in 1900, by the time it had reached its final form in 1911 Gurrelieder had become a gargantuan post-Romantic epic. The vocal forces alone - five soloists, a speaker, three male choruses, mixed choir - call for over 250 performers. Add to that an orchestra including eight flutes, seven clarinets, ten horns, six trumpets, seven trombones, four harps, an extraordinary battery of percussion (how often do you see large iron chains on the concert platform?) and it all tots up to an awesome 400 musicians on stage.
In retelling the Danish myth of King Waldemar and his beloved Tove, Schoenberg's varied soundscape travels from rapturous love songs and nightmarish visions to end with an overwhelming final number as the sun rises in blazing C major.
Esa-Pekka Salonen has long been an ardent advocate of Schoenberg's early masterpiece, so this is promises to be an unmissable event.
Presented by Martin Handley, live from the Royal Festival Hall.
Schoenberg: Gurrelieder
Camilla Tilling (soprano)
Michelle DeYoung (mezzo-soprano)
Robert Dean Smith (tenor)
Wolfgang Ablinger-Sperrhacke (tenor)
David Soar (bass)
Barbara Sukowa (speaker)
Philharmonia Voices
Choirs of the Royal Academy of Music, Royal College of Music, Guildhall School of Music & Drama and Trinity Laban Conservatoire of Music & Dance
Philharmonia Orchestra
Esa-Pekka Salonen (conductor).