Main content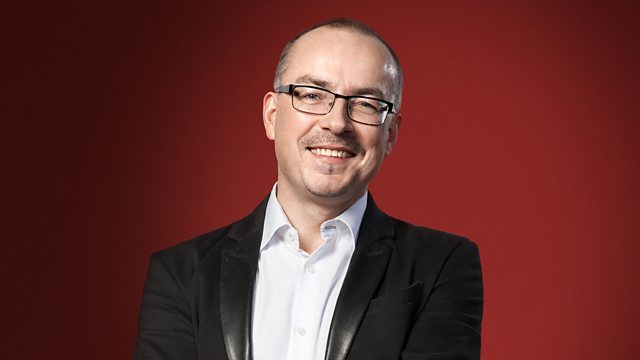 Andrew McGregor with Caroline Rae, plus Caroline Gill and Simon Heighes
Building a library on Debussy's Violin Sonata with Caroline Rae, plus Andrew McGregor reviews new choral releases with Caroline Gill and Simon Heighes.
with Andrew McGregor
9.30
Building a Library: Debussy's Violin Sonata by Caroline Rae.
Debussy's Sonata for Violin was written in 1917 and was intended as the third in a cycle of six sonatas for various instruments. It follows the sonatas that he wrote for cello, for flute and for viola and harp, but turned out to be the last major work that he would complete before cancer prematurely ended his life. The premiere took place on 5th May 1917 with Debussy himself at the piano accompanying the violinist Gaston Poulet. Debussy was profoundly affected by the First World War and his Sonata for Violin begins with an elegiac movement. The final movement, inspired by Hungarian gypsy music, does however bring the sonata to a more optimistic close.
10.45
Andrew talks about new choral releases with Caroline Gill and Simon Heighes from Buxtehude sung by Vox Luminis and Lassus from Gallicantus, to Arcangelo's Charpentier and Tenebrae's Lukaszewski.
11.45
Andrew chooses an outstanding new release as his Disc of the Week.
Record Review 23/06/18
9.00am

Liszt: Années de pèlerinage: Première année – Suisse
Francesco Piemontesi (piano)
Orfeo C 944 182 1 (CD + DVD)
http://www.orfeo-international.de/pages/cd_c944182i_e.html

Bach: Music for solo lute
Thomas Dunford (archlute)
Alpha 361
https://www.outhere-music.com/en/albums/bach-alpha-361

'Bye Bye Berlin' – Music from 1920s Berlin (Weill, Eisler, Hindemith and others)
Marion Rampal (vocals)
Raphaël Imbert (saxophones)
Manfred Quartet
Harmonia Mundi HMM 902295
Mendelssohn: Symphony No. 2 'Lobgesang'
Anna Lucia Richter (soprano)
Esther Dierkes (soprano)
Robin Tritschler (tenor)
WDR Rundfunkchor Köln
NDR Choir
Radiophilharmonie
Andrew Manze (conductor)
Pentatone PTC 5186 639 (Hybrid SACD)
http://www.pentatonemusic.com/mendelssohn-symphony-2-lobgesang-manze-ndr-radiophilharmonie
9.30am – Building a Library – Caroline Rae on Debussy's Violin Sonata
Composer: Claude Debussy
Piece: Violin Sonata in G minor
Reviewer: Caroline Rae
Recommended Recording:
Jennifer Pike (violin); Martin Roscoe (piano)
Chandos 10667 (CD)
Other Recommended Recordings:
Below are other recordings that Caroline Rae also liked, although we can't guarantee availability.

Joseph Szigeti (violin); Bela Bartók (piano)
Vanguard Classics 08 8008 71
Gérard Poulet (violin); Noël Lee (piano)
Arion ARN 68228
Renaud Capuçon (violin); Bertrand Chamayou (piano)
Erato 9029577396
Joshua Bell (violin); Jean-Yves Thibaudet (piano)
Decca 421 817-2
10.20am – New Releases

Haydn: Symphony No. 26 'Lamentatione' plus 3, 30 & 79
Kammerorchester Basel
Giovanni Antonini (conductor)
Alpha 678
https://www.outhere-music.com/en/albums/haydn-2032-vol-6-lamentatione-alpha-678

'Misterioso' – Music by Biber and Piazzolla
Julia Schröder (baroque violin)
Lautten Compagney
Wolfgang Katschner (conductor)
Deutsche Harmonia Mundi 88985344082


Stephen Hough's Dream Album
Stephen Hough (piano)
Hyperion CDA68176
https://www.hyperion-records.co.uk/dc.asp?dc=D_CDA68176
10.50am New Releases: Caroline Gill and Simon Heighes on choral releases

Buxtehude: Abendmusiken
Vox Luminis (choir)
Ensemble Masques (instrumental ensemble)
Olivier Fortin (director)
Alpha 287

Sebastián de Vivanco: Missa Assumpsit Jesus
De Profundis
Robert Hollingworth (conductor)
Hyperion CDA68257
https://www.hyperion-records.co.uk/dc.asp?dc=D_CDA68257
Sibylla – Choral music by Lassus, Tymoczko, von Bingen & Cole
Gallicantus
Gabriel Crouch (director)
Signum SigCD520
https://signumrecords.com/product/sibylla/

San Marco di Venezia – 'The Golden Age'
Les Traversées Baroques (choir)
Laurent Stewart (fortepiano)
Etienne Meyer (conductor)
Accent ACC24345

'Refugium' – British Choral Music
Trinity Boys Choir
David Swinson (conductor)
Stone Records 5060192780819
http://stonerecords.co.uk/album/refugium/

Charpentier: Leçons de ténèbres, Litanies & Magnificat
Stéphane Degout (baritone)
Samuel Boden (tenor)
Arcangelo
Jonathan Cohen (conductor)
Hyperion CDA68171
https://www.hyperion-records.co.uk/dc.asp?dc=D_CDA68171

Sigismund Neukomm: Missa Solemnis & Requiem
Choeur de Chambre de Namur
La Grande Écurie et la Chambre du Roy (instrumental ensemble)
Jean-Claude Malgoire (director)
Accent 24344

'Daylight Declines' – Choral Music by Paweł Łukaszewski
Tenebrae
Nigel Short (conductor)
Signum SIGCD521
https://signumrecords.com/product/daylight-declines/SIGCD521/
11.45am – Disc of the Week: Munich Philarmonic & Valery Gergiev - Bruckner Symphony No.3 in D minor

Bruckner: Symphony No. 3 in D minor (ed. Nowak 1888/89)
Munich Philharmonic
Valery Gergiev (conductor)
Munich Philharmonic MPHIL0009
https://www.mphil.de/en/label-mphil/bruckner-symphony-no-1-and-3.html