Main content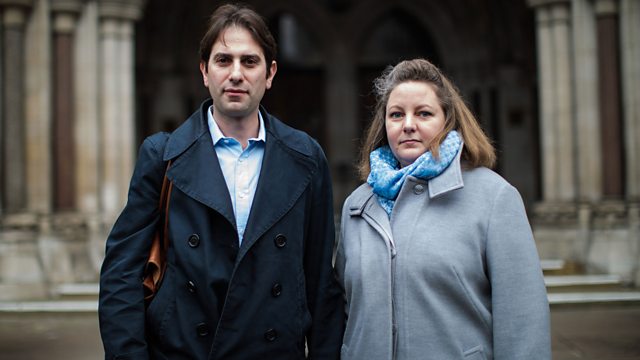 Civil partnerships for heterosexual couples, plus women and prison reform
Programme that offers a female perspective on the world. Campaigning for heterosexual civil partnerships, plus prison reform for vulnerable women.
The couple battling for the right of heterosexuals to have a civil partnership have won their case in the Supreme Court. Why did Charles Keidan and Rebecca Steinfeld decide to take on the case, how did they campaign, and at what cost? Rebecca Steinfeld joins Jenni, along with Kajal Odedra from the petition site Change.Org.
Plus women and prison reform. Justice Secretary David Gauke has announced plans to divert vulnerable women who have committed minor offences away from prison and into community based programmes. It was a key recommendation made by Baroness Jean Corston in her extensive 2007 report into vulnerable women in the Criminal Justice System. She tells Jenni what she makes of the government's plans, and why reform has proved so difficult.
What do you do with your partner's personal belongings if they pass away? Jenni talks to listener Roslyn Henry, whose husband died two years ago, and to Susannah Walker, author of The Life of Stuff.
And feeling secretly disappointed in your children. Perhaps they aren't the 'mini-me' you dreamt of, you don't share interests, or they have your most unattractive traits. How do you deal with it? Jenni is joined by actress Sue Elliott-Nicholls, and by Richard Shorter, who runs parenting blog, non-perfect dad.
Clips

Chapters
Corston Response

Duration: 10:20

Civil Partnerships

Duration: 10:42

LNWH Trail

Duration: 02:15

Feeling Disappointed in Your Children

Duration: 09:22

Disposing of Your Deseased Partner's Personal Belongings

Duration: 09:55

Credits

| Role | Contributor |
| --- | --- |
| Producer | Jenni Murray |
| Producer | Emma Wallace |
| Interviewed Guest | Rebecca Steinfeld |
| Interviewed Guest | Kajal Odedra |
| Interviewed Guest | Jean Corston |
| Interviewed Guest | Roslyn Henry |
| Interviewed Guest | Susannah Walker |
| Interviewed Guest | Sue Elliott-Nicholls |
| Interviewed Guest | Richard Shorter |