Main content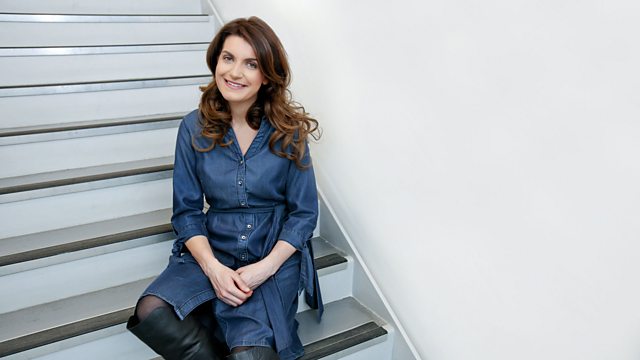 Opera Matinee: Puccini double bill.
Georgia Mann presents Opera Matinee consisting of a Puccini double bill - Le villi and Edgar - recorded at the Teatro Monumental in Madrid.
Georgia Mann presents Opera Matinee, consisting of a Puccini double-bill, recorded at the Teatro Monumental, Madrid by the Chorus and Orchestra of Spanish Radio.
Puccini: Le villi
Guglielmo Wolf ..... Vladimir Chernov (baritone)
Roberto ..... Leonardo Caimi (tenor)
Ana ..... Carmen Solis (soprano)
RTVE Chorus
RTVE Symphony Orchestra
Miguel Angel Gómez Martinez (conductor)
3.10: Edgar
Edgar ..... Marcello Giordani (tenor)
Fidelia ..... Carmen Solis (soprano)
Tigrana ..... Inés Moraleda (mezzo-soprano)
Franck ..... Josep Miquel Ramón (baritone)
Gualtiero ..... Carmelo Cordón (bass)
RTVE Chorus
RTVE Symphony Orchestra
Miguel Angel Gómez Martinez (conductor)
In Le villi, Puccini's first work for the stage, Roberto and Anna are engaged to be married. But Roberto must leave before the ceremony to collect an inheritance, and Anna worries that she will never see him again. Her anxiety is fully justified, as he falls into the hands of Le villi, the fairies.
In Edgar, Puccini's second opera, the hero is torn between the sacred love for the pure-hearted Fidelia and the profane love for the wild and feisty Tigrana. His over-complicated love life leads to tragedy.
Le Villi Synopsis
Place: The Black Forest
Time: Indeterminate

Act 1
Spring
Family and guests dance to celebrate the engagement of Roberto and Anna. Roberto must leave before the ceremony to collect an inheritance and Anna worries that she will never see him again (Aria: Se come voi piccina). Roberto comforts Anna telling her that it will be fine and they will marry when he returns from Mainz. Anna tells Roberto of her dreams of him dying but Roberto tells Anna that she should not worry about his love failing and that she may doubt her God but not his love for her. The crowd returns and Anna is still worried about Roberto leaving. Roberto then asks Guglielmo, Anna's father, to bless them before his journey and Roberto sets off for Mainz.


Intermezzo

Roberto is enchanted by a siren and forgets Anna. Anna waits through the summer and the autumn and in the winter dies in his absence. The legend of the fairies (Le Villi) is then explained. When a woman dies of a broken heart, the fairies force the heart breaker to dance until death.


Act 2
Winter
Anna's father, Guglielmo, holds Roberto responsible for Anna's death and calls upon the Villi to take vengeance on Roberto (Aria: Anima santa della figlia mia). The Villi call upon the ghost of Anna and lure Roberto into the forest. Roberto, now penniless and abandoned by the seductress, returns when news of Anna's death reaches him. Hoping that he will be forgiven the Villi stalk Roberto as he mourns the loss of the days of his youth (Aria: Torna ai felici dì). Roberto then finds the one last flower left alive in the winter and tries to find hope that Anna lives but is repelled by the Villi when he tries to knock on the door of Guglielmo's house. Roberto then tries to pray for forgiveness but finds he cannot because of the curse put upon him by the Villi. As Roberto curses his fate Anna appears to him and tells him of the suffering that she had to endure. Roberto begs for forgiveness and he too feels the pain of Anna burning in his heart. But Roberto is not forgiven and Anna calls upon the Villi, who curse Roberto with cries of "traitor." There, the Villi and Anna dance with Roberto until he dies of exhaustion at Anna's feet.
Edgar Synopsis
Place: Flanders
Time: 1302
Act 1

Pure-hearted maiden Fidelia rejoices in the return of Edgar, who has been living a life of debauchery with the wild Tigrana, a woman who was abandoned by "wandering Moors" as a baby and brought up by Fidelia's father. Fidelia gives an awakening Edgar a sprig of almond blossoms, but leaves when she sees Tigrana approaching. Tigrana tries to tempt Edgar to return to their life of debauchery, but fails when Edgar avows he loves Fidelia's purity. Frank, who has always loved Tigrana, enters, but when he cannot win her affections, he berates her, and they argue.
After Tigrana mocks the villagers at prayer, they order her to leave the village. She retreats to Edgar's house, where he defends her from the angry crowd. He announces that he will go with her, and burns down his house before leaving. Frank attempts to stop them, and is wounded in a duel with Edgar. The villagers curse the fleeing lovers.


Act 2

Edgar has left the wild orgy in Tigrana's house. He is tired of his life of debauchery and longs to return to Fidelia. Tigrana comes to him to entice him back to the party, but, just as she is about to succeed, a platoon of soldiers arrives. Edgar is surprised that Frank is leading them, and asks for forgiveness. Frank grants it happily because the fight actually had broken the hold Tigrana had on him. To escape from Tigrana, Edgar joins the platoon, despite her pleading. Tigrana swears revenge as the men leave her.


Act 3

A large funeral procession carries the armored body of Edgar, who has fallen in battle. Frank and the crowd praise Edgar as a hero, but the monk who heard Edgar's dying confession denounces him. He reveals Edgar's sins and debauchery, and the crowd, easily swayed, curses Edgar. Only Fidelia stands up for Edgar and vows that she will meet him in heaven.
After the crowd leaves, Tigrana enters, crying. She is upset that no one will see her weeping for Edgar. Frank and the monk ask her to denounce Edgar, but she resists until they offer her jewels. The crowd returns. The monk claims that Edgar betrayed his country for some gold, and Tigrana reluctantly confirms this. The soldiers try to desecrate the body and discover it is only a suit of armor. The monk reveals that he is Edgar and goes to leave with Fidelia, the only one who remained true to him. The vengeful Tigrana stabs and kills Fidelia. Edgar weeps over the lifeless body as the soldiers capture Tigrana, and the crowd prays.