Main content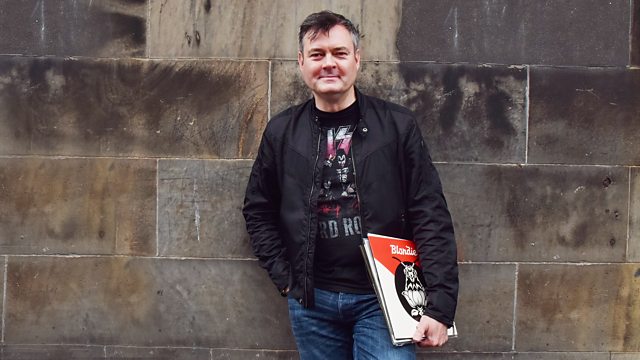 Tom Bailey and Jamie Cullum
Celebrating the vinyl revival with classic records and new releases. Featuring Tom Bailey from the Thompson Twins and Jamie Cullum in conversation.
Celebrating the vinyl revival with classic records and new releases. Grant plays album tracks from his own collection and discovers the stories about your cherished LPs.
Tom Bailey looks back at why the Thompson Twins sound worked so well on vinyl, discusses the art of the 12" remix and celebrates his return to pop music with a brand new single and album.
Jamie Cullum nominates a classic jazz albums for the Vinyl Collective Collection. These are the 20 albums you should consider owning if you're starting a record collection. ABC's 'The Lexicon Of Love', 'Revolver' by The Beatles, 'Blue' by Joni Mitchell, 'Songs In The Key Of Life' by Stevie Wonder and The Stone Roses self-titled album, Fleetwood Mac 'Rumours', Rolling Stones 'Through The Past, Darkly' and Bob Dylan 'Highway 61 Revisited' are already on the list. Jamie's personal recommendation and a further two records are added to our record collection this week. Get in touch with your own suggestions.
There's another Classic 12" single on the record deck. Plus another Roots of a Sample, this week playing the original vinyl that helped create Eminem's 'My Name Is' and featured an unlikely cameo.
Last on
Clips

Music Played
Joe Walsh

Life's Been Good To Me

Gruff Rhys

Limited Edition Heart

Aretha Franklin

I Never Loved A Man (The Way I Love You)

I Never Loved A Man The Way I Love You.
Atlantic.
3.

Snow Patrol

A Youth Written In Fire

Eminem

My Name Is

Curtain Call.
Aftermath.
4.

Labi Siffre

I Got The

Remember My Song.
EMI.
1.

Kim Wilde

Birthday

Here Come The Aliens.
Ear.
8.

The Who

My Generation

The Who - Who's Better, Who's Next.
Polydor.

Miles Davis

Shhh / Peaceful

In A Silent Way.
Sony.
1.

Skids

The Saints Are Coming

Scared To Dance.
Virgin.
1.

Jorja Smith

Teenage Fantasy

Thompson Twins

Love On Your Side (Rap Boy Rap)

Love On Your Side (12" Single).
ARISTA.
1.

Thompson Twins

In the Name of Love (12" Dance Extension)

Remixes & Rarities: A Collection of Classic 12" Mixes & B-Sides.
Cherry Pop.
104.

Thompson Twins

No Talkin' Dub (Lies)

Quick Step & Side Kick.
Edsel Records.
113.

Thompson Twins

You Take Me Up (Instrumental Remix)

Into the Gap.
Edsel Records.
209.

Wendy Carlos

Brandenburg Concerto No.3 in G Major - 1st Movement

Switched-On Bach.
CBS.
3.

Lily Allen

Family Man

No Shame.
Parlophone UK.
7.

George Michael

Praying For Time

Listen Without Prejudice, Vol. 1.
Sony Music.
1.
Broadcast