Main content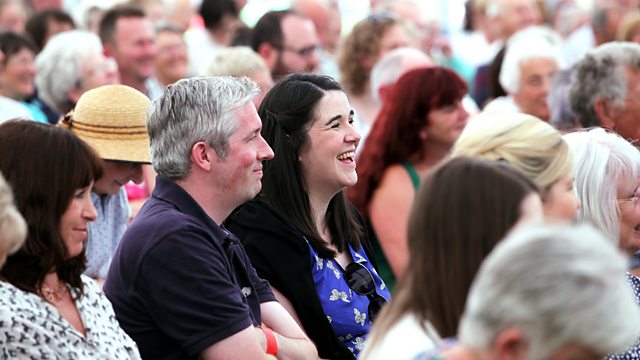 Summer Garden Party at Mount Stewart: Part Two
Peter Gibbs presents the second of two programmes from the GQT annual Summer Garden Party at National Trust Mount Stewart in County Down, Northern Ireland.
Peter Gibbs presents the second of two programmes from the GQT annual Summer Garden Party at National Trust Mount Stewart in County Down, Northern Ireland. Christine Walkden, Matt Biggs, Pippa Greenwood and James Wong answer the audience's horticultural questions.
The panellists advise on moss, getting rid of a hard-to-reach hop, and restoring an overgrown allotment. They also give odds on the likelihood of growing tomatoes outdoors on a patio in Coleraine.
Throughout the programme, each panellist picks their favourite plants from the gardens at Mount Stewart and Matthew Wilson goes on a tour with Head Gardener Neil Porteus, discovering the history of the gardens and the pioneering work of Edith Vane-Tempest-Stewart, Lady Londonderry.
Also, Christine Walkden and Bob Flowerdew get in and among the crowds to suggest some useful Take Home Tips.
Produced by Hannah Newton
Assistant Producer: Laurence Bassett
A Somethin' Else production for BBC Radio 4.
Fact Sheet
Q – I have moss everywhere – does it harm potting and bedding plants?
Pippa – It's not going to harm anything but if it forms a dense carpet it can allow moisture to accumulate too much.  It will restrict seeding too. 
Q – Between my fence and the neighbour's hedge a wild hop has sprung up.  Because it is between the divides we can't get to it.  How can we get rid of it?
Christine – Get under the fence and then attack the roots
James – Boiling water or vinegar will kill the roots of the hop without being damaging enough to affect the hedge
Q – Our allotment is a wilderness.  How can we restore it without using old carpet?
Pippa – What is making up the wilderness?
Q'er – Waist-high couch grass, dandelions, buttercups and nettles.  We have 320sqm (3445 square feet) of allotment.
Peter – Pigs or goats if you're allowed
Pippa – It's a big area to dig out.  Get potatoes in the areas you've cleared because they grow rapidly, offer some shading, and they offer a reward at the end of it!
Q – Is there any chance of me getting a good crop of tomatoes on my patio in Coleraine?
Pippa – You might need to get some protection like a mini lean-to greenhouse.  I would also worry about Phytophthora
Matt – Try the Tree Tomato (Cyphomandra betacea).  It's not actually tomato but it would still be nice.
Feature:
Salvia
Brillantaisia subulugurica
Q – What special memory will the panel take away from Mount Stewart?
James – The Cordyline indivisa that I saw here ten years ago
Christine – I'll have the Beschorneria that are out on the terrace
Matt – Clianthus puniceus (the 'Lobster Claw')
Q – In recent years I have been losing the growing tips on my Fuchsias to a pest.  What is causing this?
Pippa – I thought it might be Fuchsia gall mite but actually I think it is capsid bug. 
Q – Next month we're being encouraged to give up single-use plastic.  How can we do this as gardeners?
Pippa – You can use tomato boxes as propagating lids and plastic bottles as bird scarers.  Stop using plastic naming tags too.
Q – In the stone walls here I can see small, reddish daisy-like flowers.  I've tried this at home but haven't had any success.  What can I do differently?
Matt – It is a Mexican Daisy (Erigeron karvinskianus).  Plants will self-seed where they are happy to be, for example I have foxgloves at the base of a yew hedge. 
Christine – Sow them straight into sand for the best start.  Then after they've got going use something like plasticine or a nylon stocking to insert it into the stone to give it a bit of grip.