Main content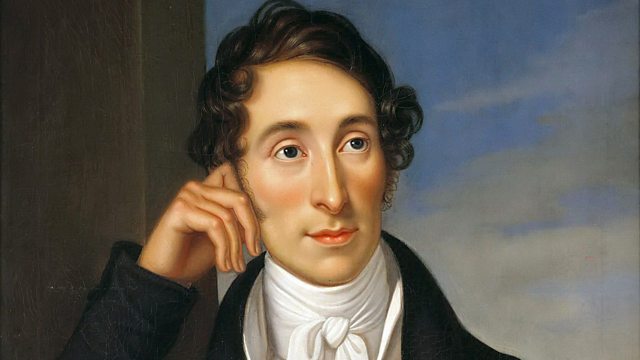 'Landscape is to me the performance of a piece of music'
Donald Macleod traces Weber's directorship of opera in Prague where he champions German opera. After a series of affairs, Weber eventually marries a singer from his company.
Donald Macleod traces Weber's fascination with the Romantic movement. Also, his directorship of the Opera at the Estates Theatre in Prague where he tries to champion German opera but the audiences prefer Italian opera. The composer a ménage à trois with one singer Therese Brunetti, but ends up marrying Caroline Brandt, another singer. He composes The Invitation to the Dance to celebrate their partnership.
The Gallant Troubadour
Robert White, singer
Samuel Sanders, piano
Mark Peskanov, violin
Nathaniel Rosen, cello
Ransom Wilson, flute
Ein Konig einst gefangen sass
Peter Schreier, singer
Konrad Ragossnig, guitar
Cantata Kampf und Sieg, Op 44 (final chorus)
Choir and Orchestra of Leipzig Radio
Herbert Kegel, conductor
Sind es schmerzen, sind es freuden?
Dietrich Fischer Dieskau, singer
Hartmut Holl, piano
Invitation to the Dance
Stephen Hough, piano
Piano Concerto No 2
Nikolai Demidenko, piano
Scottish Chamber Orchestra
Charles Mackerras, conductor
Producer: Rosie Boulton for BBC Wales.