Main content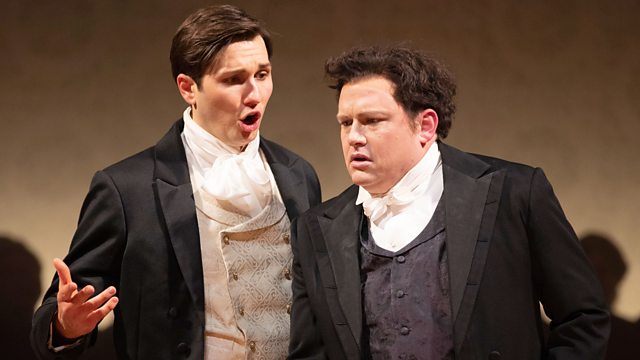 Eugene Onegin
Eugene Onegin, Tchaikovsky's tragic tale of unrequited love, in a new production by Scottish Opera from the Theatre Royal in Glasgow. Presented by Donald Macleod.
Scottish Opera present one of the greatest of all Russian operas, Tchaikovsky's Eugene Onegin in a new production by Covent Garden director Oliver Mears. This tragic tale of based on Pushkin's verse novel tells the story of an unrequited love by a young passionate girl (Tatyana) for the sophisticated and arrogant young aristocrat Eugene Onegin. When he enrages his best friend Lensky by flirting with Olga, Lensky challenges him to a duel. Tragedy unfolds as Lensky is killed. A few years later, Onegin, a broken man meets Tatyana again, now married to Prince Gremin and realises that he loves her and begs her to run away with him. The tables are turned and Tatyana, though still in love with him, rejects him for the new life she has chosen.
Performed at the Theatre Royal in Glasgow and presented by Donald Macleod with contributions from vocal coach and director Mark Hathaway.
Eugene Onegin ..... Samuel Dale Johnson (baritone)
Tatyana ..... Natalya Romaniw (soprano)
Lensky ..... Peter Auty (tenor)
Olga ..... Sioned Gwen Davies (mezzo-soprano)
Madame Larina ..... Alison Kettlewell (soprano)
Filipyevna ..... Anne-Marie Owens (mezzo-soprano)
Prince Gremin ..... Graeme Broadbent (bass)
Monsieur Triquet. ..... Christopher Gillett (tenor)
Zaretsky ..... James Platt (bass)
Captain ..... Alexey Gusev
The Orchestra of Scottish Opera
Stuart Stratford (conductor)
The Chorus of Eugene Onegin
Jonathan Swinard (chorus master).
Synopsis
Setting: An estate in the Russian countryside and its surroundings; St Petersburg
ACT I – Summer
Scene 1
Madame Larina and the nurse Filipyevna listen to Larina's daughters,
Tatyana and Olga, sing a song. Madame Larina reminisces about her
own courtship and marriage. Peasants celebrate the harvest. Olga
wants to join in with the dancing, but Tatyana is more interested in a
romantic novel she has been reading. Her mother points out that real
life is very different to that in books.
Olga's fiancé Lensky, a young poet, arrives with his friend Eugene
Onegin, who is visiting from St Petersburg. Lensky introduces Onegin,
who expresses his surprise that Lensky is to marry Olga rather than
Tatyana. Tatyana is immediately attracted to Onegin, while Lensky
declares his love to Olga. Onegin tells Tatyana of his boredom being
away from the city, and explains that he is in the countryside because
his uncle has died and left him a nearby estate.
Filipyevna notices the deep emotional effect Onegin has had on
Tatyana.
Scene 2
Tatyana is unable to sleep. She asks Filipyevna to tell her about her
own marriage. Tatyana confesses that she is in love.
Alone, Tatyana starts to write a letter to Onegin: she loves him and
declares that she won't ever feel this strongly about anyone else. She
writes through the night. In the morning, she persuades Filipyevna to
send her grandson with the letter to Onegin.
Scene 3
While peasant girls sing at their work, Tatyana waits for Onegin and
his response to her letter. Onegin arrives. He tells her that he is not
suited to marriage. However, he is happy to love her as a brother, and
warns her not to be so open in the future. Tatyana is devastated.
ACT II – Winter
Scene 1
Tatyana's name-day party is in full swing. She and Onegin dance
together. Onegin overhears a group of gossiping guests and
becomes irritated with them, as well as with Lensky for bringing him
to the ball in the first place. He dances and flirts with Olga, which
provokes Lensky's jealousy. Lensky confronts Olga, but she tells
him he is over-reacting. She dances once more with Onegin.
Monsieur Triquet, a French tutor, sings in praise of Tatyana.
Lensky and Onegin continue their argument. In front of the guests,
Lensky denounces his friend and challenges him to a duel. Onegin
reluctantly accepts.
Scene 2
Lensky and his second, Zaretsky, wait for Onegin. Lensky reflects on
his love for Olga and his feeling of the imminence of death. Onegin
arrives with his manservant Guillot. Both Lensky and Onegin sense
their recklessness, yet neither has the courage to stop the duel.
Onegin shoots Lensky dead.
ACT III – Three years later
Scene 1
Onegin, alone at a ball, reflects on his travels since the duel with
Lensky, and the emptiness of his life.
Prince Gremin arrives. With him is Tatyana, his wife. Onegin is
astonished by Tatyana's beauty. She, too, is overwhelmed with
emotion when she sees Onegin, but does her best not to show it.
Gremin enthuses to Onegin of his love and devotion for Tatyana,
and 'introduces' them.
Onegin knows immediately that he is in love with Tatyana.
Scene 2
Tatyana has received a letter from Onegin, which has revived all her
earlier feelings for him. When he arrives, she asks him if he is pursuing
her because of her new standing in society. He denies this; he is in
love with her.
Tatyana recalls that they were once so close to happiness. She
still loves him but she is now married and must be faithful to her
husband. Onegin begs her to change her mind. She cannot. Onegin
is left alone in despair.