Main content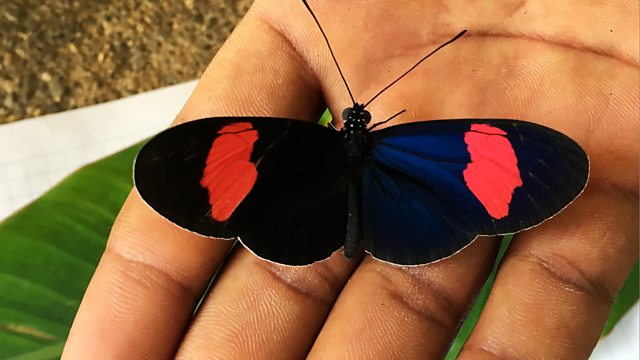 Alison Turnbull and Butterflies in Colombia
Colombian born artist Alison Turnbull works alongside Colombian scientist, butterfly expert Blanca Huertas, on an expedition in the Pacific rainforest in search of butterflies.
Colombian born artist, Alison Turnbull travels to the tropical forest of Chocó on the Pacific coast in search of butterflies. She's travelling with Senior Curator of Lepidoptera at the Natural History Museum, Blanca Huertas. They've been invited by a local foundation, Más Arte Más Acción (More Art More Action), to work alongside one another. But doing what?
The artist is envious of the scientist's work as a taxonomist - the systematics and protocols of classification, of making traps, of time spent setting butterflies and the confidence that comes from society considering science a worthwhile endeavour.
She knows science is more about information while art is more about experience, but she's not sure what she can do as an artist here in this magnificent, remote forest.
She's anxious. It's not just the insects that are fluttering, her nerves are fraying. And, in the background, there's Colombia's civil conflict which has prevented botanists and zoologists from exploring the area.
Although she admires the butterflies for their intense beauty, she's hunting for something more metaphorical which reveals how we regard these insects as part of culture, as much as part of the natural world. Psyche, after all, is the world for butterfly and for soul.
She recalls the words of the great scientist and writer Vladimir Nabokov who delighted in the "precision of poetry and the excitement of pure science" and, amid the mosquitoes and humidity, the green lush forest lit by bright butterflies, she begins to shape an idea.
Produced by Kate Bland
A Cast Iron Radio production for BBC Radio 4.