Main content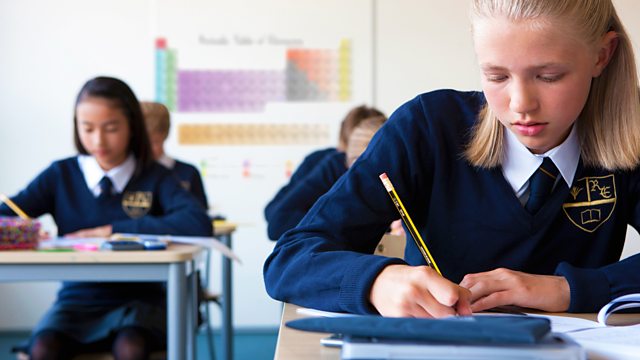 Cut-price private schools, Supermarket merger, Debenhams under pressure
What kind of private education would you expect for just £52 a week? The bosses behind the planned merger of Asda and Sainsbury's, and Debenhams issues another profit warning.
Less than seven per cent of children in the UK go to private schools. The costs vary, with average fees of around £17,000 a year. But a new kind of school is opening in Durham soon, offering a private education at a much lower price. The idea is that if you cut out the frills, such as sports facilities and expansive grounds, then it's possible to offer a quality education at a budget price. The Independent Grammar School says it will offer a traditional education for just £52 a week. We examine if it is really possible to provide a quality education at such a low price.
Today the chief executives of Asda and Sainsbury's will be questioned by MPs about their plans to merge the companies and create a new and huge grocery firm. If the merger goes ahead, the company will be even bigger than Tesco. Today MPs on the Environment, Food and Rural Affairs Committee will raise concerns about how such a merger will affect prices. They will also raise concerns that the new company could use its bargaining power to drive down the amount it pays to suppliers and farmers.
Debenhams has, for a third time this year, warned that its profits will be lower than expected. The department store blamed "increased competitor discounting and weakness in key markets" for the shortfall. This latest warning comes despite a turnaround plan which was designed to cut costs and boost sales. The chief executive Sergio Bucher pointed to "exceptionally difficult times in UK retail". Debenhams is a cornerstone of many British town and city centres. We ask why the company is struggling and how well equipped it is to weather the storm in the UK's retail sector.
Producer: Jonathan Hallewell
Presenter: Winifred Robinson.
Chapters
Tickets

Music fans are buying over-priced second-hand tickets when cheaper ones are still on sale

Duration: 06:24

Kew Gardens

Difficulties of balancing conservation & disability access at newly restored Kew Gardens.

Duration: 05:00

Cheap Private Schools

What sort of education does one receive at a school which charges just £52 a week?

Duration: 09:50

Asda Sainsbury Merger

MPs question the bosses behind the planned merger of two huge supermarkets.

Duration: 04:50

Universal Credit

As Universal Credit arrives in Bradford, we examine how peoples' lives are affected.

Duration: 07:08

Debenhams

Figures show that Debenhams have hit their third profit warning this year.

Duration: 05:05

Accessible Kew Gardens

David Merkel who is a life-long supporter of Kew Gardens was part of a disability panel that advised on the design of the refurbished Temperate House.