Main content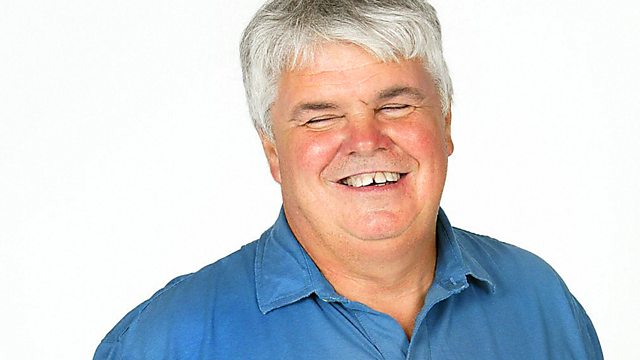 Talk and Support, David Katz
The RNIB has a long-term strategy to make the help it offers to blind people 'efficient and sustainable'. We hear from a volunteer who thinks redundancies will have a big impact.
The RNIB says it could make up to 100 redundancies to ensure the help it offers blind people "efficient and sustainable". It reported a deficit of around £13m in the financial year before March 2017. We've heard about three of the early redundancies, and they will affect the Talk and Support service, which links up blind people on a conference call with a volunteer to offer advice and help. Diane Benjamin is one such volunteer, and she is concerned about the impact of the change.
We also talk to David Katz about a question affecting many visually impaired people, to reveal - or not to reveal. For years he employed a number of techniques to hide his sight problems - while establishing himself as a renowned Fleet Street photographer. He tells us how he managed it...
Presented by Peter White
Produced by Kevin Core.
Last on
In Touch Transcript: 19-06-2018
THE ATTACHED TRANSCRIPT WAS TYPED FROM A RECORDING AND NOT COPIED FROM AN ORIGINAL SCRIPT.  BECAUSE OF THE RISK OF MISHEARING AND THE DIFFICULTY IN SOME CASES OF IDENTIFYING INDIVIDUAL SPEAKERS, THE BBC CANNOT VOUCH FOR ITS COMPLETE ACCURACY.
IN TOUCH – Talk and Support, David Katz
TX:  19.06.2018  2040-2100
PRESENTER:          PETER WHITE
PRODUCER:            KEVIN CORE
White
Good evening.  Tonight, the RNIB redundancies, which it's feared could affect some of the most vulnerable blind people.  And the professional photographer who's hidden his visual problems for decades.
Clip
Forward planning was my two middle names.  I had a plan for every occasion and then a plan for the plan if that went wrong.
White
And you'll hear more from newspaper photographer David Katz later in the programme.
But first, Talk and Support, is a telephone service run by the Royal National Institute of Blind People to provide exactly what its name suggests – a place to share and swap information and provide mutual support.  But it's one of the first services to feel the effects of a package of redundancies which In Touch listeners were warned was coming to deal with the RNIB's well publicised financial problems – a budget deficit of almost £30 million in the financial year up to March 2017.  The charity says the review could see less than a hundred redundancies but will ultimately help it make a bigger difference to blind and partially sighted people in an efficient and sustainable way. 
But Diane Benjamin is worried about the future of the Talk and Support service.  She's one of the many volunteers who take part in more than a hundred Talk and Support groups and she appeared in an RNIB video explaining the work they do.
Clip – RNIB video
RNIB Talk and Support service is a service for blind and partially sighted people that brings them together in groups of six on the telephone so that they can chat and support each other.  It's mainly older people that are part of it.  So, they don't go out so much anyway, so it's about getting them together, a lot of older people don't have anybody to talk to, they may not see anybody for a whole week.
White
Well three RNIB staff who, among other things, help connect the callers to the discussions will leave through redundancy.  You heard from Diane Benjamin in that promotional video and she told me what she did as a volunteer.
Benjamin
I bring in the participants and then I encourage them to talk if they need encouraging.
White
And what kind of things do they talk about?
Benjamin
Family, politics, even religion, programmes that they've seen, books that they've read.  Just – they just talk about everything and anything.
White
And give us more of an idea of the kind of people who are using this service – who are they?
Benjamin
At least 40% must be in their eighties, most of them don't go out a lot.  A lot of them are on their own, they just have carers popping in occasionally.  They compare sometimes what their conditions are but most of the time they treat the group as a social group.  They're talking to friends and they're often their only friends, the other five people in the group are often their only friends. 
White
Now three staff who connect the callers to the conference calls will be affected by these redundancies, explain your concern about that.
Benjamin
My concern is about how it's going to happen when those people have gone.  They do have volunteers but they have so many groups I can't see how they're going to have enough staff to bring in all the people to the groups.
White
So, just paint a picture of what would normally happen, there's a lady or a gentleman in their eighties sitting at home, what would normally happen to get them connected?
Benjamin
They'd be sitting by their telephone and they would answer the call and the call manager will say – are you ready for the group – and they will say – yes – and then they bring them into the group and say to me, the facilitator, Diane we've now got so and so with us.
White
So, in a way that contacting is done for them essentially?
Benjamin
Yes, yes, yes.
White
Now David Newbold who's the RNIB's specialist services lead, he says the changes are designed to make the help they offer more efficient and sustainable.  He added that no groups will stop and they won't change but they'll be encouraging people to dial into the conference calls themselves.  What's your reaction to that?
Benjamin
My reaction to that is I'm just appalled.  I've got three groups, which means that I've got 18 people, most of them would not be proficient enough to use the telephone.  One, they won't be able to ring because they don't know numbers and then I understand with a conference call you have to have a code or something?
White
A password or something like that.
Benjamin
And you have to be fairly quick to get that into the phone.
White
But he also says if they're really uncomfortable with that they'll provide help.
Benjamin
I would like to know how they would provide help.  How are they going to know who's in need of this assistant, who's going to assess them and who's going to reassess people that are coming in to their eighties and nineties?  Who's going to be there?
White
The RNIB also told us that this method could modernise the service by increasing the users' independence, isn't that a fair point, it's good to encourage people's independence?
Benjamin
Yes it is when they're young and they want to be independent and they want to do these things but we all know that older people are the people that lose their sight and they're going to be the ones that are side-lined basically, they're the silent majority, they won't be able to complain, they won't know how, they won't have the ability to ring in and complain.
White
Now you're a volunteer, getting involved with this service, what would you like to say to the RNIB about this?
Benjamin
I have several questions that I would like you to answer on how things are going to happen.  Who's going to assess people?  I'd like to ask the RNIB who was consulted, how many of the users were consulted about this?
White
That's Diane Benjamin and we'll be talking to the RNIB about their redundancies and many other aspects of their future strategy next month.
Something else we're planning to take a longer look at is Access to Work.  Now that's the government's longstanding programme to help disabled people to compete in the workplace.  It does this by providing financial help with assistive technology, extra fares, human assistance and other things besides.  But recently we've been hearing from blind listeners about what they're describing as sudden and unexplained rule changes in the system which is making it difficult to use and it sometimes results in a loss of the service altogether.  People like Martin Conway, who at the beginning of this year, explained why he had suddenly had his Access to Work payments stopped.
Conway
I'd been told by Access to Work in December that they won't make any further payments to me until I produce a Contract of Employment between myself and the support worker.  Now this is not something in 25 years of using Access to Work I've ever been asked to do.  And in fact, although I'm a social worker and may be reasonably competent I have no real experience in actually drawing up a Contract of Employment, which normally an HR department would do.  I mean they've just literally told me to look on the internet and take a blueprint from there.
White
Well that was Martin Conway and we're still hearing other examples of sudden rule changes and payments being stopped until the situation is resolved.
Well if you'd like to tell us your experience of Access to Work, positive or negative, you can call our actionline for 24 hours after the programme on 0800 044 044, you can email intouch@bbc.co.uk and you can also download tonight's and other editions of the programme from our website. 
Someone who has emailed us is Grapali Pashotam [phon.], she was responding to our report on difficulties with the Disabled Student's Allowance.
Pashotam [phon.]
I found the recommendations about equipment didn't fit my needs and they weren't suitable for the course I've been accepted on, which is teacher training.  The majority of my study will be on placement, meaning I'll be in multiple locations throughout the course.  I've taken this into account and have said that carrying cumbersome equipment isn't suitable for me.  The time it takes to set this up wouldn't be appropriate and it cuts into my teaching time.  I've repeatedly stressed my concern.  If visually impaired students face these types of obstacles now it will discourage them from pursuing successful careers.  Someone really needs to consider the impact this process can have.
White
Finally, today, In Touch listeners are used to hearing about visually impaired people who've taken on jobs, sports, hobbies which on the face of it seem difficult if not impossible.  And they succeed.  But, and they don't come much more counterintuitive than the case of David Katz.  For many years David has been a highly respected Fleet Street photographer, whose pictures have captured some of the biggest names of modern times – Margaret Thatcher, Tony Blair, David Beckham, members of the Royal Family – and yet during that time hardly anyone knew that he had a cocktail of eye conditions – strabismus, nystagmus, astigmatism – which seriously affect your ability to control the movement of your eyes and therefore to focus.  It's only recently, with his professional reputation secure, that David has felt able to reveal the fact and talk about it openly.
Well, he's been talking openly to us and I asked him how he got started.
Katz
I fell in love with the camera since I was seven years old.  My father had a nice camera and he liked to take pictures but he gave me the camera, because I nagged him so much, and I was seeing things in a certain way through my condition, which also includes ocular albinism, which all the others come from.
White
So, as you were growing up what kind of effects was the eye condition having on just your ordinary life as a young boy?
Katz
I loved football and I was a very keen Arsenal supporter – well probably fanatic would be a better word to use – and my dad wasn't able to take me because he knew I wouldn't be able to see and he was correct.  At about 10 years old we found out about a wonderful lady called Janet Silver at Moorfields who was responsible, at that time, for what I refer to as low visual aids, which were a bit bulky and cumbersome but they developed, at that point, a very small pair of powerful binoculars that looked discrete but helped me see.  That changed the course of my life because it allowed me to be able to go to Arsenal.  And the wonderful thing about that was because I couldn't watch the game as a whole it meant through the binoculars that I had to focus in and watch only a part of the game and work out where the ball was to follow the ball and this helped me immensely when I became a photographer to be able to follow the action, because the principle is the same through a camera.
White
So, was that what gave you, as it were, the confidence to think I actually might be able to do this professionally?
Katz
Absolutely.  Obviously having an eye condition from birth, I don't know exactly how regularly sighted people see.  I think that it's not how far we can see, it's what we see.  And I think people who are properly sighted are able to see very clearly in relation to distance and things like that but often they miss things that we would be seeing because we're looking more closely and looking at things in a certain way.
White
So, has that made a difference about the way you take pictures and what you're looking for?
Katz
Personally, I believe it's made a huge difference because I'm having to work harder to start with, I'm having to look harder.  I was more frightened of being caught out that I missed something because I didn't see it.  So, I went close.  But that's what all good photographers should be doing.
White
Can you give me an example of that – where you go in close – the sort of things that you did or the dangerous things that you did?
Katz
I was sent many years ago to what turned out to be one of the worst riots in London.  It was between extreme right wing and extreme left wing and they basically battled it out at Waterloo Station on the way to a concert.  Instead of standing further back on a longer lens I went in very close and suddenly everything went dark in front of me and I realised that someone had smashed the camera into the front of my head which smashed my head into the back of the wall.  So, I put myself in some very dangerous situations.  But to be honest I would expect other photographers at that level to do the same thing because you have to get the images, we're not like writers that can stand a bit further back, we have to be in there.
White
Now to explain your attitude to this we perhaps have to also explain a little bit about your own – your parents' attitude, that you had to be careful about how much you reveal here.
Katz
Very much so, I owe everything to my parents.  They were told when I was three months old in 1966 that I was blind and to register me as blind.  They wanted to make sure they gave me every chance.  They had an attitude of there's no such word as can't.
White
But of course, you could argue that you could have had help from professionals, as it were, in helping you deal with your visual impairment, it does put a potential strain on you trying to hide it, as you have done.
Katz
Well actually in those days and even quite recently, as I've found out through my own research trying to help children with my condition and their parents, recently through my foundation and through my research and through my lenses – the video that I launched to come out publicly – that wasn't actually the case, there wasn't that much help and there certainly isn't.  And this is where the assistive technology these days is actually a big advantage.  There's a lot more help.  In my generation and up until very recently there hasn't really been the help that there should have been.
White
But presumably your employers didn't know in that case?
Katz
No, I felt it was probably better that they didn't.  I mean it's one thing convincing myself but if you said to me we'd like you to photograph the Queen and I'd say – oh by the way you know I'm blind right – I think the reaction wouldn't be as positive as I would like.
White
But we should make it clear you got to Fleet Street, you've worked for papers – so what kind of strategies did you use to hide the fact both professionally and socially?
Katz
There was no way that people could tell that I had such a serious visual impairment but they would have been able to tell if they would have seen me trying to look at a computer screen.  So, when we went from film to digital there were strategies I had to adopt to get round that.
White
Like what, what did you do?  Because it sounds as if you probably did quite a lot of work in advance, so you knew – you knew the things that you couldn't do on the spot, as it were.
Katz
Forward planning was my two middle names.  I had a plan for every occasion and then a plan for the plan if that went wrong.  For instance, with computer screens, when we started to use Photoshop by sitting night after night at home in front of the computer with my nose on the screen I memorised where everything was on the screen.  So, if someone was standing behind me or even asking me advice or I was standing over them I knew where it was on that screen.  If someone gave me a computer that wasn't mine or showed me something on a computer that I wasn't familiar with this could be problematic.
White
You do social things as well, don't you, I mean things like finding out about menus when you go to restaurants?
Katz
Exactly and this was something that we now laugh about.  I used to make sure that – because obviously if I was having a meeting about a job with an editor I obviously couldn't look at the menu, so I would either get to the restaurant very early, look on the internet when I was able to or my complete fall-back was saying to the person opposite me – So, what looks good on the menu? – and they would tell me what they were having and I would have what they were having, which would often lead to some really horrible meals.  If someone would have found out at an earlier stage I wouldn't have reached the level in my professional career that I went on to reach.  I have a platform that people know me and respect me as a photographer, I'm able to go out and be taken seriously and be interviewed by people like yourself.
White
Now earlier on, you thanked your parents for their attitude, can I put this question to you?  Haven't you actually made life more difficult for yourself than it need have been by all that hiding?
Katz
Look probably yes but you know what – and my mother used to apologise to me till the end of her life, did she do the right thing – I wouldn't have it any other way.  A lot of people have to suffer in different ways through one reason or another, it makes you a better person – it increases your character, it makes you stronger, it makes you more determined – and I have absolutely no regrets.
White
But, you know, you've got to be tough to do that haven't you – go that route?
Katz
Absolutely but I wouldn't have wanted to go the other route, I would have sooner have gone the tough route, made things difficult for myself and achieved everything that I've achieved, be able to make the difference that I'm now being able to make.  You don't have to sit in a room like someone who thinks that life owes them something.  We all have issues, ours is to do with our eyes or a lot of your listeners, I'm sure, have visual impairments, everybody has something and this is what was taught to me from a very young age.  So, mine happens to be with my eyes.  A lot of people have got far worse.
White
David Katz. 
So, to reveal or not to reveal, whether it's going for a job or online dating or whatever it is, what's your take on whether or not to disclose that you're blind or partially sighted?
That's it for today.  From me, Peter White, producer Kevin Core and the team, goodbye.
Broadcast