Main content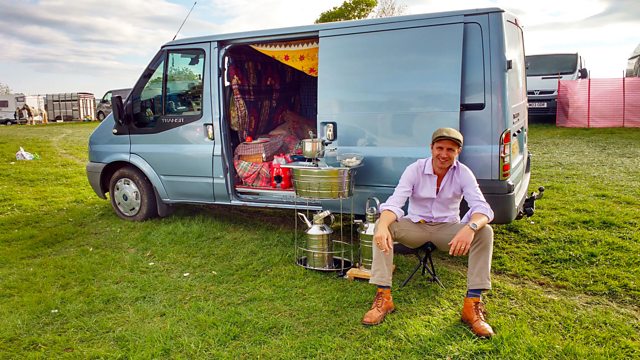 Traditional horse fairs have been beloved by travellers for generations. Damian and his wife Candis visit Horsmonden fair where the old ways blend with the new.
Damian Le Bas inhabits an awkward middle ground between the non-gypsy world and his own traveller / gypsy heritage. He grew up in West Sussex in a house built by his grandfather on land the family owned, surrounded by a field that was half car-breaking business, half farmyard. Scattered bits of engines lay alongside bales of hay, brand new trucks were surrounded by geese and terriers. But twice a week they drove an hour each way to their family pitch in the market square of Petersfield where they sold flowers.
Along the way, his elders would nod towards lay-bys and verges, naming them as they passed. These were the 'atchin tans' or stopping places. His great grandmother, Nan, explained to him that they were the places where she and her family used to live in the days of wagons and bender tents. Sometimes they would stop for a few days, other times for a few years.
Damian's parents both had faith in education and, when they saw that he was bright, he applied for for a full scholarship at the nearby boarding school - Christ's Hospital - which led to ten grade A O-Levels, A Levels and theology at Oxford.
Damian was now firmly an outsider in both worlds. But having plundered the Bodleian Library for histories of gypsies, he felt the need to get out into the world and discover the topography of his ancestors. So he with his Nan's blessing he set out to visit the stopping places, sometimes alone and sometimes accompanied by his wife Candis. As we follow his journey, we also learn about the history of the gypsies and their marginalised place in society today.
Written and read by Damian Le Bas
Abridged by Isobel Creed and Jill Waters
Produced by Jill Waters
A Waters Company production for BBC Radio 4.
Credits
| Role | Contributor |
| --- | --- |
| Reader | Damian Le Bas |
| Author | Damian Le Bas |
| Abridger | Jill Waters |
| Producer | Jill Waters |