Main content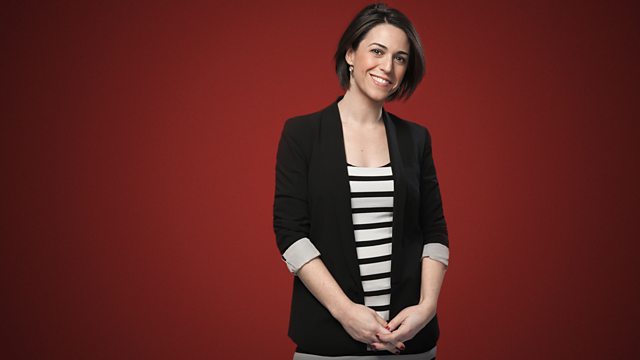 Thursday with Suzy Klein - Paul Whitehouse, Colour Therapy, The Arrival of the Queen of Sheba
Suzy Klein with the best in classical music, plus this week's guest, actor and comedian Paul Whitehouse.
Suzy Klein with Essential Classics - the best in classical music.
0930 Your ideas for companion pieces on the Essential Classics playlist. Handel's Arrival of the Queen of Sheba is today's playlist choice.
1010 Time Traveller - A quirky slice of cultural history
1050 Each day this week the actor, writer and comedian Paul Whitehouse, creator of unforgettable characters in The Fast Show and in his series with Harry Enfield, tells Suzy about the people, music and ideas that have inspired him over the years. Today he talks about his admiration for the work of the WW2 writer Alexander Baron.
Other music in the programme includes Korngold's Schauspiel Overture, Op.4; part of Thomas Ades music for his opera Powder her Face, and Lili Boulanger's D'un matin de Printemps.
Last on
Music and featured items
Ralph Vaughan Williams

The Wasps (Ballet and Final Tableau)

Orchestra: Royal Liverpool Philharmonic Orchestra. Conductor: James Judd.

Vaughan Williams: Piano Concerto.
Naxos.
5.

Frédéric Chopin

Mazurka in B flat Minor, Op.24 no.4

Performer: Cédric Tiberghien.

Johann Sebastian Bach

Liebster Jesu, mein Verlangen, BWV 32: Aria " Nun verschwinden alle Plagen"

Conductor: Raphael Alpermann. Singer: Sophie Karthäuser. Singer: Michael Volle. Orchestra: Academy for Ancient Music Berlin.

Bach: Dialogkantaten, BWV 32, 49 & 57.
harmonia mundi.
5.

Felix Mendelssohn

Piano Trio No 1 in D minor, Op 49 (2nd mvt)

Ensemble: Sitkovetsky Trio.

Carl Maria von Weber

Abu Hassan (Overture)

Orchestra: Tapiola Sinfonietta. Conductor: Jean‐Jacques Kantorow.

Weber: Overtures.
BIS.
3.

George Frideric Handel

Arrival of the Queen of Sheba (Solomon)

Ensemble: The English Concert. Director: Trevor Pinnock.

Pachelbel/Handel/Vivaldi etc: The English Concert/Pinnock.
Archiv.
10.

Arthur Honegger

Pastorale d'ete

Orchestra: Lausanne Chamber Orchestra. Conductor: Jesús López Cobos.

Enrique Granados

El fandango de candil (Goyescas)

Performer: Garrick Ohlsson.

Granados: Goyescas: Ohlsson.
Hyperion.

Dmitry Shostakovich

Moscow-Cheryomushki Suite (Dances)

Orchestra: The Philadelphia Orchestra. Conductor: Riccardo Chailly.

Shostakovich: Cheryomushki; The Bolt; etc.
Decca.

Wolfgang Amadeus Mozart

Horn Concerto No 3 in E flat major, K 447

Performer: Alessio Allegrini. Orchestra: Orchestra Mozart. Conductor: Claudio Abbado.

Mozart: Horn Concertos: Allegrini/Orchestra Mozart/Claudio Abbado.
Deutsche Grammophon.
6-8.

Time Traveller: Colour Wards

Duration: 02:04

Arthur Bliss

In the house of the Lord (Meditations on a Theme by John Blow)

Orchestra: Bournemouth Symphony Orchestra. Conductor: David Lloyd-Jones.

Bliss: Meditations on a Theme by John Blow.
Naxos.
8.

Marc‐Antoine Charpentier

Médée (ballet music)

Ensemble: Les Arts Florissants. Conductor: William Christie.

Francis Poulenc

L'Embarquement pour Cythère

Performer: Louis Lortie. Performer: Hélène Mercier.

Poulenc Piano Concertos.
Chandos.
18.

Ottorino Respighi

Belkis, Queen of Sheba

Orchestra: Philharmonia Orchestra. Conductor: Geoffrey Simon.

Lili Boulanger

D'un matin de Printemps

Orchestra: Luxembourg Philharmonic Orchestra. Conductor: Mark Stringer.

Alexander Glazunov

Albumblatt in D flat major

Performer: Tine Thing Helseth. Performer: Kathryn Stott.

Tine Thing Helseth, Kathryn Stott: Puccini, Falla, Hindemith, Rachmninov, Kreisl.
EMI Classics.
2.

Cultural Inspirations: Paul Whitehouse on Alexander Baron

Duration: 03:16

Walter Kent

The White Cliffs of Dover

Singer: Vera Lynn. Orchestra: Jay Wilbur and His Band.

Antonio Vivaldi

Concerto in D major, RV 564

Performer: Enrico Onofri. Performer: Marco Bianchi. Performer: Christophe Coin. Performer: Paolo Beschi. Ensemble: Il Giardino Armonico. Director: Giovanni Antonini.

Vivaldi: 'Il Proteo' Coin. Il Giardino Armonico.
Teldec.
1-3.

Thomas Adès

Powder Her Face - suite

Orchestra: National Youth Orchestra of Great Britain. Conductor: Paul Daniel.

Ades: Tevot, Violin Concerto, Three Studies.
EMI.
8.

Antonín Dvořák

Symphony no.9: finale

Conductor: Andris Nelsons. Orchestra: Bavarian Radio Symphony Orchestra.

Ludwig van Beethoven

Rondo in G major, Op.129, 'Rage over a lost penny'

Performer: Ronald Brautigam.

Beethoven: Piano Music - Brautigam.
Etcetera.
6.

Franz Biebl

Ave Maria

Choir: The Gentlemen of St John's. Director: Christopher Robinson.

Music for Men's Voices.
Priory.
5.

Franz Schubert

Octet in F major, D 803 (3rd mvt)

Ensemble: Nash Ensemble.

Schubert: Octet: The Nash Ensemble.
Virgin Classics.
3.

Claude Debussy

Petite suite arr Busser

Music Arranger: Henri Büsser. Orchestra: Lyon Opera Orchestra. Conductor: Jun Märkl.
Broadcast

The Classical Companion Collection