Main content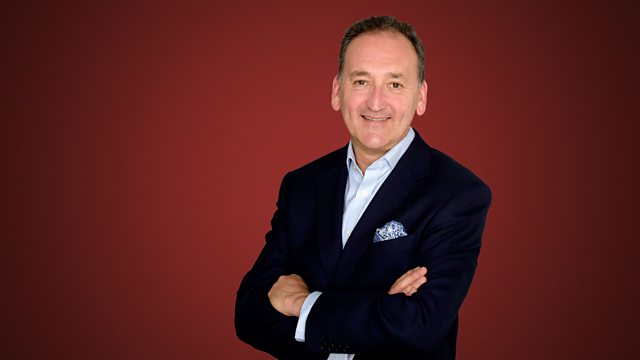 Wednesday with Ian Skelly - Sibelius's Valse Triste, Yorkshire's greatest magician, and guest Marin Alsop
Ian Skelly with the best in classical music. Plus conductor Marin Alsop on the people, places and ideas that inspire her.
Ian Skelly with Essential Classics - the best in classical music.
0930 Your ideas for companion pieces on the Essential Classics playlist - today's playlist music is Sibelius's Valse Triste.
1010 Time Traveller - A quirky slice of cultural history. Today Naomi Paxton would like to talk about the Elephant in the room...
1050 Each day this week the trail-blazing internationally renowned conductor Marin Alsop talks to Ian about the people, places and ideas that have inspired her throughout her life and career, and she talks this morning about her love of the poetry of W H Auden.
Other music in the programme includes Tippett's Fantasia Concertante on a theme of Corelli, a new release from the Jerusalem Quartet of Ravel's string quartet, music for piano and winds by Louise Farrenc and part of Holst's Moorside Suite.
Last on
Music and featured items
Jean‐Philippe Rameau

Les fêtes d'Hébé (Overture)

Orchestra: Les Talens Lyriques. Conductor: Christophe Rousset.

Rameau: Overtures: Les Talens Lyriques/Rousset.
Decca.
7.

Franz Schubert

Allegretto in C minor, D 915

Performer: Paul Lewis.

Schubert: Piano Sonata D.845, Wandererfantasie D.760: Paul Lewis.
Harmonia Mundi.
11.

Alexander Glazunov

Incidental music from Salome Op.90: Salome's Dance

Orchestra: Royal Scottish National Orchestra. Conductor: José Serebrier.

Maurice Ravel

String Quartet 2nd mvt, Assez vif, très rythmé

Ensemble: Jerusalem Quartet.

Debussy & Ravel: String Quartets.
harmonia mundi.
6.

Richard Strauss

Le Tic-Toc-Choc - La Lutine (Divertimento after Couperin, Op 86)

Orchestra: Orpheus Chamber Orchestra.

Jean Sibelius

Valse triste (Kuolema)

Orchestra: Swedish Radio Symphony Orchestra. Conductor: Esa‐Pekka Salonen.

Sibelius: Finlandia; Valse Triste; Grieg: Sigurd Jorsalfar; Salonen.
Sony Classical.
2.

Henry Purcell

Strike the viol (Come ye sons of art)

Singer: Andreas Scholl. Orchestra: Accademia Bizantina. Director: Stefano Montanari.

Nadia Boulanger

3 Pieces

Performer: Nicolas Altstaedt. Performer: José Gallardo.

Michael Tippett

Fantasia concertante on a theme of Corelli

Performer: Vesna Stankovic Moffatt. Performer: Marieke Blankestijn. Conductor: Douglas Boyd. Orchestra: Chamber Orchestra of Europe. Performer: William Conway.

Lachrymae: Music for Strings.
Warner.
8.

Time Traveller: Hidden In Plain Sight

Duration: 02:34

Wolfgang Amadeus Mozart

Andante and Variations in G major, K.501

Performer: Christoph Eschenbach. Performer: Justus Frantz.

Mozart: Music for Piano Duet: Justus Frantz, Christoph Eschenbach.
DG.
10.

Edvard Grieg

Symphonic Dance Op 64 no.1

Orchestra: City of Birmingham Symphony Orchestra. Conductor: Sakari Oramo.

Grieg: Peer Gynt: City of Birmingham Symphony Orchestra/Orama.
Erato.
10.

Geoffrey Toye

The Haunted Ballroom

Orchestra: RTÉ Concert Orchestra. Conductor: Ernest Tomlinson.

Claude Debussy

Premiere rhapsodie for clarinet and orchestra

Performer: Franklin Cohen. Orchestra: The Cleveland Orchestra. Conductor: Pierre Boulez.

Cultural Inspirations: Marin Alsop on W.H.Auden

Duration: 03:45

Leonard Bernstein

The Age Of Anxiety (Symphony No.2): Conclusion

Performer: Jean‐Yves Thibaudet. Orchestra: Baltimore Symphony Orchestra. Conductor: Marin Alsop.

Felix Mendelssohn

String Symphony No.10 in B minor

Ensemble: Concerto Köln.

Mendelssohn: String Symphonies 8, 9 & 10: Concerto Koln.
Das Alte Werk.
9.

Louise Farrenc

Sextet in C minor, Op.40 (2nd mvt)

Performer: Eric Le Sage. Ensemble: Les Vents Français.

Johan Svendsen

Norwegian rhapsody no.3 Op.21

Orchestra: Bergen Philharmonic Orchestra. Conductor: Neeme Järvi.

Johan Svendsen: Orchestral works vol.2: Bergen Philharmonic/Jarvi.
Chandos.
1.

Gustav Holst

A Moorside Suite for Brass Band: Nocturne

Performer: Grimethorpe Colliery Band. Conductor: Garry Cutt.

William Byrd

Laudibus in sanctis

Choir: The Sixteen. Conductor: Harry Christophers.

Ceremony and Devotion, Music for the Tudors: The Sixteen/Christophers.
Coro.
2.

Alexander Borodin

Polovtsian Dances (Prince Igor)

Orchestra: Berlin Philharmonic Orchestra. Conductor: Sir Simon Rattle.

Mussorgsky / Borodin: Berliner Philharmoniker / Rattle.
EMI.
20.
Broadcast

The Classical Companion Collection