Main content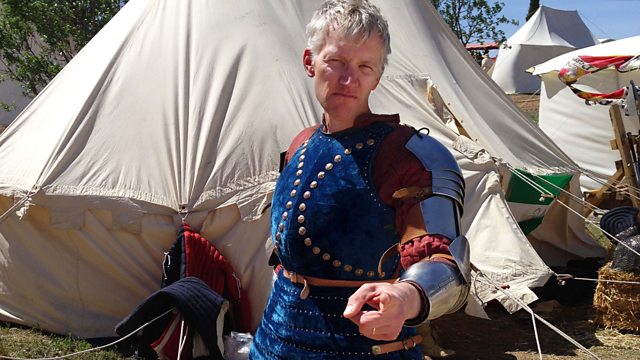 Coastal change: Overfishing and the death of the seaside
Tom Holland is joined by Dr Matthew Green for herring, wine, a tour of the disappeared and why Southend's past shouldn't be its future.
Tom Holland is joined by Dr Matthew Green for a programme that's all at sea.
Helen Castor is in Great Yarmouth where local people voted overwhelmingly for Brexit. One of their major gripes with Brussels was the detrimental impact they thought EU quotas had on the town's fishing industry. Dr James Barrett is an archaeologist who researches the medieval fishing communities of Britain and he reveals that, 800 years ago, the fishermen of Gt Yarmouth worked closely with their counterparts across the North Sea to bring in unimaginable quantities of herring - along with Britain's main supply of wine.
Earlier this year and just a few miles north of Great Yarmouth, villagers living in chalets on the cliffs at Hemsby were evacuated as the so-called "Beast from the East" tore into the unstable, sandy cliffs. Several of these properties have since been demolished, while others have been the focus of a frantic attempt to protect them from the unforgiving sea. Such destruction is commonplace in the history of the East Coast. Geographer Sally Brown from the University of Southampton heads to East Yorkshire to meet Marcus Jecock from Historic England and find out how the North Sea has shaped the lives of people living nearby for centuries.
The British seaside resort has been an unloved place ever since package holidays took its clientele to sunnier climes overseas. Now funding bodies such as the Heritage Lottery Fund and the Arts Council have been investing in projects that seek to restore some of these places to their former glory. But how effective is this and does one seaside history fit every coastal resort? Guardian writer Tim Burrows goes home to Southend to ponder the death of the seaside.
A Pier production for BBC Radio 4
Last on
A History of Coastal Change
It's three months or more since the so called 'beast from the East' delivered its icy blast to Britain and pounded our North Sea coasts with high winds and tidal surges. The people of Hemsby, near Gt Yarmouth, are still clearing up. Seven chalet bungalows had to be demolished after the storms and one other was dragged back from the cliff edge.
Such events have happened throughout history and over the course of time entire towns and even cities have been lost. So, what was attitude of people living on the coast to this constant threat back in Medieval times? 
Dr Sally Brown did her Phd closeby the old village of Kilnsea on the East Yorkshire coast which is now largely under the sea. There she met Dr Marcus Jecock who leads a team at Historic England which researches and cares for our coastal heritage.
Fishing, Fish Stocks and our links with Europe
Ever since Britain joined the EEC our fishing communities have felt betrayed over access to fish in our waters. Recent negotiations over Brexit have caused further disquiet as Britain could be part of a common European fisheries agreement for a year or two after we leave the EU. But how was fishing and the conservation of fish managed in the past? Helen Castor went to Great Yarmouth, once one of our most important fishing ports, to find out. There she met up with  Dr James Barrett from the University of Cambridge.
Dr Barrett uses the archaeology of fish bones to compliment written sources to get a better understanding of what types of fish were once consumed, how they were caught and the trade that developed from this. Dr Barrett has shown that in the 12th and 13th centuries the herring industry in Great Yarmouth was carried out by Dutch fishermen who were based in the town and worked alongside local people. Furthermore, remarkably, there was a complete switch from consuming freshwater fish to sea-fish sometime around the 11th century and this has been picked up in archaeological studies like the one he carried out in York.
Top Town History
Can Gina Antczak from the tiny New Forest village of East Boldre win through a second week when the challenger is poet and local historian Dean Parkin from Lowestoft?
Heritage and Regeneration. Southend: a case study.
The task of regenerating the economies of our coastal towns is one of the biggest challenges facing government and funding bodies such as the Heritage Lottery Fund and Arts Council England In places such as Margate  and Hastings a heritage and culture-led approach seems to be having results. But can this work all around the British coast? Writer Tim Burrows  grew up in Southend on Sea and he worries that the individual geographies and histories of our seaside towns means that heritage might not always be a magic bullet.
Contact the programme: making.history@bbc.co.uk
Making History is produced by Nick Patrick and is a Pier Production for BBC Radio 4
Broadcasts