Main content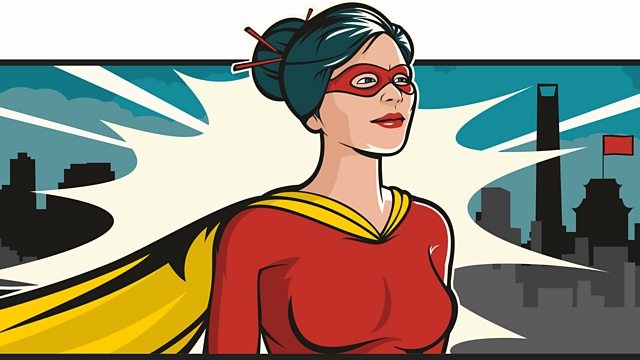 Heroines
Tuppence Middleton and Patsy Ferran read poems, prose and music exploring figures including Malala, Rosa Parks, Little Red Riding Hood, Mary Richardson and Sappho.
Readings by Tuppence Middleton and Patsy Ferran and a selection of music, from Ethel Smyth to Janelle Monáe , Rokia Traoré to Fanny Mendelssohn, Respighi to Robert Wyatt in praise of heroines: some fictional, like Sally Bowles and Scheherazade, some historical, like Grace Darling and Joan of Arc, some inspirational, like Malala Yousafzai and Rosa Parks, and some simply anonymous and everyday - like poet Gillian Clarke's mother rescuing a drowning child or WB Yeats' Song of an Old Mother.
As we approach this year's International Women's Day next Friday - Words and Music this weekend explores the idea of what a heroine is and the range of qualities which have been praised from patience to protest, from caring to cunning.
We begin with a Concerto for Violin Horn and Piano by Ethel Smyth, the composer who had written The March of the Women in 1910, which became the official anthem of the Women's Social and Political Union. This is followed by folk musician Eliza Carthy's solo version of the Pankhurst Anthem, a new piece commissioned by BBC Radio 3 from composer Lucy Pankhurst which uses the words of suffragette Emmeline Pankhurst. But if we begin with campaigning energy should we end in a celebratory mood?
Producer: Harry Parker.
Music Played
Timings (where shown) are from the start of the programme in hours and minutes
Judith Terzi

Ode to Malala Yousafzai, read by Patsy Ferran

Mary Richardson

from Laugh, A Defiance, read by Tuppence Middleton

William Shakespeare

Antony and Cleopatra Act V Sc II, read by Tuppence Middleton

G. B. Shaw

St Joan, read by Patsy Ferran

Sappho, translated by Mary Barnard

Love Lyric fragment, read by Tuppence Middleton

Anthony Howell 

Penelope, read by Patsy Ferran

Richard F. Burton

The Book of the Thousand Nights and a Night, read by Tuppence Middleton

Henry Wadsworth Longfellow

Santa Filomena, read by Tuppence Middleton

Lizelia Augusta Jenkins Moorer

Negro Heroines, read by Patsy Ferran

Rita Dove

Rosa, read by Patsy Ferran

William Wordsworth

Grace Darling, read by Patsy Ferran

Jonathan Swift

To Stella Visiting Me In My Sickness, read by Patsy Ferran

Gillian Clarke

Cold Knap Lake, read by Tuppence Middleton

W. B. Yeats

The Song of the Old Mother, read by Patsy Ferran

Roald Dahl

Little Red Riding Hood and the Wolf read by Tuppence Middleton

Eve Alexandra

Heroine, read by Patsy Ferran

Alison Croggon

Billie Holiday, read by Patsy Ferran

Christopher Isherwood

Goodbye to Berlin, read by Tuppence Middleton

Producer's Notes: 'Heroines'

One of the universally recognised political heroines of the modern age is Malala Yousafzai, the Pakistani campaigner for female education.  As a fifteen year old in 2012 she was shot by a Taliban gunman along with two other girls on a bus returning from taking an exam: it was an attempt to assassinate her for her work against the restrictions on female education in the Taliban controlled northwest Pakistan - something she had been promoting since she was eleven.  Her courage in recovering from her injuries and her defiant stance won her the Nobel Peace Prize in 2014 and her subsequent educational journey to Oxford University is a story which has inspired and encouraged women the world over.  Judith Terzi's poem Ode to Malala Yousafzai comes from a collection Malala: Poems for Malala Yousafzai, edited by poets Joseph Hutchison and Andrea L. Watson, for publication on the first anniversary of the shooting.

 A hundred years earlier other political heroines were making their stand for women's suffrage.  In Britain the vote was finally granted in1918 to women over thirty but only after the suffering, imprisonment and even death of those fighting for it.  And it is the suffragette Mary Richardson's account from her autobiography, Laugh, A Defiance, of the death of Emily Davison at the 1913 Derby that demonstrates the sacrifices some were prepared to make for the cause.  Writings and documents from this struggle are part of an exhibition called Sappho to Suffrage: Women Who Dared at the Bodleian Library in Oxford.

 Another woman who was part of that movement was Ethel Smyth, the first composer to be made a Dame for her services to music.  Her 1926 concerto for Violin Horn and Piano underscores the reading by Tuppence Middleton from Richardson's book. Smyth also wrote The March of the Women in 1910, to words by Cicely Hamilton, which became the official anthem of the Women's Social and Political Union.  On February 6th this year Radio 3 premiered another anthem marking exactly 100 years of women's suffrage.  The women's rights activist Emmeline Pankhurst, a founder of the WSPU, is honoured in the new choral piece, The Pankhurst Anthem, with music by composer Lucy Pankhurst and text by Helen Pankhurst, based on words written by her great-grandmother. This folk interpretation was performed live by Eliza Carthy on Radio 3's Breakfast programme that day.

 Women's empowerment is also celebrated in the Eurythmics' 1985 hit Sisters Are Doin' It For Themselves featuring vocals by Annie Lennox and Aretha Franklin.  It too has become something of a feminist anthem.

 Shakespeare's heroines are many, varied and often flawed - from Portia the persuasive lawyer in disguise from the Merchant of Venice to the power hungry Lady Macbeth, from the star-cross'd lover Juliet to the principled Cordelia in King Lear. Like the suffragettes Cleopatra makes it clear what sacrifices she will make rather than be oppressed by Caesar and Rome.  Militaristic resistance is displayed by Joan of Arc in a speech from scene V of George Bernard Shaw's St Joan whilst Tchaikovsky's musical interpretation of the same character is from the entr'acte of his opera The Maid of Orleans.

 If Joan was a wonder woman in the 15th century the modern taste for superheroes is given a feminist spin in the film of Wonder Woman - last year's huge cinema success starring Gal Gadot as the eponymous heroine.  The score is by Rupert Gregson-Williams and this cue entitled Amazons of Themyscira.  Five hundred years BC the poetess Sappho used military imagery and evoked another ancient heroine Helen of Troy in this fragment of love poetry on display at the Bodleian Library exhibition and translated from the ancient Greek by Mary Barnard.

 Debussy's Syrinx was written in 1913 for a dramatic poem, Psyché, by the French novelist and poet Gabriel Mourey.  The piece was originally composed for the flute as it illustrates the Greek myth of the lecherous satyr Pan who wanted to seduce a wood nymph, Syrinx.  She however was heroically determined to preserve her chastity and, appealing to the naiads or river nymphs for help, was turned into a reed.  Unfortunately Pan heard the sound made by the wind blowing across the hollow stem and cut the reed into several different lengths and joined them to form the pipes of Pan or Syrinx flute.  Here it is interpreted on the trumpet by Britain's leading woman in the predominantly male world of brass playing, Alison Balsom.

 Another ancient Greek, Penelope, used more cunning to protect her love for her husband. Anthony Howell's poem refers to the wife of Odysseus who, while her husband was missing presumed dead on his voyage, is besieged by would-be replacements.  She says she will choose one when she has finished making a funeral shroud for her father-in-law.  Each day she would weave a section and each night unravel it only to start all over again the next day.  By this subterfuge she fends off the suitors.

 Night-time stalling tactics were also employed by Scheherazade, the heroine of The Book of a Thousand Nights and a Night, to protect her own life.  To avoid becoming one of the women that the King Shahryar sleeps with once and then beheads she starts telling the catalogue of tales that has given us Sinbad, Aladdin, Ali Baba and many others.  She makes sure to end each story at dawn on a cliff-hanger ensuring her survival until the next night.  In this extract from Richard Burton's translation from an Egyptian version she achieves her ambition to not only save her children and survive but become Queen.

 The great operatic tragic heroine Norma is looked on as a courageous woman by the Druids she leads as High Priestess.  They hope she will negotiate peace with the invading Romans and to this end she prays to the moon - the Casta Diva or chaste goddess in this aria.  It is sung by Leontyne Price, not only one of the great lyric sopranos but the first African-American singer to star at the Metropolitan Opera in New York where she joined the company in 1961.

 The Malian singer Rokia Traoré sings of the courage of African woman in the song Sarama.  The words translate from the Bambara language as: "They are astonishing, Malian women are strong, my mothers are impressive, African women enchant, my revered ones!  Femininity is an art.  Maternity is a job of work.  Many talk about it, but few have mastered it.  At the source of every great man a great woman reigns".

 African-American women are the subject of Lizelia Augusta Jenkins Moorer's poem Negro Heroines.  Moorer (1868-1936) was a teacher in South Carolina who wrote much of her poetry about race issues and was indeed a civil rights activist herself, This poem is about the recognition of the  heroism of black nurses, recruited by Mrs Namah Curtis in 1898 to serve in Cuba in the war between the USA and Spain.

 Baroness Kathleen Annie Pannonica de Koenigswarter seems at first an unlikely heroine for African-Americans, being a daughter of the Rothschild banking family. But she was a champion of jazz during the post-war bebop era and acted as patron of many of the jazz stars of the day particularly Charlie Parker and Thelonius Monk who wrote a piece of music dedicated to her – Pannonica – as did numerous others too and the one we hear is Horace Silver's Nica's Dream.

 Rosa Parks was another heroine of the American civil rights movement. In 1955 she refused to give up her seat on a bus in Montgomery, Alabama to a white passenger sparking a boycott of buses in one of the first direct action protests in the campaign against segregation.  This is commemorated in the poem Rosa by Rita Dove, the first African-American to have been appointed Poet Laureate Consultant in Poetry to the Library of Congress.

 In Dorothy Dandridge Eyes, singer, songwriter and rapper Janelle Monáe celebrates one of the first black American film stars.  The recording also features the superb young jazz bass player Esperanza Spalding. Dandridge was the first black female to be nominated for an Academy Award for Best Actress, portraying Carmen Jones in the 1954 film.

 The Queen of Sheba is a shadowy figure in the Bible.  Most scholars think that Sheba was sited in or around present day Yemen but little else is known about her. Yet Belkis, as she may have been called, was obviously a commanding presence around the ninth century BC as her visit with a huge retinue of followers and servants to King Solomon's court being part of the legends of the Jewish, Islamic and Christian faiths.  The key indicator of her power was the idea that she came to put hard questions to test Solomon.  Again not much is known of these riddles but she was able to inspire legends in literature from medieval times to the present as well as music from the likes of Handel and Gounod, and this, Respighi's Belkis Queen of Sheba a ballet from 1931.

 Its tempestuous mood fits well with the story of Grace Darling, a far less mysterious figure than Belkis.  Grace was a real person, who with her lighthouse keeper father rescued survivors from the 'Forfarshire' wrecked off the coast of Northumberland in 1838.  She became a renowned heroine of the Victorians and inspired William Wordsworth's poem about her written five years later.

 Fanny Mendelssohn's reputation as a woman composer is often overshadowed that of her brother Felix but she was prolific composer particularly of songs and piano music and deserves to be more widely appreciated as a pioneer of classical composition regardless of gender.  This piece, Il Saltarello Romano is played by Liana Șerbescu, the concert pianist and musicologist, herself a champion of women composers.

 It accompanies one of the numerous poems by Jonathan Swift written to or about a woman called Stella whom he idolised.  This 1720 poem is Visiting Me In My Sickness.   And Henry Wadsworth Longfellow's poem Santa Filomena is in praise, though not specified, of Florence Nightingale.  It is here that the term the 'lady with the lamp' is first coined.

 The quiet heroism of caring, particularly in the context of motherhood, is a theme picked up by the next few pieces.  The Welsh poet Gillian Clark wrote Cold Knap Lake about a real childhood incident in which her mother rescues a stranger's child from drowning.

 J. S. Bach's prelude, which was later revised by Gounod and then in 1859 used as a setting for the Latin prayer to the mother of Jesus, Ave Maria, is performed by jazz singer Bobby McFerrin and the classical cellist Yo-yo Ma.

 W. B. Yeats's The Song of the Old Mother from 1899 tells of the hardships and sacrifices made in the course of the daily chores by an aged woman for her children who apparently take her for granted.  By contrast Bill Withers's 1971 song Grandma's Hands reveal a much more appreciative family member.

 The role of Grandma traditionally takes on a decidedly sinister tone in the story of Little Red Riding Hood.  The way Roald Dahl tells it in his rhyming version, the russet hatted girl is very much the heroine, not bothering to wait for the woodcutter to rescue her but taking the initiative in dispatching the wolf herself.  The reading is illustrated by Tchaikovsky's music for the folk tale from his 1890 ballet The Sleeping Beauty.

 Robert Wyatt's composition Little Red Riding Hood Hit the Road from his 1974 album Rock Bottom leads us into a poem called Heroine from the 2003 collection The Drowned Girl by the American poet Eve Alexandra which also refers to Little Red Riding Hood. The verse expresses the resoluteness of the self-assured woman.

 Nicola Lefanu is a leading contemporary composer the daughter of another musical heroine, Elizabeth Maconchy.  Nicola's 1989 Concerto for Alto Saxophone and String Orchestra takes us into  the Australian poet and playwright Alison Croggan's poem Billie Holliday about the jazz singer who for so many is a heroine not just for her singing but for her espousal of civil rights.  Holiday herself gives us Lady Sings the Blues from 1956, also the title of the 1972 film about her life starring Diana Ross.

 Another film released that year, Cabaret, was based on an earlier musical by John Kander and Fred Ebb.  This in turn was based on I Am a Camera, a play from 1956 by John Van Druten, which itself was drawn from Christopher Isherwood's 1939 autobiographical novella Goodbye to Berlin, from which this reading is taken.  All of these iterations were dominated by the powerful presence of the central character Sally Bowles.  Despite the film's portrayal of Sally as a bubbly American, according to Isherwood the original was from Lancashire.  She is not perhaps a heroine in the usual sense but her uninhibited attitude in pre-war Germany prefigured much of the sexual and feminist liberation that didn't arrive until about three decades later.  As a finale Liza Minelli sings Mein Herr from the film which articulates this spirit exactly.

  

Harry Parker

Featured in...

Killing the game with Grace Jones, Adele, St. Vincent, Mary J Blige & more

Women's voices across the BBC