Main content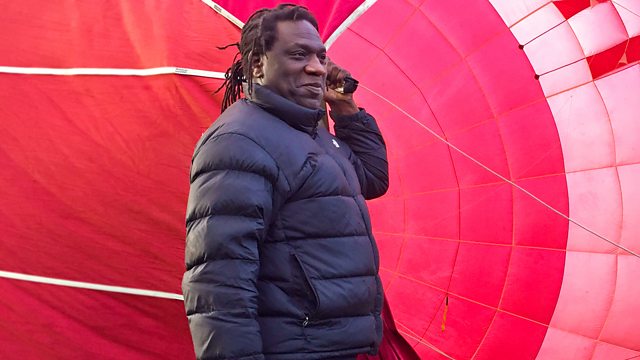 Balloon with a View
The world shrinks as you rise weightless from the ground below as the horizon expands. Poets Miles Chapman and Rebecca Tantony join composer Dan Jones in an inspiring flight.
We're floating silently in the sky beneath a giant pink balloon. The passengers peer at allotments in rows, over garden walls, spy a police car speeding through suburban streets, a train curving on rails into a tunnel, a sleepy teenager creeping home down an alley, , a woman in a pink dressing gown drinking a cup of tea as her dogs patrol the garden... and finally a magnificent crossing of the River Avon, bird song reaching up to the basket of the balloon drifting silently above.
Birds fly below, wispy clouds hit the bleary eyed faces of two poets a composer and an air pilot, passing over the city of Bristol in the early morning.
Combining the sounds heard from a balloon, with the words and poems of Miles Chambers, Poet Laureate for Bristol and Rebecca Tantony, both first time balloonists, we take a journey over the city, hearing sound rising up unimpeded from the waking city.
Also in the basket, multi-award winning composer Dan Jones, who brings on board both his music and his previous experience as the sound designer for a fleet of balloons called Sky Orchestra - and of course the pilot, Peter Dalby, who spends his life staring down at the world from above.
For the balloonist there is no friction; sound rises curiously unimpeded upwards with zero interference. We bring a rich mix of propane burner gushing, the dawn chorus, a choir of city sounds captured in a balloon, all mixed with the magical music of Dan Jones.
Producer: Sara Jane Hall.