Main content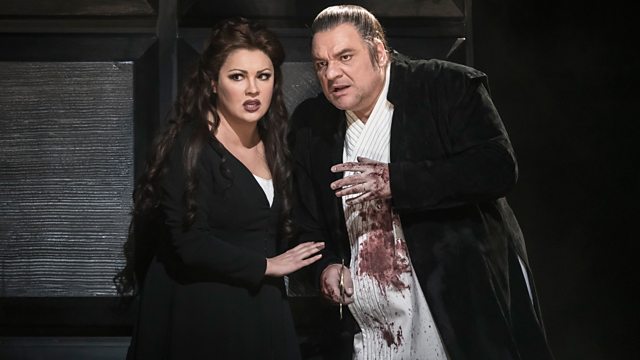 Verdi's Macbeth
Verdi's Macbeth from the Royal Opera House, Covent Garden, with a star cast led by soprano Anna Netrebko as Lady Macbeth, baritone Zeljko Lucic and conducted by Antonio Pappano.
Verdi began his life-long relationship with Shakespeare's works with Macbeth - considered by him to be 'one of the greatest creations of man'. The star cast is led by soprano Anna Netrebko, as Lady Macbeth, who is driven by her formidable ambition for her husband Macbeth, sung by baritone Željko Lučić, to become King. Verdi's score bursts with energy and drive, full of eerie silences and atmosphere, and expansive melodies. Recorded earlier this Spring, Antonio Pappano conducts the Chorus and Orchestra of the Royal Opera, Covent Garden in the revival of Phyllida Lloyd's 2002 production.
James Naughtie presents and is joined by Verdi scholar, Flora Willson.
Macbeth ..... Željko Lučić (baritone)
Banquo ..... Ildebrando D'Arcangelo (bass)
Lady Macbeth ..... Anna Netrebko (soprano)
Lady-in-waiting ..... Francesca Chiejina (mezzo-soprano
Servant to Macbeth ..... Jonathan Fisher (bass)
Duncan ..... John O'Toole (actor)
Malcolm ..... Konu Kim (tenor
Macduff ..... Yusif Eyvazov (tenor)
Fleance ..... Matteo Lorenzo (actor)
Assassin ..... Olle Zetterström (bass)
First apparition ..... John Morrissey (bass)
Second apparition ..... Gaius Davey Bartlett (treble)
Third apparition ..... Edward Hyde (treble)
Herald ..... Jonathan Coad (bass)
Doctor ..... Simon Shibambu (bass)
Chorus & Orchestra of the Royal Opera House
Antonio Pappano (Conductor).
Synopsis
Place: Scotland
Time: 11th century

Act 1
Scene 1: A heath
Groups of witches gather in a wood beside a battlefield, exchanging stories of the "evils" they have done. The victorious generals Macbeth and Banco enter. The witches hail Macbeth as Thane of Glamis (a title he already holds by inheritance), Thane of Cawdor, and king "hereafter." Banco is greeted as "lesser than Macbeth, but greater", never a king himself, but the progenitor of a line of future kings. The witches vanish, and messengers from the king appear naming Macbeth Thane of Cawdor. Macbeth protests that the holder of that title is still alive, but the messengers reply that the former Thane has been executed as a traitor. Banco, mistrusting the witches, is horrified to find that they have spoken the truth. In a duet, Macbeth and Banco muse that the first of the witches' prophecies has been fulfilled. Macbeth ponders how close he is to the throne, and whether fate will crown him without his taking action, yet dreams of blood and treachery: while Banco ponders on whether the minions of Hell will sometimes reveal an honest truth in order to lead one to future damnation.
Scene 2: Macbeth's castle
Lady Macbeth is advised that King Duncan will stay in the castle that night; she is determined to see him killed (Or tutti, sorgete / "Arise now, all you ministers of hell"). When Macbeth returns she urges him to take the opportunity to kill the King. The King and the nobles arrive and Macbeth is emboldened to carry out the murder (Mi si affaccia un pugnal? / "Is this a dagger which I see before me?"), but afterwards is filled with horror. Disgusted at his cowardice, Lady Macbeth completes the crime, incriminating the sleeping guards by smearing them with Duncan's blood and planting on them Macbeth's dagger. Macduff arrives for an appointment with the King, while Banco stands guard, only for Macduff instead to discover the murder. He rouses the castle while Banco also bears witness to the fact of Duncan's murder. The chorus calls on God to avenge the killing (Schiudi, inferno, . . / "Open wide thy gaping maw, O Hell").
Act 2
Scene 1: A room in the castle
Macbeth is now king: Duncan's son Malcolm has fled the country, suspicion having conveniently fallen on him for his father's murder: but Macbeth is still disturbed by the prophecy that Banco, not he, will found a great royal line. To prevent this he tells his wife that he will have both Banco and his son murdered as they come to a banquet. In her aria, La luce langue / "The light fades", Lady Macbeth exults in the powers of darkness
Scene 2: Outside the castle
A gang of murderers lie in wait. Banco, sensing danger shares his misgivings with his son. (Come dal ciel precipita / "O, how the darkness falls from heaven"). The murderers attack and stab him to death, but his son escapes.
Scene 3: A dining hall in the castle
Macbeth receives the guests and Lady Macbeth sings a brindisi (Si colmi il calice / "Fill up the cup"). The assassination is reported to Macbeth, but when he returns to the table the ghost of Banco is sitting in his place. Macbeth raves at the ghost and the horrified guests believe he has gone mad. Lady Macbeth manages to calm the situation once - and even mocks it by calling for a toast to the absent Banco (whose death is not yet public knowledge), only for the ghost to appear a second time and terrify Macbeth into insanity again. Macduff resolves to leave the country, saying it is ruled by a cursed hand and only the wicked may remain: the other guests are terrified by Macbeth's talk of ghosts, phantoms and witches. The banquet ends abruptly with their hurried, frightened departure.
Act 3
The witches' cave
The witches gather around a cauldron in a dark cave. Macbeth enters and they conjure up three apparitions for him. The first advises him to beware of Macduff. The second tells him that he cannot be harmed by a man 'born of woman'. The third that he cannot be conquered till Birnam Wood marches against him. (Macbeth: O lieto augurio / "O, happy augury! No wood has ever moved by magic power")
Macbeth is then shown the ghost of Banco and his descendants, eight future Kings of Scotland, verifying the original prophecy. (Macbeth: Fuggi regal fantasima / "Begone, royal phantom that reminds me of Banco"). He collapses, but regains consciousness in the castle.
A herald announces the arrival of the Queen (Duet: Vi trovo alfin! / "I've found you at last"). Macbeth tells his wife about his encounter with the witches and they resolve to track down and kill Banco's son, as well as Macduff and his family (whom they do not yet know has already fled the country). (Duet: Ora di morte e di vendetta / "Hour of death and of vengeance").
Act 4
Scene 1: Near the border between England and Scotland
Scottish refugees stand near the English border (Chorus: Patria oppressa / "Down-trodden country")
In the distance lies Birnam Wood. Macduff is determined to avenge the deaths of his wife and children at the hands of the tyrant (Ah, la paterna mano / "Ah, the paternal hand"). He is joined by Malcolm, the son of King Duncan, and the English army. Malcolm orders each soldier to cut a branch from a tree in Birnam Wood and carry it as they attack Macbeth's army. They are determined to liberate Scotland from tyranny (Chorus: La patria tradita / "Our country betrayed").
Scene 2: Macbeth's castle
A doctor and a servant observe the Queen as she walks in her sleep, wringing her hands and attempting to clean them of blood (Una macchia è qui tuttora! / "Yet here's a spot"). She raves about the deaths of both Duncan and Banco, and even about the deaths of Macduff's family, and that all the perfumes of Arabia would not clean the blood off her hands: all are things that the horrified witnesses would never dare to repeat to any living man.
Scene 3: The battlefield
Macbeth has learned that an army of Scottish rebels backed by England is advancing against him, but is reassured by remembering the words of the apparitions, that no man born of woman can harm him. However, in an aria (Pietà, rispetto, amore / "Compassion, honour, love") he contemplates the fact that he is already hated and feared: there will be no compassion, honour and love for him in his old age even if he wins this battle, nor kind words on a royal tomb, only curses and hatred. He receives the news of the Queen's death with indifference. Rallying his troops he learns that Birnam Wood has indeed come to his castle. Battle is joined.
Macduff pursues and fights Macbeth who falls. He tells Macbeth that he was not "born of woman" but "ripped" from his mother's womb. Fighting continues. Mortally wounded, Macbeth, in a final aria - Mal per me che m'affidai / "Trusting in the prophecies of Hell" - proclaims that trusting in these prophecies has caused his downfall. He dies on stage, while Macduff's men proclaim Malcolm to be the new King.