Main content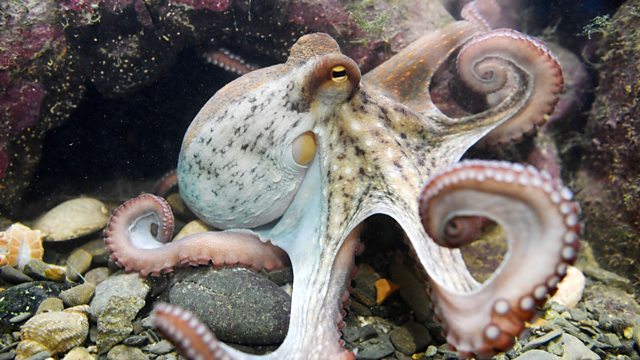 Altered Minds
Cultural discussion programme. Kirsty Wark with Michael Pollan, Peter Godfrey-Smith, Tammy Burmeister and Andrew Motion.
Psychedelic drugs are once again being trialled to treat a range of psychological conditions. The writer Mike Pollan tells Kirsty Wark about the science of LSD and magic mushrooms: from the 1940s to the 1960s they promised to shed light not only on the deep mysteries of consciousness, but also to offer relief from addiction and mental illness. Banned since the 1970s, there is now a resurgence of research into these mind-altering substances.
While some psychiatrists were getting their patients to experiment with psychedelics in the 1950s, far more were administering electroconvulsive therapy - both have a controversial history. ECT involves sending an electric current through the brain to trigger an epileptic seizure. It gained a reputation as a barbaric treatment, after the film One Flew Over The Cuckoo's Nest. But the psychiatrist Dr Tammy Burmeister believes that it's time people understood the therapeutic potential from this procedure.
The poet Andrew Motion's latest book Essex Clay is an attempt to return to heartfelt memories of childhood. He looks back at his mother's riding accident, which left her 'floating herself among the nebulae and gas clouds of her vast unconsciousness' and her subsequent slow death. The book revolves around loss and memory and retrieval.
The evolution of the human brain is one of the wonders of nature, but the philosopher of science Peter Godfrey-Smith asks what if intelligent life on Earth evolved not once, but twice? He wonders how the octopus - a solitary creature - became so smart. He traces the story from single-celled organism 3.8 billion years ago to the development of cephalopod consciousness, casting new light on the octopus mind.
Producer: Katy Hickman.
Last on
Michael Pollan
Michael Pollan is an award-winning author, activist and journalist. Time magazine has named him one of the hundred most influential people in the world. 
How to Change Your Mind: The New Science of Psychedelics is published by Allen Lane.
Peter Godfrey-Smith
Peter Godfrey-Smith is an author and Professor of History and Philosophy of Science at the University of Sydney. His underwater videos of octopuses have been featured in National Geographic and New Scientist.  
Other Minds: The Octopus and the Evolution of Intelligent Life is published by William Collins.
Tammy Burmeister
Dr Tammy Burmeister is the Lead Clinician for Mental Health Services and the lead consultant for ECT at the Argyll and Bute Hospital in Scotland.
Andrew Motion
Sir Andrew Motion was UK Poet Laureate from 1999 to 2009. He co-founded the online Poetry Archive, and was knighted for his services to poetry in 2009.  
Essex Clay is published by Faber & Faber.
Credits
| Role | Contributor |
| --- | --- |
| Presenter | Kirsty Wark |
| Interviewed Guest | Michael Pollan |
| Interviewed Guest | Peter Godfrey-Smith |
| Interviewed Guest | Tammy Burmeister |
| Interviewed Guest | Andrew Motion |
| Producer | Katy Hickman |
Broadcasts