Main content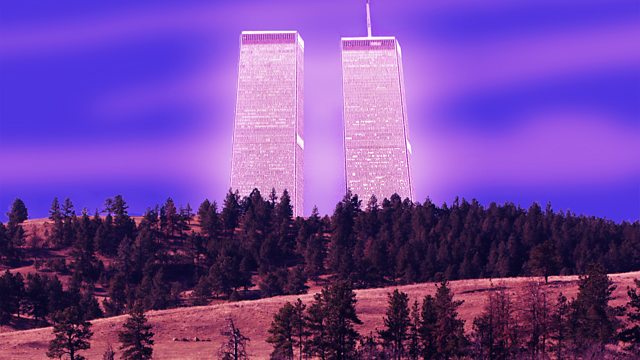 Shadowbahn
Hailed as the first novel of the Trump era, Steve Erickson conjures the reappearance of the Twin Towers in South Dakota. Teenagers journey across a divided America to investigate.
The Twin Towers reappear in Dakota in 2021. Nothing is predictable in this new America and reality and history are turned upside down. What exists and what is a shadow?
Steve Erickson's 2017 novel was hailed by critics as the first novel of the Trump era. It imagines checkpoints and borders and rupture zones in a country that's torn apart.
Parker, aged 23, and his 15 year-old sister Zema are driving from the West coast to see their mother in Michigan. On a news feed they hear that the Twin Towers have reappeared in South Dakota. Overnight. Out of nowhere. Strange sounds seem to be coming from them. Is there anyone inside? The buildings look pristine.
Dubbed by reporters on the scene as an "American Stonehenge", they immediately become a pilgrimage site.
Headstrong Zema insists that they change course and join the throng heading to the site. She has brought along mix tapes made by their dad who was a music DJ. The songs somehow reflect where they are and what they are thinking about. Astonished, they learn over social media that their car has become a magnet. Hashtag Supersonic. What is the strange cargo they carry?
Meanwhile, around the Twin Towers, every sightseer hears different music. And on a top floor in the otherwise empty South Tower, Jesse Presley the twin brother of Elvis wakes up. He has his own demons and music raging in his head.
Jesse's journey has parallels with Parker and Zema's. It's a supernaturally charged trip across an America which is familiar and yet eerily angry and dangerous, and back in altered time.
Steve Erickson, often described as a writer's writer, has had ten novels published in as many languages. He's known for Zeroville (soon to be seen as a movie), Our Ecstatic Days, and These Dreams of You which contains some of Shadowbahn's characters.
Recorded on location in Arizona and New York.
Other parts played by
Pete McElligott
Chris Dwane
Sara Berg
Reynaldo Piniella
Raphael Martin
Written by Steve Erickson
Adapted for radio by Anita Sullivan
Produced and Directed by Judith Kampfner and Steve Bond
A Corporation For Independent Media production for BBC Radio 4.
Last on

Credits
| Role | Contributor |
| --- | --- |
| Zan | Mike Iveson |
| Zema | Antu Yacob |
| Parker | Robbie Tann |
| Jesse | Patch Darragh |
| Rae | Tasha Lawrence |
| Gladys | Tasha Lawrence |
| JFK | Gibson Frazier |
| Elvis | Robert J McArthur |
| Actor | Peter McElligott |
| Actor | Chris Dwane |
| Actor | Sara Berg |
| Actor | Reynaldo Piniella |
| Actor | Raphael Martin |
| Author | Steve Erickson |
| Adaptor | Anita Sullivan |
| Director | Judith Kampfner |
Broadcast