Main content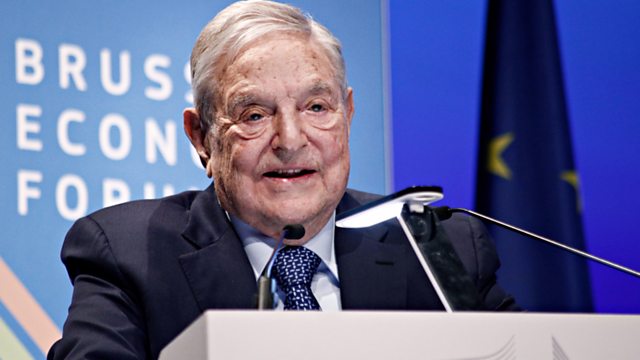 George Soros
Ed Stourton profiles the billionaire philanthropist George Soros, who began life in Nazi-occupied Hungary and became one of the most successful hedge-fund investors in US history.
Characterised as both a benevolent philanthropist and as a meddling influence, George Soros has been present at some of the most defining moments in modern history.
Soros was born into a Hungarian Jewish family, and later took on a false identity to survive the Nazi occupation in 1944. It was an experience that shaped his life and his outlook and he went on to escape to the West via his knowledge of the international language Esperanto.
Beginning his career as a tobacco salesman, Soros went on to fund one of the most successful hedge funds in US history. Known for his high risk and brazen approach, he is infamous for his involvement in the devaluation of the British pound, known as Black Wednesday.
But his career as a financial investor was not limited to the markets - he went on to use his money to promote non-violent democratisation in Central and Eastern Europe and beyond. More recently he has proved a controversial figure, providing funding for the pro-Remain campaign in the UK Brexit debate and is now the subject of vilification by the leaders of his native Hungary.
Presenter: Ed Stourton
Producer: Clare Spencer and Serena Tarling.
Last on

Broadcasts