Main content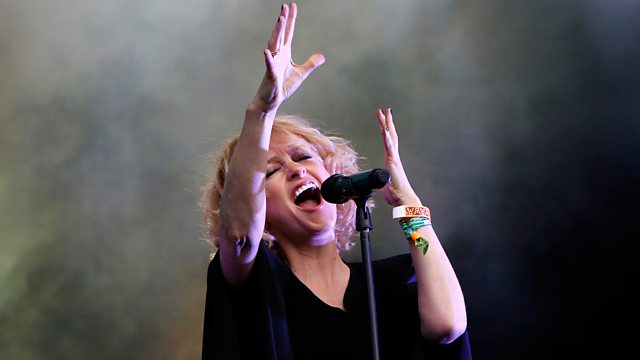 Alison Goldfrapp Part Two
Alison Goldfrapp takes over 6 Music to play two hours of favourite tracks, including Sigur Ros, Stereolab, Cocteau Twins, Francoise Hardy, Serge Gainsbourg, Bjork and Kate Bush.
Wise Woman Alison Goldfrapp takes over to play two hours of her favourite tracks for Boxing Day.
This Christmas Three Wise Women take over BBC Radio 6 Music, bearing gifts to delight the listener. On Christmas Eve, Christmas Day, and Boxing Day, St Vincent, Neneh Cherry, and Alison Goldfrapp each curate several hours of programming, including their own two hour show, and a selection of documentaries and live music from the 6 Music Archive, and their favourite First Time With and Iggy Pop Show.
Pioneering creative Alison Goldfrapp is the third of The Three Wise Women on Boxing Day, keeping listeners warm with her own unique musical wisdom. She has been an innovative presence in music for over a decade, touching on trip-hop, stomping electro-glam, and pastoral folk. Her 6 Music Archive selections are The First Time With David Lynch (6-7pm); Iggy Pop's Car Songs themed show (7-9pm); La Chanson de Serge - The Serge Gainsbourg Story; The Morricone Affair - a tribute to the Italian composer Ennio Morricone; a rare Kate Bush interview from 2005, in which she talks about her album Aerial; and for the Live Hour - Air (1998), Leonard Cohen (1969), Stereolab (1991), and Radiohead at Glastonbury (1997). And Alison has also selected Iggy Pop's John Peel Lecture 2014 about free music in a capitalist society, which you can hear from 9pm.
Alison Goldfrapp said, "I'm delighted to have been chosen by BBC 6 Music as one of their 'Wise Women' this Christmas. I've been looking forward to digging through 6 Music's incredible archive of music and documentary content and presenting my personal favourites to the station's listeners, alongside the brilliant Neneh Cherry and St Vincent. It will be a Christmas treat both for myself and hopefully for all of you listening at home.".