Main content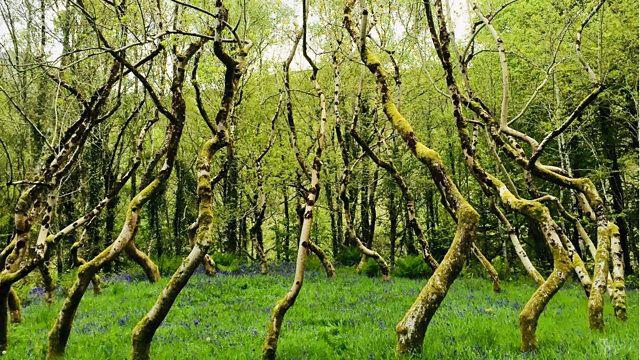 Slow Art
The biggest art project in the world today is James Turrell's Roden Crater. Leonardo DiCaprio has been booked to open it. Lindsey Chapman seeks out art an antidote to speediness.
So - how slow are we talking about, when it comes to art?
French anarchist vegetarian artists Elizabeth Saint-Jalmes & Cyril Leclerc rescue snails bound for the cooking pot, and display them as a sound and light installation - Slow Pixel - before setting them free.
To watch illuminated snails crawl across a concert hall for 6 hours is one way of bringing your heart beat right down!
Twenty-two ash trees, shaped and sculpted as they grow quietly for 40 years, in a secret location; an extinct volcano filled with subterranean light passages; music to play for a 1000 years; a mile of writing, and a 5 hour composition for a string quartet called 'Slow', played as slowly and quietly as possible...
As the 21st century continues at break-neck speed Lindsey Chapman brings you a moment of calm, as she meets some extraordinary musicians and artists, to find out the motivation behind creating slow art.
Lindsey - a performer herself, as well as presenter for BBC TV's 'Springwatch' - explores what added value the length of time of creation gives to an artistic idea. Does it make time shrink? Or does it distract us from our awareness of our own finite existence?
The biggest art project in progress in the world today is the Roden Crater. You may not have heard of it yet, but Leonardo DiCaprio has been booked to open it, although no one yet knows when that will be. It's the work of artist James Turrell who dreamed, in the 1960's, of sculpting an extinct volcano as a celestial viewing post. and he's spent 40 years working on it so far - Tim Marlow, artistic director of the Royal Academy, has been watching its progress.
Also in progress for 40 years, the Ash Dome - created by world acclaimed wood sculptor David Nash. he gives Lindsey is given the coordinates to find the secret circle, and she comes across it on a bluebell strewn forest floor at dawn, a magical moment of pure beauty - but one which leads her to consider where she might be in 40, or 400 years from now.
Slow art has that effect - seeing into the future, and sometime fearfully into infinity.
Jem Finer, musician and ex-Pogue bassist, has created a piece of music called 'Longplayer', which has already been playing for 18 years and which has another 982 to go - and of course he knows he won't be there to hear it end.
Tanya Shadrick knelt beside an open air swimming pool, day after day, month after month, writing a diary, line by line, a mile long. What inspired her to create "Wild Patience?" and what did she learn?
Composer Morton Feldman is well known for his long slow quiet pieces of music - but what is it like to actually hold and play the violin on stage for five hours? Darragh Morgan recounts the intensity, and how he never gets bored, and in fact falls in love with the beauty of the music - lie being wrapped in a beautiful shawl of sound.
Slow art in under half an hour - sit back and relish the moment.
Producer: Sara Jane Hall.
Last on
Illuminated snails dancing, sculpted ash trees and music playing for 1000 years.
Broadcasts