Main content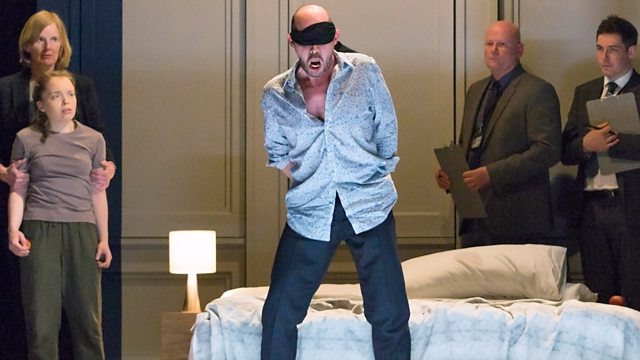 Lessons in Love and Violence
In George Benjamin's hotly anticipated opera, Edward II is forced to choose between his lover and his country and so sets off a brutalising and corrupting cycle of violence.
George Benjamin's 2012 Written on Skin was a phenomenal worldwide success, so his latest opera, which once more reunites Benjamin with playwright Martin Crimp and director Katie Mitchell, has been hotly anticipated.
Lessons in Love and Violence explores the corrupting influence of duty, power and realpolitik on love, loyalty and affection as Edward II is forced to choose between the conflicting demands of statesmanship and his lover, Piers Gaveston. As the court looks on appalled by Gaveston's excesses and his hold over Edward, the famine-ridden country descends into civil war. Violence begets yet more violence as the ensuing power struggle intensifies between the king and his disaffected courtier Mortimer, his queen Isabel and his brutalised young son. George Benjamin himself conducts an international cast.
Recorded last month at the Royal Opera House, Covent Garden and presented by Tom Service in conversation with Fiona Maddocks.
King ..... Stéphane Degout (bartione)
Isabel ..... Barbara Hannigan (soprano)
Gaveston / Stranger ..... Gyula Orendt (baritone)
Mortimer ..... Peter Hoare (tenor)
Boy / Young King ..... Samuel Boden (tenor)
Witness 1 / Singer 1 / Woman 1 ..... Jennifer France (soprano)
Witness 2 / Singer 2 / Woman 2 ..... Krisztina Szabó (mezzo-soprano))
Witness 3 / Madman ..... Andri Björn Róbertsson (bass-baritone)
Orchestra of the Royal Opera House
George Benjamin (conductor).
The Scenes
Part One
Scene 1
The banishment of Mortimer.
Scene 2
At Mortimer's instigation, Isabel is forced to confront the destitution and anger of the
people, and agrees to the murder of Gaveston.
Scene 3
The King asks Gaveston to predict his – the King's – future. At a private entertainment,
Gaveston is seized.
Scene 4
On learning that Gaveston has been killed, the King rejects Isabel, leaving him fatally isolated.

Part Two
Scene 5
Mortimer and Isabel set up house together. They groom the King's son to be puppet-king.
Scene 6
Mortimer visits the King in prison and persuades him to abdicate in his son's favour.
Soon after this, the King encounters death.
Scene 7
The King's son breaks free from the control of his mother Isabel. Before an invited
audience, he restores order.
Martin Crimp


With thanks to the Royal Opera House