Main content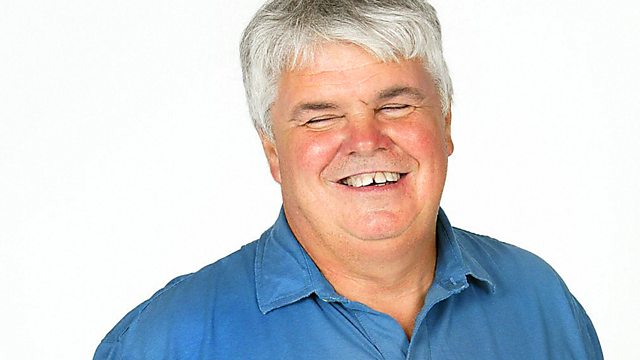 New Research into Echolocation
New research from the University of Durham is exploring the ability of blind people to navigate using echolocation. We talk to Dr Lore Thaler about an underused skill.
Peter White recalls being four years old when echolocation just... clicked.
He was walking under a railway bridge and discovered that making a sound could give him an echo impression of the height of it.
Videos and podcasts about the American exponent Daniel Kish have drawn a wide audience, and he's been involved in the formal teaching of the skill, despite many blind people feeling it is instinctive.
In Touch has had first view of new Durham University research into the technique with Dr Lore Thaler, and we catch up with a 20-year-old we spent time with in an echolocation lesson 10 years ago, to see if he's kept up the skill.
We also talk to the BBC's Gary O'Donohue in Washington, who's been trying out a new technological frontier in real time description for blind people - Aira.
Presented by Peter White.
Produced by Kevin Core.
Echolocation courses at Durham
In Touch Transcript: 05-06-2018
THE ATTACHED TRANSCRIPT WAS TYPED FROM A RECORDING AND NOT COPIED FROM AN ORIGINAL SCRIPT.  BECAUSE OF THE RISK OF MISHEARING AND THE DIFFICULTY IN SOME CASES OF IDENTIFYING INDIVIDUAL SPEAKERS, THE BBC CANNOT VOUCH FOR ITS COMPLETE ACCURACY.
IN TOUCH – New Research into Echolocation
TX:  05.06.2018  2040-2100
PRESENTER:          PETER WHITE
PRODUCER:            KEVIN CORE
White
Good evening.  Tonight, getting around safely – we have new research about a method that's as old as the hills.  And technology which links up with a human helper.
Clip
Here's a bench here on the right-hand side.  You have a narrow path here and then you're going to have a bag on the left and a man on the right, so very narrow path here.
White
More about something called Aira later in the programme.  But first, many blind people who get around on their own are familiar with the phenomenon known as echolocation.  Less so sighted people who see me [flicking noise] flicking me fingers, clicking me tongue and don't realise what I'm doing, I'm actually getting an echo off things.  At its most basic it's what bats do – they make noises and then use the echo you get back to stop bumping into things.  But just how effective is it for human beings and can it be taught, as opposed to just being picked up naturally?
Well In Touch has had first sight of some new research carried out at the University of Durham and we'll be hearing from the scientist who led the project in a moment.  But almost exactly 10 years ago I paid a visit to Knowetop primary school in Motherwell near Glasgow, where blind and partially sighted children, at their visually impaired unit, were being taught how to put echolocation into practice.  Well as someone who felt that I'd picked it up almost subconsciously as a child I was intrigued about how and why it was being taught.
Trainer
I want you to click to your left, to your right and straight ahead of you and by doing that you have to tell me where the panel is.  Okay?
Student
And one's straight ahead.
Trainer
Perfect.  Okay.
White
So, what exactly is going on here?  Well the trainers – Alex and David – are holding up wooden panels in front of or to the side of the children, testing whether they can locate where the panels are by the sounds reflected from their clicking tongues or flicking fingers.  Sounds a bit bizarre, I know, but as I said many visually impaired people are familiar with the phenomenon that much of the information we get about where we are comes from using such techniques.
Hi Jake, have you used this kind of thing before, did you realise that if you flick your fingers or click your tongue that you get echoes?
Jake
No, no, I didn't realise that.
White
Do you get around on your own outside very much because you're not all that old yet – what are you 10?
Jake
Ten.
White
Do you walk about at all on your own outside?
Jake
No.  Mainly I'm walking about the school, go to my class and going down the stairs and things.  I only really go about on my own in the playground when there's nobody out, like now.
White
But for this to be useful I guess what you'd really like is to be able to go in the playground with the other children isn't it?
Jake
Yes.
White
Do you think you'll get to that point?
Jake
Yes, I think I will.
White
That's great.  David Logan, you've been training Jake, can you explain what point at the training you are?
Logan
We're still quite early stages with Jake, this is only about the fourth or fifth session that we've had with him and the area we're in, just now, it's a small enclosed area, an alcove off the playground.  Jake was aware that there were two doors and also one thing which he thought was a door but was actually a noticeboard, it's quite difficult to make that fine judgement at this stage.  I think like all training, like all education, you can actually make this fun and if you make it fun and the children enjoy what they're doing and they learn the lesson.
White
You'll be aware that some people, I mean I know obviously a lot of other blind people, and they're saying to me, and I'm saying, look I've been doing this kind of thing since I was a kid, you know, I wasn't taught it.
Logan
Yes, I think what we can do here is we can train people to do it more effectively.
White
I suppose that's what worries people that in some of the coverage are phrases like revolutionary new technique and so forth, but it isn't is it?
Logan
Human beings have probably been doing this for tens of thousands of years.
Training
Clicking sounds
Logan
What are you experiencing?
Jake
In the left it's louder, in the right it's more echoey.
Logan
Do you think there's an obstacle in front of you?
Jake
Yeah.
Logan
The chap from the radio with a microphone in front of you.  Can you tell the difference between the wall and the person?
Jake
Err – there's a wee bit of difference but I don't know how to describe it.
Logan
Well what I would get would be very hard sharp echo, that's how I would describe it.  And off a person it's kind of soft and spongy.  That was very good, you picked that up.  Will we head back along the route?
Jake
Okay.
Logan
Right and we'll turn you round again.
Bell ringing
White
Well you heard Jake Murray there learning echolocation aged 10.  We're going to speak to him later in the programme to see if he's using it aged 20.
And listening to that and joining me from Durham is neuroscientist and associate professor Lore Thaler, who's been carrying out research which tries to pin down exactly what's happening when we echolocate.  She explained that the way people clicked makes all the difference.
Thaler
So, we have done a lot of research where we asked people just to make their own click and we found that people who make brighter clicks tended to do better.  We used a loudspeaker to make the clicks, so we didn't ask people to make them themselves.  And the reason we did it is that this way we had really good control, you know we could basically from trial to trial sort of switch the sort of click that people were then using.  And then sometimes there was an object, sometimes there was no object and the task was really simple, so they just had to say yeah, I think there's an object in front of me.  And then we just determine how accurate they were.
White
So, did you talk to blind people as well about how they used it and indeed how they were reacting to what you were doing?
Thaler
Yeah, absolutely.  So, I mean we knew that they tried to make a sort of sharp clicking sound and that they feel that this is useful to them, yeah.
White
So, what kind of things do people say about the way that they used it and how effective they thought it was?
Thaler
So, in a practical sense when we talk to people they say well when they're using it in the moment it gives them some additional information what's around them and this can be something about useful to say to avoid an obstacle at head level for example.  But it can also be in space that's further away, for example, out of the reach of the long cane or something which is too far, for example, for the dog, so it can be useful for the sort of larger scale orienting.
White
Can you give us an idea of the kind of distances at which people could locate something and specifically say reasonably clearly what it was and whether they could detect to which side of them it was and all those kinds of things?
Thaler
We have investigated distance up to three metres, that's not very far.  But in other environments, like in other laboratories, people have investigated echolocation and people are very good at using it for detecting things that are like 32 or 64 metres away.
White
As far as that?
Thaler
Yes, yes…
White
I mean that sounds quite a long way.
Thaler
You have to think about it though in the following way.  So, it's all a matter of scale.  So, if you're interested in quite a small object, that has to be a bit closer for you to detect it.  Whereas if it's a very large object, like a large building, then it can be further away.  So, if you're looking at a high rise that can be easy 60 metres away and people will detect that very well.
White
Because there's a lot of it to get a bounce of sound off.
Thaler
Yeah exactly, exactly.  And what I have also something to keep in mind even though there's a bit less research about this at this moment which is published but even at that distance again if it's a large building you will not only be able to tell that there is something but depending on the surface structure of the building you can also tell a bit more about exactly what that surface structure is.  For example, if you have a building that's very flat and smooth on the outside, as compared to a building that has say lots of balconies and an internal structure, it will sound different.
White
Well it's beyond – I thought I was quite good at echolocation but I've never been able to do that.
Thaler
In my opinion you will have to have come across something like this before, so you will have had the ability to build up that echo vocabulary or this echo knowledge.  So, it's not something I think that is just, you know…
White
You see this is why we were rather interested in your work because some rather dramatic claims have been made on echolocation's behalf, people know that there are claims made for Daniel Kish, for example, in films and in podcasts, where he says he can detect quite small objects, he rides a bike using this technique.  Does your work support claims like this?
Thaler
We have not investigated bike riding…
White
You've not?
Thaler
…but I have – I mean I do interact with people who use echolocation – Daniel is one of them – but there are also plenty other people and they all have very different personalities, very different lifestyles.  Daniel's certainly gone on the record there, some You Tube videos, where he is shown riding his bicycle but there are plenty of other people who wouldn't do that.  And I think he would fairly safe – he rides his bicycle – he'll do it in an environment that's not like busy traffic in London, for example, but it's a road where echolocation, for example, gives you orientation.  So, I'd say it's a sensationalistic reporting going on at times which is actually a danger because people get unrealistic expectations.  And I mean echolocation is a very active process because you make your own clicks and you move – you explore the space around you and that alone is something which I think is very engaging.
White
So, people needn't feel embarrassed about it, you think it's really quite enhancing, quite enabling to be able to do it?
Thaler
Yes, since you mention it.  So, let's say if there's a worry – well what will other people think of me – what they would also notice is that if you walk around very hesitantly.  Having an additional tool that allows people to walk confidently, deal in space confidently, actually they'll stand out in an odd way much less.
White
I'm quite proud of my clicks, I must admit.  Dr Lore Thaler, thank you very much indeed.
Thaler
Thank you.
White
And if you're interested in knowing more and indeed maybe having a go at echolocation Dr Thaler's unit is holding workshops at the University of Durham and indeed in other parts of the country.  Details on the In Touch page.
And if you take a look at Radio 4's Twitter feed you can find me taking an unscientific test with a dinner plate.
Now from something we've been doing for tens of thousands of years to a piece of kit which is new in America and about to be launched here.  Aira combines the latest in smart technology with good old-fashioned human help.  It's a pair of glasses with a camera between its lenses linked to a smart phone. 
BBC Washington correspondent, Gary O'Donoghue, who uses a good deal of assistive technology has been trying it out for our technology programme Click.  So, Gary, how was it for you?
O'Donoghue
I started off being a sceptic about this service but I think I've become a bit of a convert to it because particularly the new technology they've introduced, the new devices they've introduced, have a significantly wider field of vision.  And they've simplified the process a lot, so it'll something that's available and useful to a lot more people who don't necessarily know how to use a smart phone and all its ins and outs.  But it is a sort of strange sort of process of sort of talking to somebody – a disembodied voice – who's telling you about your surroundings.  Have a listen to this, this is Aaron Sandford, who was helping me out.
Sandford
So, scan your documents barcode and go to the left just slightly and pause and select.  Yeah so this is actually the back of the receipt advertising for American Express and now it's upside down, if you'll rotate it.  Okay perfect.
O'Donoghue
I mean it takes a little while but it's doable isn't it.  That's amazing.
Sandford
There's a bench here on the right-hand side, you have a narrow path here and then you're going to have a bag on the left and a man on the right, so very narrow path here.
White
So, just put that in context for us Gary.  What were you doing there?
O'Donoghue
Well there were two things there.  The first task I was doing was actually attempting to and succeeding in using one of the sort of touchscreen sign in booths at an airport, something that's completely inaccessible normally.  With the help of that agent there you heard me scanning my passport, operating the touchscreen and getting my boarding card out.  And then the second piece was me walking along the National Mall here in Washington, which I wouldn't dream of trying to do – big open area with a great big lake in the middle – I wouldn't dream of doing that normally…
White
Yeah scary, yeah.
O'Donoghue
But it was doable and it was quite liberating really.
White
Now we already have apps like Be My Eyes and Tap Tap See, which also have got people online describing the world to us, which is kind of what we heard there.  Why is this a step on from these?
O'Donoghue
Well you're right and things like Be My Eyes have been enormously successful and they've done a fantastic job.  Their model is slightly different in that they rely on volunteers, unlike Aira which pays its agents.  I think the difference with that is particularly that if you're dealing with a volunteer then you can't necessarily expect to impose on them for more than a few minutes at a time, whereas Aira, which you're paying for, you can use as much as you want or as much as you're prepared to pay for.  So, there's that difference.  I think my point about all these is that none of these – the usefulness of these other apps doesn't go away because of something like Aira, it's an addition to what's already available, it's an extra tool in the toolkit.
White
Now you mentioned that they're not volunteers so how expensive is it and how's it being paid for?
O'Donoghue
It is expensive.  It's sort of modelled on that old system we used to have of paying for minutes, like we used to do with our phone contract.  So, a basic package here in the US is $89 for 100 minutes per month.  And if you want to go up to the completely unlimited monthly sort of arrangement that's $329.  Now that's an awful lot of money for anyone but it's certainly a lot of money for visually impaired people who are often out of work and as you know are often paid less than the average wages when they are in work.  I put that point to Kevin Phelan, who's Vice-President of Sales and Marketing at Aira.
Phelan
As we started to hear more about the financial concerns we started to go to the businesses and say these are your customers can you start to pay for the Aira service.  So, what we then did is added the guest programme, so again today you can sign up as a guest for free and use it in places that you go.
O'Donoghue
Would the big breakthrough be getting people like healthcare – health insurance companies – to pay for it?
Phelan
Yes, so we've active conversations now, there's an estimated 300 million people globally that are blind and low vision and we look at this as something where everyone of them should have Aira in their hands and have this ability to have instant access to information anytime, anywhere.
White
And where could this technology take us – where could it end up?
O'Donoghue
I think the thing I take away from this is that there isn't a silver bullet, we all know that most of the things we have to achieve and do in life require a range of solutions.  And Aira is certainly one of them and I think it's one of – an incredibly good one and I think that will increase, that range of technology and applications and tools, as I mentioned earlier, those will increase and we'll just have to work out which ones work best for which tasks.
White
Gary O'Donoghue.
And Gary's report is already available online, just search for Click on the BBC website.
Now earlier we played a clip of me in Knowetop primary school in Motherwell speaking to Jake Murray.  He was 10 and he was learning to echolocate.
Jake
I was like using my echolocation click to go along walls and find corners and what direction to turn in.
White
Right.  You know this environment pretty well?
Jake
Yeah.
White
Have you tried using it yet somewhere you didn't know well?
Jake
I went to [School name] school a couple of weeks ago and I used it a couple of times in there, just to see what the area was like.
White
Do you think this is something you will use as time goes on?
Jake
Yeah definitely.
White
Well that was Jake aged 10, he's now 20 and we've found him.  So, Jake, first of all, what's it like to hear your former self?
Jake
That sounds terrible.  It doesn't sound like me at all.
White
Well no it doesn't actually, doesn't sound at all like you now.  Jake, just tell us, before I ask about echolocation, what are you up to now, what are you doing?
Jake
I'm currently working at the Citizens Advice Bureau in Motherwell, four days a week.  I'm admin assistant and call handler.
White
We heard you say there that you would use echolocation, in that clip we played, do you?
Jake
No, I've not – I hardly use it at all to be honest.  I think it was because when I was 11 and obviously I went to the Royal Blind School as my high school and they didn't really use echolocation at all.  I think they knew about it but didn't know about it – if that makes any sense.  I suppose if you're going to use it at all you're going to keep using it.
White
Yeah, no I know what you mean.  Lore Thaler was talking about the possible embarrassment of it, I just wonder whether that was ever a factor?
Jake
In that clip I was 10 and very sort of – quite open to things and I'm still quite open to things but I reckon I got older and gone through school and then I went to a mainstream college for two years to study music, I was the only blind person in our class at college, so no one else did use that sort of thing – echolocation – and I didn't want people to think that I was strange.
White
So, perhaps not the coolest thing maybe also when you're trying to chat someone up.
Jake
No, you can't really chat up by clicking at them, it's not really…
White
Do you think you might do it when you're older?
Jake
I might, well I said that the last time didn't I, 10 years ago – the little boy said he would do it.
White
So, nothing's changed, we're still waiting for you to use it.
Jake
Yeah.
White
Thanks Jake.  And if you can cope with websites you'll find more about everything on today's programme page from where you can also download tonight's and many other editions of In Touch.  To get more information and add your comments you can also call our actionline on 0800 044 044 for 24 hours after the programme, leave us a phone number if you'd like us to be able to get back to you.  Or you can email intouch@bbc.co.uk.
From me, Peter White, producer Kevin Core and the team, goodbye.